Pikes Peak is a tougher climb than I remember, but the important thing to hold on to is another game follows, and Bettman will provide. The Edmonton Oilers finally found a different route than the Donner Party, which is good and bad. Good, because it will have a happier ending, bad in that we know not the order of movement for the chess pieces for the coming thaw. Last night, the Oilers lost to Nashville after losing to Minnesota. Tonight, the Oilers have to break the chain.
Todd McLellan: "As a group, these are uncharted waters for us. We don't want to see guys disappearing."
FERNANDO WAS SO CLOSE, YEAR OVER YEAR
Oilers in October 2015: 4-8-0, goal differential -7
Oilers in October 2016: 7-2-0, goal differential +10
Oilers in November 2015: 4-7-2, goal differential -6

Oilers in November 2016: 5-8-2 goal differential -3

Oilers in December 2015: 7-6-1, goal differential -9
Oilers in December 2016: 7-2-5, goal differential +3

Oilers in January 2016: 4-5-2, goal differential -5
Oilers in January 2017: 9-4-1, goal differential +8

Oilers in February 2016: 3-8-2, goal differential -18
Oilers in February 2017: 0-1-0, goal differential -2

Oilers after 53, 2015-16: 21-27-5, goal differential -22
Oilers after 53, 2016-17: 28-17-8, goal differential +16
G54 was an 8-1 stinker in Brooklyn, possibly the worst game of last season. The Oilers are miles from panic, having lost only two games in a row, but there is a large amount of looseness in their game. Tonight, against Carolina, won't be easy, and Sunday afternoon in Montreal is a dark cloud on the horizon. The Oilers are in a spot of bother for the first time in 2017. Kinda cool, actually. Or at the very least compelling.
DEFENSE, LAST NIGHT

Klefbom—Larsson went 20-11 together, although they were on the ice for both GA. The first goal against was an errant pass at the Nashville blue line (Leon did a bad), and the second GA was made possible by an ill-advised big hit attempt by Adam Larsson. Other things went wrong, and there should have been a penalty on a McDavid moment in the neutral zone, but that second goal had some Swedish wobble in my opinion. Stay in the lane, nothing bad happens. Went 10-8 against Arvidsson—Johansen—Forsberg line.
Davidson—Benning should get more playing time in my opinion, went 6-6 in 11:55 together. Davidson had a big hit that got a lot of attention, pairing went 3-1 against the Johansen line.
Sekera—Russell had a hard time (all pairings did) on the breakout and they paid a price in possession. Sekera had a fine game, and Russell was good in defending. 8-3 against the Johansen line, but 3-11 against the Fisher line. Russell blocked a hellish shot from Subban, wouldn't be surprised if he is a game time decision this evening. He was also helpful in the most dangerous sortie of the evening, holding the puck in twice and carrying it deep at one point to keep possession. Preds also intercepted at least a baker's dozen passes in the neutral zone. Effective defending.
Two things plagued all of the pairings last night. They did not pass well, and only (to my eye) Klefbom, Benning and Sekera carried the puck with any authority at all. Also, Nashville was big, fast, strong and made good decisions in the Edmonton zone on the cycle. Luck surely played a part, but the Preds worked it.
Stats via NHL.com, HockeyStats.ca and NaturalStatTrick.
Cam Talbot stopped 25 of 27, .926. I thought he played well.
FORWARDS, LAST NIGHT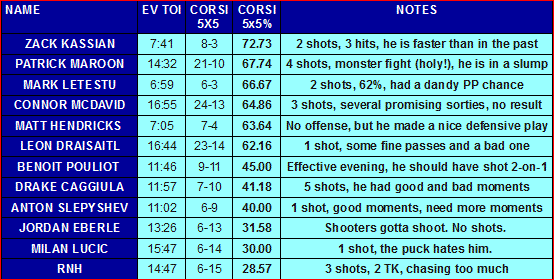 Hendricks—Letestu—Kassian had the best possession numbers, and five shots on goal. Letestu had the best chance, a point-blank look on the power play. Went 4-1 against the Colton Sissons line.
Maroon—McDavid—Draisaitl went 23-12 together and had the puck going in a good direction. Eight shots on goal for this trio should result in a goal, and Maroon just missed a wide open net, but things happen good and bad. McDavid took some abuse on the evening, the line went 19-8 against the Johnansen line, and of course the McDavid line finished -2. Fack!
Pouliot—Caggiula—Slepyshev went 6-9 and I liked them. Six shots on goal, and the best chance was Pouliot who passed on a two-on-one. McLellan mentioned he was going to be talking one-on-one with some of his troops, suspect BP may be one.
Lucic—Nuge—Eberle had a bizarro night. Lucic hilariously kicked the puck out to the middle of the ice from the boards once, Nashville blue got a nice shot off. The puck seems to be allergic to him, it is kind of funny except when it is your team. The veteran LW must be more responsible with the puck and win more races to it. Nuge had a couple of reasonable looks, including a promising sortie early in the third period. Eberle never got a shot on net, that needs to be his priority.
STANDINGS THIS MORNING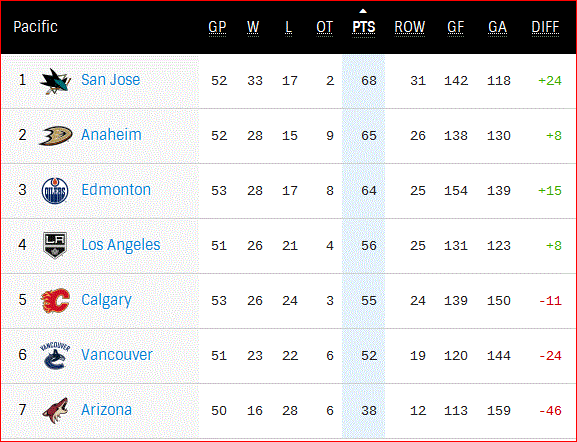 The Oilers remain in third, but the Los Angeles Kings have two games in hand and they are coming. The Flames have a nice little streak going, but remains miles behind. I doubt either of these teams catch the Oilers in February, unless Edmonton enters a long sustained slump. This is a good test for the organization, and two more losses may force Peter Chiarelli into addressing known weaknesses (Caggiula 3C, backup Brossoit) earlier.
MCDAVID!
Bill Peters, Hurricanes head coach: "He's got the updated software. He thinks the game, sees the game, at a high, high level, and he plays it at a high level. So he's not only a step ahead of you mentally, but he's physically hard to contain. And that's all you're trying to do." Source
Connor McDavid hasn't posted a crooked number since the All-Star break, and that is probably bad news for Carolina. In his already exceptional career, 97 has never been shutout three games in a row. The Hurricanes are a fine team, and I don't think the Oilers should be considered a favorite to win this one, but if they do there is a very strong chance the captain will be the impact scorer.
5×5/60 SCORING, FORWARDS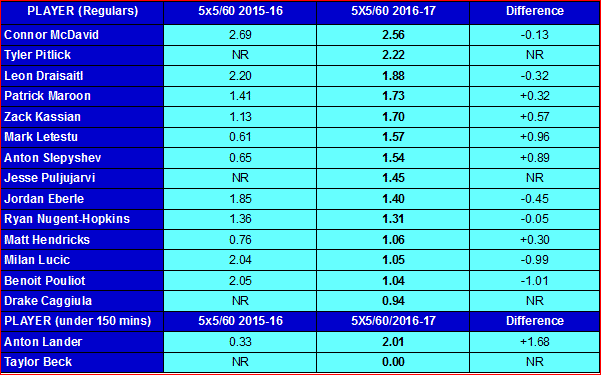 This is my favorite measure for forwards, because there is nowhere to run and nowhere to hide.
Connor McDavid is inside the NHL's top 10 in the metric, I think he has more to give. The problem is that his ideal linemates are out among the stars and not yet known to us. Leon might be the answer, although Todd McLellan has experimented with Leon back at C during recent games.
Mark Letestu, Anton Slepyshev and Zack Kassian are all up handsomely year over year, increasing chances of return next season. The Russian brings a lot of interesting things, and the two veterans have been helpful at 5×5 and other places. Kassian's speed has been on display this year, he is (like Maroon) locked and loaded on this opportunity.
Jordan Eberle, Ryan Nugent-Hopkins, Milan Lucic and Benoit Pouliot are all going to be key players in the second half of the season. What's gone is gone, but these last 30 games are going to require some offense from these men, and that's for sure.
Numbers via Stats.HockeyAnalysis.com.
OPPORTUNITY
Is it time to panic? Hell no. Edmonton has built up a reasonable cushion in the Pacific Division and we know March beckons with a chance to gather back all that will be lost in February. I think this is an opportunity for a lot of players to push their way into the expansion conversation—as Oilers and possible Golden Knights.
Benoit Pouliot is unlikely to return next season, and could end up being a feature player in LV, where experience will be a big part of the procurement template. Mark Letestu and Zack Kassian can do a lot to get themselves on the protected list with their continued success, and on it goes. Here is my expansion protected list at this time:
Goal—Cam Talbot
Defense—Andrej Sekera, Adam Larsson, Oscar Klefbom
Forwards—Leon Draisaitl, Ryan Nugent-Hopkins, Jordan Eberle, Milan Lucic, Patrick Maroon, Zack Kassian, Jujhar Khaira
Unprotected: Mark Letestu, Benoit Pouliot, Tyler Pitlick, Brandon Davidson, Mark Fayne, Griffin Reinhart
Ineligible: Connor McDavid, Darnell Nurse, Anton Slepyshev, Jesse Puljujarvi, Drake Caggiula
LOWDOWN WITH LOWETIDE
Friday! We get started at 10, TSN1260. Scheduled to appear:
Steve Lansky, Big Mouth Sports. Trade deadline coverage, Super Bowl, Oilers and Leafs.
Andy McNamara, TSN4Downs. Super Bowl weekend!
Matt Iwanyk, TSN1260. Is it time to panic?
Paul Almeida, SSE. Oilers at the deadline.
10-1260 text, @Lowetide on twitter. Talk soon!