On October 26, 2016, the Edmonton Oilers defeated the Washington Capitals 4-1 at Rogers Place. All four goals—two by Benoit Pouliot and one each by Patrick Maroon and Milan Lucic—came from left wingers. For Benoit Pouliot, those goals were his second and third of the season—and it was Game 7! Now, after 51 games, Benoit Pouliot has five goals and is injured. It has been a weird year on the portside.
LAWYERS IN LOVE, YEAR OVER YEAR
Oilers in October 2015: 4-8-0, goal differential -7
Oilers in October 2016: 7-2-0, goal differential +10
Oilers in November 2015: 4-7-2, goal differential -6

Oilers in November 2016: 5-8-2 goal differential -3

Oilers in December 2015: 7-6-1, goal differential -9
Oilers in December 2016: 7-2-5, goal differential +3

Oilers in January 2016: 4-5-2, goal differential -5
Oilers in January 2017: 9-4-1, goal differential +8

Oilers in February 2016: 3-8-2, goal differential -18
Oilers in February 2017: 5-4-0, goal differential -1

Oilers after 61, 2015-16: 22-33-6, goal differential -39
Oilers after 61, 2016-17: 33-20-8, goal differential +17
Edmonton
lost G62
to the Los Angeles Kings, 2-1. I don't really have a feeling about this game, beyond the fact Washington can pack a wallop and the Oilers are having a very easy time of this damned road trip I built up to be a big damned deal. They are ruining my Pikes Peak storyline! I felt this game would be the toughest of the road trip, hope the Oilers catch Washington flatfooted.
WHAT TO EXPECT FROM FEBRUARY
On the road to: Nashville, Carolina, Montreal (Expected: 1-1-1) (Actual 1-2-0)
At home to: Chicago, Arizona, Philadelphia (Expected: 1-1-1) (Actual 2-1-0)
On the road to: Chicago, Tampa Bay, Florida, Washington, Nashville, St. Louis (Expected: 2-3-1) (Actual: 2-1-0)
Overall expected result: 4-5-3, 11 points in 12 games
Overall current results: 5-4-0, 10 points in 9 games
Edmonton is 3-3-0 so far on the road this month, that is excellent. The March schedule features home games against Detroit, Dallas, Vancouver and a home and home against Colorado. I am not saying success is assured, and injuries are beginning to pile up, but the forecast is very good after the trade deadline.
Sounding like neither Sekera nor Larsson will be any significant time missed, but being evaluated today.

— Ryan Rishaug (@TSNRyanRishaug) February 23, 2017
This is a monster item, because part of the Oilers success has been running at least two effective NHL pairings—Sekera on one, Larsson on the other. Huge item.
DEFENSE, 2016-17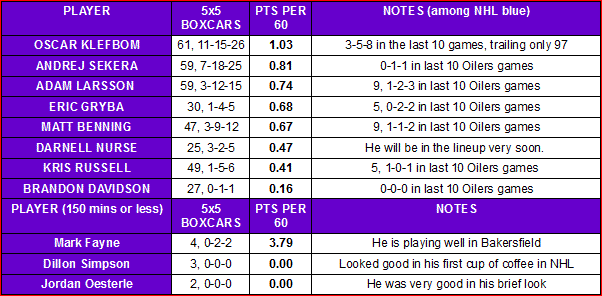 Oscar Klefbom has been the second most successful Oiler offensively over the last 10 games, behind only 97.
Andrej Sekera has been less impactful over the last 10 games, and is -7 (not that plus minus is a thing) in those games. One always wonders about injury when seeing these things, Sekera is still +6 for the year.
Adam Larsson's calm feet have been missed in the two games he was unable to answer the bell, we hope for his quick return.
Eric Gryba has played in half of the Oilers games this season. That is quite low for a typical Oilers No. 7D entering the year (Brandon Davidson was it in 2015-16, and he dressed for 51 games that year).
Matt Benning has been a Godsend this season, I like him with Sekera a lot. I hope that is a pairing next year. He is tied for No. 20 in 5×5 Corsi Rel among NHL defenseman who are considered regulars. Music!
Darnell Nurse is very close to returning. We might even see him this weekend.
Brandon Davidson is getting closer, but still lacks that speed we saw a year ago, and his timing is a little off in passing. He will get there.
FORWARDS, 2016-17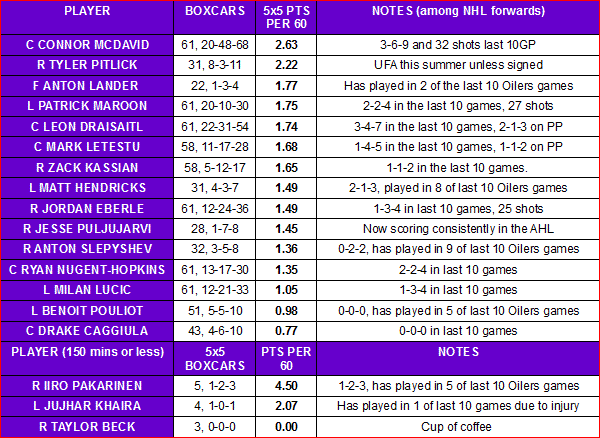 Jujhar Khaira sure looked good to me Wednesday night. Dogged on the forecheck, on the backcheck, hell he looked determined during the anthem! I like him plenty.
Iiro Pakarinen is having a nice return to the team after a long injury layoff. Things have changed for him year over year, Edmonton's options on RW include Jesse Puljujarvi, Anton Slepyshev, Tyler Pitlick—plus veterans Jordan Eberle and Zack Kassian. Coach McLellan likes him though, that is important.
Connor McDavid shot an average of 2.3 times a game last season, he is up to 2.97 per game this year. Sidney Crosby is averaging 3.34 a game, so 97 isn't crazy out of line with 87.
Jordan Eberle is beginning to recover his 5×5. At 1.49/60 now, easily the lowest of his career. Beginning with his rookie season, Eberle has gone 1.83, 3.04, 2.28, 1.89, 1.98, 1.85 and now 1.49. He has been so consistent, making this season even more curious.
Let's do the same with Nuge, beginning with his rookie season in 2011-12: 1.95, 1.12, 1.50, 1.92, 1.36, 1.35. Nuge has been consistent over the last two seasons, but it is not consistent excellence.
THE GIANT TRADE DEADLINE PREP SHEET
Peter Chiarelli on trade deadline rentals:  "I really don't want to delve into that market. I think there are areas we can tinker with. I think the team deserves it, based on that they're in the conversation. We wanted to be in the conversation and we are."
I want to have a handy guide for the trade deadline, so decided to post a bunch of things here for reference in the coming days. Most or all of this has appeared on this blog in the past six weeks, but I think it all has value so will spend a little time on it this morning.
There are connected people (Ryan Rishaug for one) who are suggesting Edmonton will look for a center and then may remain quiet unless something falls in their laps. This is reflected (imo) in what happened last season. Chiarelli had four deals done by the Saturday evening of deadline weekend, and then a late one came rushing through (it was not announced until after PCs media avail had occurred on the Tuesday).
CHIARELLI DEADLINE DEALS 2016
February 24, 2016: Dealt the rights to RHD Phil Larsen to Vancouver Canucks for 2017 fifth-round selection.
February 27, 2016: Traded RHD Justin Schultz to the Pittsburgh Penguins for third-round selection used on RHD Filip Berglund.
February 27, 2016: Traded RW Teddy Purcell to Florida Panthers for third-round pick that turned into LHD Matthew Cairns.
February 27, 2016: Traded G Anders Nilsson to the St. Louis Blues for G Nicklas Lundstrom and the fifth-round selection used on LW Graham McPhee.
February 29, 2016: Acquired LW Patrick Maroon from the Anaheim Ducks for LHD Martin Gernat and the pick that was used on LW Jack Kopacka.
Chiarelli got all of his business done by Saturday afternoon, and then the Maroon trade arrived, covering the falling into their laps. If we apply that to Ryan Rishaug's words, we might see a center here soon and then possibly something else if the phone rings and the modern Ned Harkness is on the line.
PETER CHIARELLI'S SHOPPING LIST AT THE DEADLINE
Acquire Kevin Shattenkirk as a rental if the price isn't too dear
Acquire a two-way center who can play also play wing
Acquire a backup goalie
Get real value for Brandon Davidson at the deadline, by procuring a forward under control and worth protecting (may happen after season)
Laying groundwork for deal with Golden Knights that could be tied into point No. 4
Grab a mittful of 2017 draft picks
Kevin Shattenkirk photo by Sarah Connors. All rights reserved.
POSSIBLE OPTIONS
Arizona Coyotes: C Martin Hanzal is a perfect fit.
Arizona Coyotes: R Radim Vrbata is also a rental, might be a perfect fit—except for that bonus.
Buffalo Sabres: G Anders Nilsson. Rock solid season.
Colorado Avalanche: C Matt Duchene is a special player.
Colorado Avalanche: R Jarome Iginla may have some left.
Dallas Stars: R Patrick Sharp shoots a lot and that is a good thing.
Dallas Stars: R Patrick Eaves has more than 20 goals and a very nice expiring contract.
Detroit Red Wings: L Thomas Vanek would be a grand solution, but an expensive one.
Detroit Red Wings: RD Mike Green.
Florida Panthers: G Reto Berra could be acquired tonight after the game.
New Jersey Devils: LHD Yohann Auvitu. It's the right thing to do.
Philadelphia Flyers: G Michal Neuvirth. Most of his January-February outings have been great.
St. Louis Blues: RD Kevin Shattenkirk. I like him, but the price is steep.
Tampa Bay Lightning: C Brian Boyle has what PC is looking for.
Tampa Bay Lightning: C Tyler Johnson, although why they would trade him is beyond me.
Vancouver Canucks: R Jannik Hansen. He is an under the radar solution who makes sense.
Vancouver Canucks: R Alex Burrows may be able to help.
POSSIBLE ASSETS OUT
Jordan Eberle—Frank Seravalli told me yesterday it feels more like a summer deal, but you never know.
Brandon Davidson—I am uncertain as to his value, but if healthy BD can play an effective top 6D role.
2017 first-round pick—No. 24 or so this year. Appears to be enough talent to get a good prospect there.
2018 first-round pick—No. 26? Seems like a reasonable estimate.
Benoit Pouliot—Also uncertain what he would bring back in a package.
2018 second-round pick—No. 57?
Caleb Jones—He has good speed, some offense, and is one of Edmonton's more famous prospects.
Jujhar Khaira—I think NHL teams would like his size and future contract.
Ethan Bear—RH defender with a big shot from the point.
Anton Slepyshev—He may have a future in Edmonton, but plans change.
Griffin Reinhart—Famous prospect with high draft pedigree, play is improving.
2017 third-round pick (No. 86)—No idea if the draft stretches this deep.
Matt Hendricks—Edmonton has replacement players available if PC finds some interest.
Anton Lander—He has an interesting skill set that might be of interest to a team looking for depth.
William Lagesson—A talented defensive prospect but is a lefty.
Bogdan Yakimov—Hey, they traded Teemu Hartikainen.
David Musil—It's the right thing to do.
LOWDOWN WITH LOWETIDE
At 10 this morning, TSN1260, we kick start the weekend and head out on the highway. Scheduled to appear:
Steve Lansky, Big Mouth Sports. As a television exec, does Steve watch trade deadlines for fun or does he cast a critical eye? Also, what should Edmonton do at the deadline?
Matt Iwanyk, TSN1260. Should Peter Chiarelli sell out some real assets for Kevin Shattenkirk?
Jason Rogers, Japers Rink. Will the Caps score four or five tonight?
Paul Almeida, SSE. How many trades at the deadline?
10-1260 text, @Lowetide on twitter. See you on the radio!