The great baseball manager Casey Stengel was famous for all kinds of sayings, but one of them seems to fit this Oilers team like a glove. Stengel used to say there were 50 games you were going to lose no matter what, be it acts of God, your starter didn't have his good stuff, your rookie shortstop makes two errors. There were also 50 games you were going to win no matter what, the heart of your order hammers three homers and your ace is so good you fall asleep in the fifth because he is a rocking chair picture. It's what you do in those other 50, Stengel would say, that determines who wins the pennant.
If you apply that to hockey, it is 25. In the extra 25 games, that's how you determine who makes the playoffs. Last night was one of those 25 games. Pretty sure. This morning, you will read about goats and bad ice and how the Oilers don't know how to win. The truth is a little different, and you will have to keep reading to find my opinion. This much is true: I still believe in this team. Tough loss.
Todd McLellan: "The desire was there, we just didn't execute. We need to get prepared for another game,and move on."
 SAM POLLOCK IS SMILING, YEAR OVER YEAR
Oilers in October 2015: 4-8-0, goal differential -7
Oilers in October 2016: 7-2-0, goal differential +10
Oilers in November 2015: 4-7-2, goal differential -6

Oilers in November 2016: 5-8-2 goal differential -3

Oilers in December 2015: 7-6-1, goal differential -9
Oilers in December 2016: 7-2-5, goal differential +3

Oilers in January 2016: 4-5-2, goal differential -5
Oilers in January 2017: 9-4-1, goal differential +8

Oilers in February 2016: 3-8-2, goal differential -18
Oilers in February 2017: 6-6-0, goal differential -2

Oilers in March 2016: 8-8-0, goal differential +5
Oilers in March 2017: 1-2-1, goal differential -5
Oilers after 68, 2015-16: 26-35-7, goal differential -36
Oilers after 68, 2016-17: 35-24-9, goal differential +11
Edmonton's clear growth is obvious in the lines across all of these months and in the overall record. You would like to see the club reach the 80-point plateau before reaching Game 70, meaning at least a tie against the Dallas Stars.
WHAT TO EXPECT FROM MARCH
At home to: Detroit, NY Islanders, Pittsburgh, Montreal (Expected: 2-2-0) (Actual 1-2-1)
At home to: Dallas, Boston, Vancouver, Los Angeles (Expected: 3-1-0) (Actual 0-0-0)
On the road to: Anaheim, Colorado (Expected: 1-1-0) (Actual: 0-0-0)
At home to: Colorado, Los Angeles, San Jose (Expected 1-1-1) (Actual: 0-0-0)
Overall expected result: 7-5-1, 15 points in 13 games
Current results: 1-2-1, 3 points in 4 games
A very disappointing game for Edmonton last night, Sunday nights are not a friend to Oildrops. They have four home games straight ahead and the expectation is six points. I remain convinced this team will make the playoffs, and am dead certain they have turned north, but we are about to see a real test, one that could frame and define the season. Is there blood in the water? The Los Angeles Kings are not going to let off the guess, this much is true.
DEFENSE LAST NIGHT

Klefbom was unlucky on the second GA. I wanted to say that because I read last night that the play was reflective of his poor overall effort last night. That isn't really analysis, that is story weaving. Single moments and events can have super importance while being exactly single moments and events.
Russell and Sekera got overloaded on the first GA, you would like Russell or Pouliot to contain the passer but the modern defender is unable to hold his opponent as was the case in the good old days.
Brendan Gallagher went 9-5 against Sekera.
The one important item to take from the stats above? The Oilers were terrible in possession. As the game went on, it looked like the club as a whole decided to get into a defensive shell. Bad idea. For me, that is one of the things the club has to improve. By the midway point of the second period, they had become a dump team, very little chase. At that point, you are running luck pretty hard and it cost them.
On a night when the Oilers blue were ineffective passing, I thought Darnell Nurse and Adam Larsson were the only ones fully able to carry the puck out of the zone. Needs to be part of the arsenal.
Cam Talbot was brilliant, stopping 37 of 39, .949sp.
1LINE

McDavid didn't get a lot of daylight. This is the kind of play we are going to see from here on in, and Todd McLellan is going to have to adjust. One thing he could do? Have a more capable pair of wingers on the 4line, allowing 97 to double shift in order to get a more handsome matchup.
McDavid had a bunch of takeaways, I counted four but missed a shift or two. Crazy hockey player.
Shea Weber went 11-9 against Connor McDavid.
Leon looks tired, which probably means he has some injury or malady. Probably not scurvy. The bad ice probably isn't helping.
Maroon had a gigantic chance, Leon sent a brilliant pass, when it was 1-0. So close.
2LINE

Lucic's goal was a highlight, wonderful individual play. It looks like the last 20 games are going to be far better than the first 50. Good to see, and the Oilers need him. I wonder if we see the big man back with 97 soon.
Nuge: "At the start of the year if you asked us if we'd be in this spot, I'd take it after five years not even being close." People are up in arms about this, but it is true. The problem is that RNH isn't having the kind of season where he can say that and not receive pushback. Could McDavid say it? Hell yes. Talbot say it? All day. Nuge? Suspect we will hear booing Tuesday. If they run Nuge out of town, I will be very upset. Klefbom, too. Seems fans are settling on the next bad guys.
3LINE

Pouliot took another penalty. Lordy. I imagine that gets a lot of play today on the Lowdown. He also was a hair late to cover the pass on the first GA, impeding Russell a little (or you could make the case). Neither item (penalty and coverage) is worth a benching, but one suspects the veteran has very little rope at this point in the season.
Desharnais was quiet.
Zack Kassian is a steamroller, baby. Love his effort this season.
4LINE

Well, folks, I don't have much to say. Todd McLellan may want to put Slepyshev and Khaira on the Letestu line, if only so McDavid will have better linemates for double shifting.
NEW LINES?
Probably. Maybe we see Jesse Puljujarvi up from the farm, too. I think it might be time to try Leon back at center, and move Lucic-Eberle up to the big line. Maybe Nuge gets a push there, too. Anton Slepyshev should get a start in my opinion. Pakarinen's return to the lineup has faded the Russian, looks like a mistake from here.
STANDINGS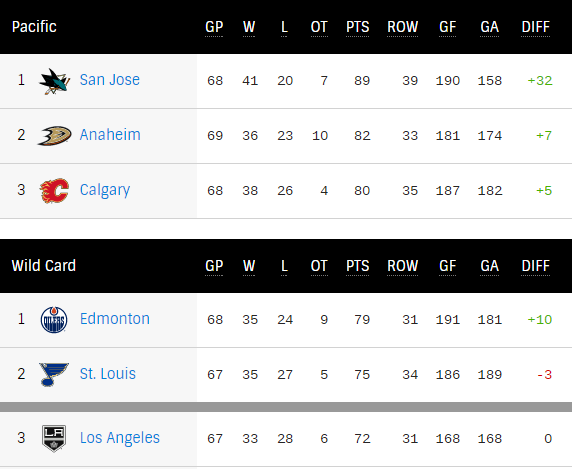 This morning's standings have the Oilers solidly inside the playoffs. LAK are going to push, but the gap (five points) is difficult to make up unless a team above you is collapsing. Many fans believe the Oilers are such a team, I remain convinced they have enough to win the day. The team has been winning with McDavid and Talbot and pray for rain all season, and it has worked. This week is an important one, there are winnable games. Many fans are counting on the Flames fever to break, but with the Calgaries about to play the Kings, perhaps you should re-think it.
ABOUT LAST NIGHT
For much of the game, the Oilers played a passive place and chase game, losing the Corsi battle in period one by five events 5×5:
Corsi for 5×5 in first period: 19-14 Montreal.
There was a point in the game where Corsi events were even, and there were a few chances (Nuge had a couple of good looks, but paused and his path to the net gobbled up) for the Oil. The Habs did a nice job of cutting off McDavid in the early parts of the game. When this happens, Edmonton needs secondary scoring, and on this night they would get one in the second period. The transport from defensemen to forwards under control was not good at all last night, and that was a big part of the problem.
Corsi for 5×5 in second period: 19-16 Montreal.
At the 4:17 mark of the second period, Milan Lucic scored. After that, the Oilers continued to dump but the chase portion often meant Kassian driving to the puck while his linemates changed (as an example). I would estimate that by the 10-minute mark of the second, game half over, Edmonton put their rifles away and started building walls.
Corsi for 5×5 in third period: 23-10 Montreal.
By the third period, the Oilers were more interested in setting up defense for the sorties than actually making Carey Price stop a dangerous shot. Montreal, having contained Edmonton's power source, no longer had to worry much about the popgun offense the rest of the lineup.
The rest is storyline. You are going to read a lot today about the sky falling and that is untrue. You will also read about Benoit Pouliot and Oscar Klefbom as culprits and this is unfair. What is the problem?
They are not balanced. Same as it ever was. The good vibe we had after the Penguins game has been replaced by real worry about roster makeup, passive play and ineffective lines. What you need to know is this: The Edmonton Oilers, as currently constructed, can make the playoffs unless they start doing addled things. That includes management, coaches and players. They have this and should not panic. Nor should you.
Now. Go panic because I know you will. In an insane bit or irony, panic and fury are home for Oilers fans. At some level, this is familiar. Crazy crazy.
LOWDOWN WITH LOWETIDE
At 10 this morning, TSN1260. Scheduled to appear:
Scott Burnside, ESPN. It is getting very interesting in both conferences. Suddenly a lot of things are up in the air.
Jeff Hauser, Radio Hauser. How is NFL free agency going?
Jason Gregor, TSN1260. Hadwin, Oilers loss, NL wins!
Sunil Agnihotri, Copper & Blue plus The SuperFan. Sunil breaks down the weekend.
10-1260 text, @Lowetide on twitter.