If we listen to math and have knowledge of Todd McLellan's coaching career, we should follow the progress of Joseph Gambardella closely. The young college man is aggressive on the forecheck, creates offense from broken plays, and arrives at a time when the Oilers need a "Rem Murray" or "Jim Dowd" to fill an important depth role.
NHL EQUIVALENCIES, 2016-17 FORWARDS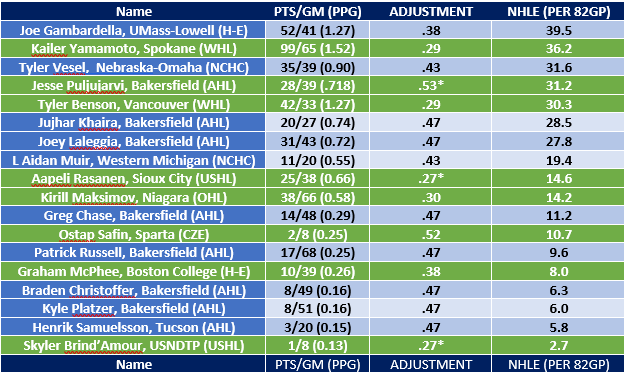 RE 17-18: 4GP, 0-0-0
How many training camp hopefuls were there last year?

Eight. Dillon Simpson (I predicted four games, he played three), Anton Slepyshev (I predicted one game, he played 41), Joey Laleggia (four games predicted, he played none), Jere Sallinen (two, none), Taylor Beck (10, 5), Tyler Pitlick (10, 31), David Musil (10, 0) and Drake Caggiula (25, 60).

Why will McLellan like him?

He is very aggressive, has offense and is older for a new pro. McLellan picked similar players in San Jose for depth roles.
Like? The list of Sharks forwards with no pedigree who played for the Sharks under McLellan includes forwards Andrew Desjardins, Torrey Mitchell and Tommy Wingels. The Oilers are going to need inexpensive checkers who can post some numbers.

How much can he bring offensively?

The NHLE is shy of Drake Caggiula, so we shouldn't overrate his bat, but Gambardella did have success in college grinding out offense by playing good defense.

Could he emerge as more of an NHL option this season?

Sure. He'll need some luck but the Oilers are not loaded at center. Competition includes Brad Malone (first center recall) so a strong training camp may give him a push.

What is his strongest argument?

He has some range in an area where the organization lacks depth. This is a really good fit for Gambardella. His agent did a helluva job.

What will his role be in Bakersfield?

Two-way forward, probably top 6F and he should post strong boxcars. Went 6gp, 1-2-3 at the end of the season, so 35-40 points in 68 games seems possible. At worst he is 3C, behind Malone and Josh Currie but I don't buy it. Grayson Downing is also in the conversation (I looked at Bakersfield here).

What one thing will get him to the NHL?

Among the locks for Bakersfield, he appears to be close to the most NHL-ready.

What will keep him from getting an NHL look?

It's a fairly small list. He is 5.10, 200, so lack of size may keep him from getting multiple chances. Other than that, he looks like a good candidate. Aggressive, great work ethic, good speed, has some scoring touch. The worst thing you can say about him is that it might be next year for his NHL look.

What else?

Ryan Lambert had this to say: The game Lowell brings to the table every season is hard forechecking and cycling, but few lines have done it to the level of perfection Gambardella, Smith, and Edwardh brought this year. They create so many own-zone turnovers that end up in the back of the net, and leave opposing coaches shaking their heads. Coaches tend to categorize these things as uncharacteristic mistakes, and to some extent that's true. But the mistakes are very characteristic of what happens when you play the River Hawks. Source

When will we know he has a chance?

When Todd McLellan talks about him in training camp the way he talked about Anton Slepyshev and Iiro Pakarinen.