Overnight–while we slept–Dave Gordon over at Oil On Whyte found something interesting and wrote about it. Now, this is summer–past the draft, free agency and the trading frenzy, and as fans, bloggers, observers we've kind of run out of things to talk about during this part of the year. Having said that, Gordon found a nugget that could indeed indicate there's something out there.
THE TRUTH IS OUT THERE!
The link is above, and there's a lot of info so I'm not going to post his news just ask that you zip over and read it. If you're too lazy, John Hoven tweeted something and Gordon drew some interesting (and rational) conclusions. It DOES NOT mean that Kyle Clifford will be traded to Edmonton today, but it does mean that at least one credible media member (and an enterprising blogger of sound mind and body) thinks something could be up in regard to the Oilers.
THE VOLLMAN SLEGDEHAMMER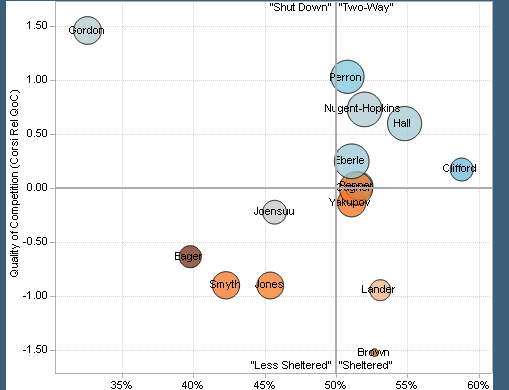 Acquiring Clifford would mean that MacT will have added (should it occur) Boyd Gordon, David Perron and Kyle Clifford to the good part of the graph (and with good color) while also clearing a lot of the lower quadrants out. Added to the nice group of youngsters in the 'two-way' division and it's a nice adjustment to the disaster we saw at season's end. (this is Corsi btw). The zone starts portion points to the importance of Smyth-Jones presence.
WHAT IS KYLE CLIFFORD AND WHAT WOULD HE COST?
He's 22 years old, 6.02, 210 and his bio is a perfect fit for the Oilers

Clifford is what Mitchell Moroz would have been if he'd blossomed offensively this past season:
Clifford at 17: 60, 16-12-28
Clifford at 18: 58, 28-29-57
Moroz at 17: 66, 16-9-25
Moroz at 18: 69, 13-21-34
I expect the Oilers would try him on a Gordon-Jones line and then if that didn't work he'd be a 4line option. Clifford's scoring totals suggest a guy who might be able to play with some skill. The WOWY numbers show an interesting picture, as pointed out by Woodguy.
Clifford w/ Nolan 46.8
Clifford w/o Nolan 58.6
Nolan w/o Clifford 51.3
So Clifford bumps up higher when without Nolan, and Nolan bumps up w/o Clifford as well, but less than Clifford, which makes sense as Clifford's "other" line seems to be Carter/Richards
He had less than 100min w/ Carter and Richards, so you can't come to a firm conclusion, but it shows nicely.
Then we look at Clifford wowy w/ Carter
Clifford w/ Carter 58.2
Clifford w/o Carter 52
Carter w/o Clifford 55.1
So Clifford doesn't fall off a cliff without Carter, which is nice to see.
End woodguy. The WOWY stats are here.
What will it cost? A good, top end prospect. Martin Marincin, Martin Gernat, Jujhar Khaira, Dillon Simpson.  I can also see Gordon's choices being included in a deal. As we move forward, it's important to remember why teams stockpile prospects–for use and for trade–and that Craig MacTavish is extremely likely to send away prospects not named Darnell Nurse or Oscar Klefbom.
Don't get too attached to the summer top 30, ladies and gentlemen.