In terms of pure value, the Edmonton Oilers hit a big fly when taking Anton Slepyshev #88 overall at the 2013 NHL entry draft. At 6.02, 190, the righty shooting left winger may be the most skilled forward 'in the system' and at 19 years of age he could arrive quickly depending on contract situation.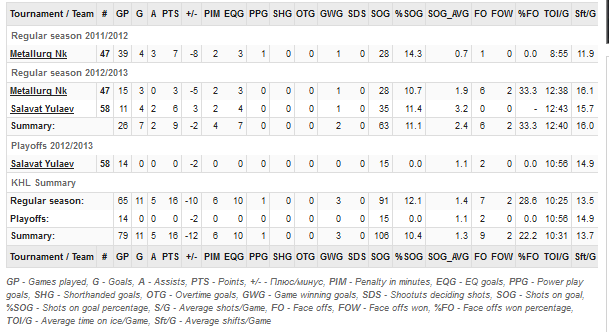 Slepyshev's 12-13 season saw him play for both Metallurg (12:37 a night) and Salavat (12:43 a night) and scoring 26, 7-2-9 during the regular season. He is 'in the range' offensively with Marc Roy and Jujhar Khaira among the best of the Oilers prospects outside the NHL. He was getting lots of chances in Salavat (35 shots in 11 games) and is described as a first shot scorer.
COREY PRONMAN 2012: #17 OVERALL
Slepyshev is one of the rare 17-year-old forwards who has been able to step into the KHL and produce, albeit at a marginal level. His production is along the lines of what elite prospects Evgeny Kuznetsov and Vladimir Tarasenko did in their 17-year-old seasons, though, for example. Slepyshev is an above-average skater who is tremendously agile and is also able to get up to a notable top gear. When you combine his great agility with the fact he has high-end puck skills, he really is a nuisance to check. Slepyshev is very effective at dodging opponents and creating space for himself. I've seen times on penalty kills where he would dance around the opposing zone for 15-25 seconds because several opponents keep missing him. Slepyshev has a plus if not near that shot and he knows it, as he has a shoot-first mentality with the ability to score from way out. He can still make plays and doesn't have tunnel vision, but I wouldn't classify him as a playmaker. Slepyshev's physical game needs some work as while he's average-sized, he's got a bean pole frame and can easily be pushed off the puck. He will show some physical effort, although that at times could be better, and has some defensive value too, but his strength level is way behind where it needs to be.
COREY PRONMAN 2013: #45 OVERALL
Slepyshev was passed over in last year's draft, mostly due to signability concerns. Despite being ranked 17th in last year's Hockey Prospectus draft rankings, he falls to 45th this season, simply due to the depth of the draft class. He is an above-average skater, with agility and free movement, as his shiftiness makes him hard to check. He has a plus shot and he knows it, as his mentality is often shoot-first, even from distance. He can still make plays, and he does not have tunnel vision, but his playmaking skills are not his best element. His physical game has progressed, and he has added strength since last season. He can protect pucks moderately well. He will display physical effort, although it could be better at times. He also needs to work on his defensive game.
THE SCOUTING REPORT 2012: #18 OVERALL
The KHL will undoubtedly be of concern for NHL teams when weighing their options with Slepyshev, but on talent alone, he has certainly proven himself as a 1st rounder in this draft. Slepyshev is a dynamic winger who has slick puckhandling skills and loves to showcase them when he has the opportunity. He has NHL size and has proven himself against professional players as a 17-year-old which bodes well moving forward as he finds more comfort. Slepyshev could be a good gamble for a team drafting in the late 1st round that can afford to be patient with him over the next several years, otherwise he likely has limited appeal for teams looking for a player who is committed to the organization from the outset.
THE DRAFT #88 OVERALL
ISS Scouting Report: "Perhaps the best player that was most shockingly left off the draft board last year, Slepyshev came back strong this year. A talented two-way player with good spirit, Slepyshev has great hands and can really make things happen from the perimeter with the puck. He shows good work ethic, can play physical and also can be a real pest to play against. He shows good power elements in his game and can protect the puck well and isn't afraid to go into the dirty areas of the ice. Saw good minutes for Russia at this year's WJC and should be in line to be one of their top weapons for next year's event."
(Slepyshev is on the right)
BY THE NUMBERS
Anton Slepyshev
May 13, 1994
LW
26, 7-2-9 -2 Metallurg and Salavat (KHL)
NHL equivalency 82, 18-6-24
Acquired: Oilers acquired picks #57, #88 (Slepyshev) and #96 (Kyle Platzer) from Los Angeles for #37 overall (Valentin Zykov).
FINAL COMMENTS
Remember when Stu MacGregor talked about MacT's draft emphasis?
MacGregor: "Well with Mac, skill is really important to him. That's something that he's looked for. Obviously the other intangibles of character, hard work, quality of people and players who are passionate to play the game are important, but he really has a high regard for skill."
The beauty of this selection is that he's close in age to the heart of the cluster. Slepyshev is 7 months younger than Nail Yakupov, about a year younger than Ryan Nugent-Hopkins and he's skilled enough to play with high level talent. That's a big deal, because Edmonton is going to need value contracts very soon, with the #1 overalls maxing out in short order.
The Oilers took a sniper, a high end skill guy who can play with the best of his age group and succeed. It doesn't matter where they got him–and remember this was a deep draft and he wasn't chosen due to signability concerns a year ago–it only matters that they have him. And with the possibility of playing with Nail Yakupov, the Oilers have a very nice player who could be available sooner than later.
Good arrows. Great choice.