Martin Marincin had a very good pro debut last season, but it was difficult to evaluate for a couple of reasons: first, he was paired with Justin Schultz for much of the first half of the year, and second he received plenty of PP time so the offense held sway in evaluation. This season, he is without Schultz and is not getting the PP push. How is he doing?
PREVIOUSLY NUMBER FOUR ON THE WINTER LIST
December 2004: D Jeff Woywitka
December 2005: L Jean-Francois Jacuqes
December 2006: C Andrew Cogliano
December 2007: D Taylor Chorney
December 2008: C Rob Schremp
December 2009: C Chris VandeVelde
December 2010: D Martin Marincin
December 2011: L Teemu Hartikainen
December 2012: D Martin Marincin
It's interesting to look back and see just how quickly these lists begin to wander into the area prospects become suspects over time. Woywitka, JFJ, Chorney, Schremp and VandeVelde are all misses and Hartikainen is in the KHL. Cogliano stands tall in this group and Marincin has been #4 on the prospect list for three of the last four seasons. He is becoming the proverbial perennial prospect.
 WHAT THEY SAID ON DRAFT DAY
Redline Report: Tall Lanky D with a huge frame to fill out. Good skating ability for his size; Pivots well and shows good agility, though he lacks balance and acceleration. Skates with head up and looking for plays – smooth puck handler with good passing touch. Reads play quickly and makes good decisions. Doesn't force things that aren't there. However, once he makes his outlet pass, his arms sag to his side and he's not interested in trying anything else offensively. Lacks an aggressive mindset and rarely ventures off the blue line at offensive end. Inconsistent defensively – positioning in own zone needs improvement. Tough to beat 1-on-1 off the rush because of his mobility and long reach, but can be beaten in tight by quick, shifty forwards. Counts mostly on the pokecheck and skating ability rather than using his big body, but is improving in the physical aspect and does a good job pinning men against the wall.
Projection: Big, shutdown #4-5 dman
Style compares to:

Lavislav Smid (with a better shot)

Stu MacGregor, draft day: "We got the pick in a trade for Riley Nash and with that pick we were really hoping to get a defenceman. Our European scout Frank Musil was pushing for him. We'd seen him as a 17-year-old at the World Junior in Saskatoon. He was tall and slender and could skate well and had real good sense with the puck. A lot of the decision involved the knowledge he planned to come to North America to play junior as an 18-year-old."
I always like to return to the draft day scouting report because it keeps us based in reality. A season like Marincin's in Oklahoma City last year can create an illusion and we're going to be disappointed if it's a one-off. Often, most of the points that defensemen add to their boxcars come from the powerplay, so let's have a look at last season's even strength numbers and compare them to current season for Marincin.
POINTS BY DISCIPLINE, MARTIN MARINCIN
| | | | | |
| --- | --- | --- | --- | --- |
| PLAYER | EV | PP | PK | TOTAL |
| MARINCIN 2012-13 | 69, 5-18-23 .333 | 69, 2-5-7 .101 | 69, 0-0-0 | 69, 7-23-30 |
| MARINCIN 2013-14 | 14, 0-2-2 .143 | 14, 0-1-1 .071 | 13, 0-0-0 | 14, 0-3-3 |
It looks like the bump offensively had to do with quality of linemates (Schultz and company) at even strength and on the powerplay, so that's something to keep in mind for this season. He's on pace for about the same number of points with the man advantage (5) but far less at evens (10). I think it's best we assume that Marincin's offense will be slightly stronger than Smid's (or Klefbom's) but it's unlikely we're looking at a 40-point NHL defenseman in Marincin. What kind of point range should we expect? Last season's Desjardins' NHLE would be 16 points, that seems reasonable. In his 7 seasons in Edmonton, Smid did not score 16 points.
PREVIOUS TOP 20 RANKING
Summer 2010: 9
Winter 2010: 4
Summer 2011: 7
Winter 2011: 5
Summer 2012: 4
Winter 2012: 4
Summer 2013: 3
Winter 2013: 4
Marincin has been inside the top five for some time now, for me that suggests some consistency and it does appear he's on track as a prospect. He'll be entering the NHL as a 5-6D and that may in fact be his ceiling. Third pairing at evens, top 4 on the penalty kill and around 18-20 minutes a night. The one advantage Marincin can offer is passing ability and the skills to move the puck up ice on his own. The Oilers don't have many of those skills in a 6.05 frame.
WHAT THEY'RE SAYING THIS SEASON
 Corey Pronman: The Good: Marincin is a toolsy, big defenseman who can

skate, puck handle, and move the puck at notably above-average levels

, particularly for a player his size. He moves in every direction well, can flash significant offensive playmaking skills, and looks very good on the man advantage. When he is on, he has the instincts and puck skills to consistently create chances while keeping play flowing in the right direction. The Bad:

Marincin struggled with play in his own end

, as well as decision making, although he improved as the season went along. He looked inconsistent with decisions early in his WHL days, and some of the same problems surfaced as Marincin tried to adjust to the pace of the pro game. Projection: He could be

a good second pairing defenseman

.
Jonathan Willis: Marincin's year-to-date has been a little on the disappointing side. He's big and he moves the puck well and the talent is obvious, but there's a little

too much chaos to his game

and he doesn't generate enough offence to justify it. At this point he's probably pretty comparable to Anton Belov except at the AHL level.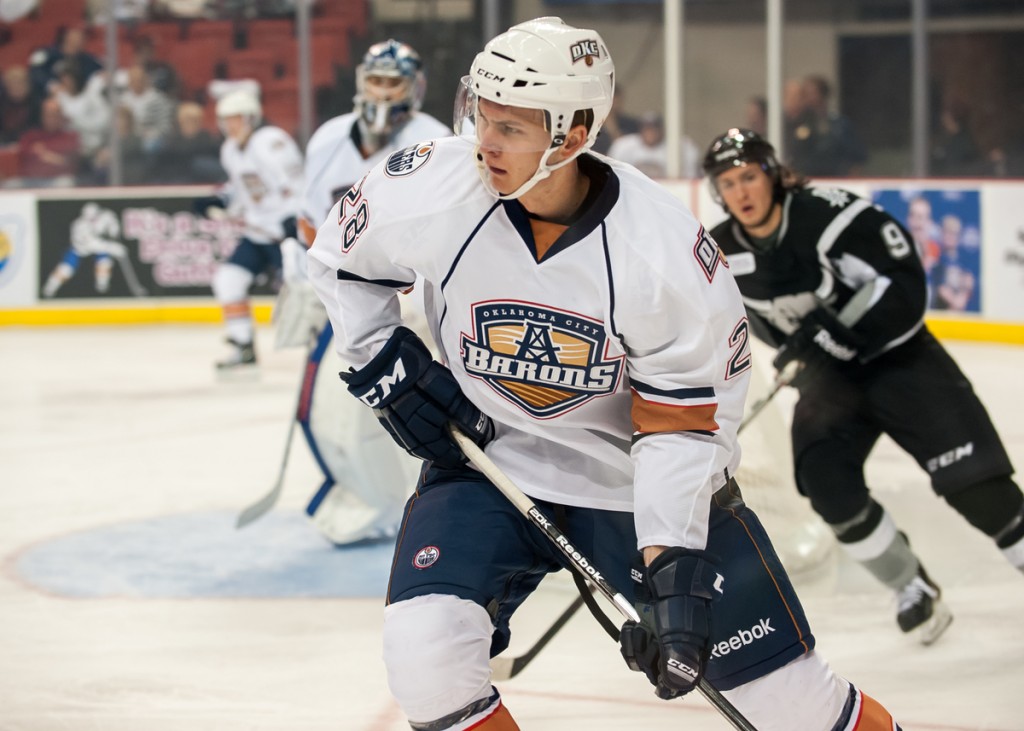 2013-14
A lot of people have been critical of the Oilers drafting record under Stu MacGregor and their style of development forever, but Marincin is an example of a player who appears to  have flourished at each level. His development typically involves struggles early and then a period of transition followed by strong play. Still, the lack of verbal from the higher management types from the Oilers is telling. Craig MacTavish has gushed over both Darnell Nurse and Oscar Klefbom, but the quotes on Marincin remain on the cutting room floor. He is, at a guess, not a firm member of the long term plan. If Marincin is sent away this season, it should not come as a surprise.
ETA MARINCIN
In ranking Martin Marincin fourth overall, it is important to stress the gap between the top 2 defenders and Marincin. There is no sure thing when it comes to defensemen, but Nurse and Klefbom are as close as the Oilers have had in years. Marincin is a different level of prospect, a player whose skills have made themselves known but we still (in his second pro season) don't have surrounded at this time. His size, speed, passing ability and health make him an attractive prospect, and his offensive ability should make him a bona fide top 4D player if he can master the defensive aspects of the game.
The watch word for many of these defensive prospects we'll be discussing over the coming weeks will be consistency, and his progress in this area will dictate how quickly he's elevated to the NHL. Bottom line: A 6.05 defenseman with footspeed, defensive consistency and the ability to pass or carry intelligently has exceptional value, especially in the modern era. Martin Marincin remains an extremely intriguing prospect.