The Edmonton Oilers don't have enough NHL defensemen, and that's on the General Manager. Like snow in winter, taxes, death and heartbreak, there's no way to argue this club meets the schedule satisfying the need for seasoned blue. When he traded Ladislav Smid, Craig MacTavish left his team shorthanded and it's on him to stop the bleeding. NOW.
The numbers are a good place to start, simple boxcars like games-played. Here are the NHL GP totals for last night's defensemen:
Nick Schultz 851
Andrew Ference 802
Jeff Petry196
Justin Schultz 82
Anton Belov 37
Martin Marincin 4
The Oilers are 2-6-2 in their last 10 games, and really haven't beaten a clearly better team in some time. Last night's game isn't all of the defense, but the group's inexperience is a big factor. Basically, the club sent out two long-in-the-tooth veterans (1,000 games is usually the outer marker for the Schultz-Ference types, Jason Smith played 1,008 games and was fading for the final 150-200), one guy who has enough experience for a coach to count on (Petry) and then three guys trying to make the room stop turning so quickly.
That's a lot of trouble for the coach, and of course there are no Craig Ramsay's in the forward group.
 EVEN-STRENGTH TOI LAST NIGHT
Justin Schultz 26:13
Andrew Ference 25:28
Jeff Petry 23:23
Nick Schultz 20:24
Martin Marincin 12:09
Anton Belov 10:09
The two guys who haven't played much in the NHL were used sparingly in a road game the coach was probably trying to survive (and incredibly, win), and I don't think there's much we can be critical of here. Belov's performance in OT probably allows us to raise an eyebrow (WHY was he out there?) but stuff happens.

That's Belov's 13th shift of the game, it was miles too long, it resulted in the winning goal and exposed Belov's inexperience and foot speed issues. The man was bagged and he didn't/couldn't get off the ice (and there were other culprits, I'll name Petry and Eberle) but for me if Belov had changed when he should have (Petry's shift was 35 seconds old when the goal was scored) it wouldn't have been an issue.
I'm not going to bury Anton Belov, he made a terrible double clutch at a vital moment and lost the angle on Yandle, but this is an issue of depth for the coach. Craig MacTavish traded Ladislav Smid, and last night the coach had two defensemen he didn't trust (TOI is trust) leaving the other four men to play and play and play. The GM needs to fix that—today.
Send Marincin down, recall Taylor Fedun. Fedun played last night, lacks experience in the NHL but is an older player. Bring him up, send Marincin down and give your coach another option. Or, made a trade. At this point, faulting the coach is the wrong call. The lands on the GM's desk and has been an issue forever, made worse by the Smid trade.
Fix it, MacT. From Malmo. Today.
BARONS SCORING IN DECEMBER
FORWARDS
Ryan Hamilton 10, 2-5-7 E

Curtis Hamilton 12, 4-2-6 -1

Linus Omark 7, 3-3-6 -3
Roman Horak 9, 4-2-6 E
Andrew Miller 12, 3-3-6 -6
CJ Stretch 11, 3-2-5 -7
Derek Nesbitt 12, 3-2-5 -2
Travis Ewanyk 12, 1-2-3 -1
Will Acton 11, 4-2-6 +3
Matt Ford 11, 1-3-4 +1
Kale Kessy 10, 1-1-2 E
Tyler Pitlick 8, 0-3-3 -2
Ryan Martindale 11, 1-2-3 -6
Curtis Hamilton has scored 4 goals in his last two games! What a great turnaround, keep it going young man! Omark's exit appears to have given him more opportunities, but from what I'm reading Hamilton is also effective on the penalty-kill. That's EXACTLY the role I thought he would fill as a player—15-20 goals, great two way play. If Hamilton's healthy, scoring goals and playing well defensively, the young man has a future with the Oilers. Sooner than later. GREAT story.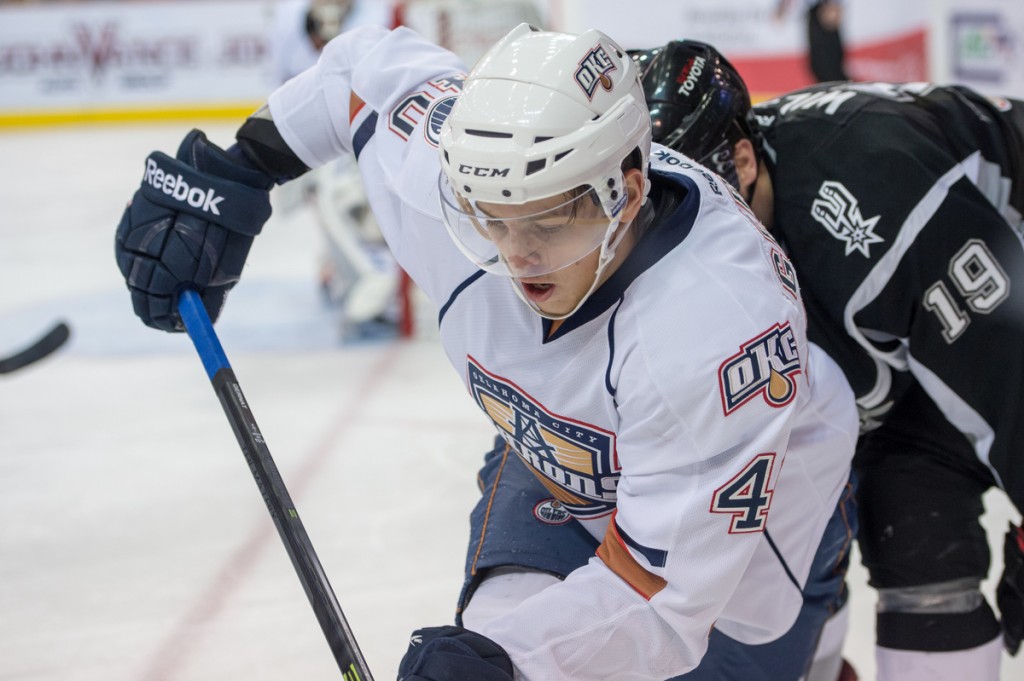 (Martin Gernat, all photos by Rob Fergusin, all rights reserved)
BARONS SCORING IN DECEMBER
DEFENSEMEN
Brad Hunt 12, 2-7-9 -1
Martin Gernat 11, 0-6-6 -1
Taylor Fedun 4, 0-2-2 +1
Oscar Klefbom 10, 0-1-1 -1
David Musil 10, 0-2-2 -6
Brandon Davidson 9, 0-1-1 -4
Denis Grebeshkov 9, 0-1-1 -7
There's some clearance here now, it looks to me as though (with Marincin in the NHL) the likely callup is Fedun (back and playing last night). Hunt and Gernat are performing well, but the club should give Gernat a full year in the minors. Musil has played well according to reports, but he's in the same boat as Gernat. Davidson and Grebeshkov don't look like they're moving in a good direction currently (it's hart to tell with stay-at-home types like Davidson).
Klefbom looks like he'll need the entire year. No, I'd recall Fedun (and perhaps consider Hunt, but this team has enough chaos) and send back Marincin. While also making a trade today for an NHL defenseman.
That's the play here.