Tomorrow morning, Hockey Canada will announce their 25-man men's winter roster. Taylor Hall should be on it. I don't think he'll make the list.
Dallas Eakins: "Taylor wants to win number one, and number two he wants to be the best left winger in hockey."
Hall has struggled this season, his CorsiON has him well back of last season, but the dynamic winger pushes the river at the offensive end of the rink. He may be there less often this season, and for shorter periods, but once there he remains one of the best in the game.
5×5/60 NHL
This is via extra skater and shows Hall as the second most productive LW in the NHL at 5×5 scoring. That's not the entire game, but if we agree the hardest thing to do is score goals (and toughest at even strength), this is a player you have to consider. I'm reading a lot about his defensive errors and lack of a complete game, but the Canadians will have those types in droves (Bergeron, Sharp) and need to have all elements on their roster.
If we take baseball as an example, great defense up the middle is vital to success: Canada's catchers and pitchers and middle infield should be great with the glove; however, their cornermen (1b, 3b, rf, lf) push the offense and drive results. That's Taylor Hall. Put him on a line with one of those glorious two-way guys, or hell man throw him out there with Crosby, and maybe we see magic.
LAST 10 GAMES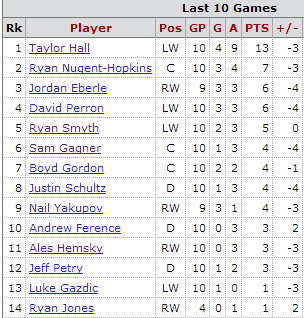 Hall is stretching out offensively now, finding the range and passing teammates overall. He's on pace for 80+ points and represents high octane offense on a team that is miles from being the best offensive group in their division.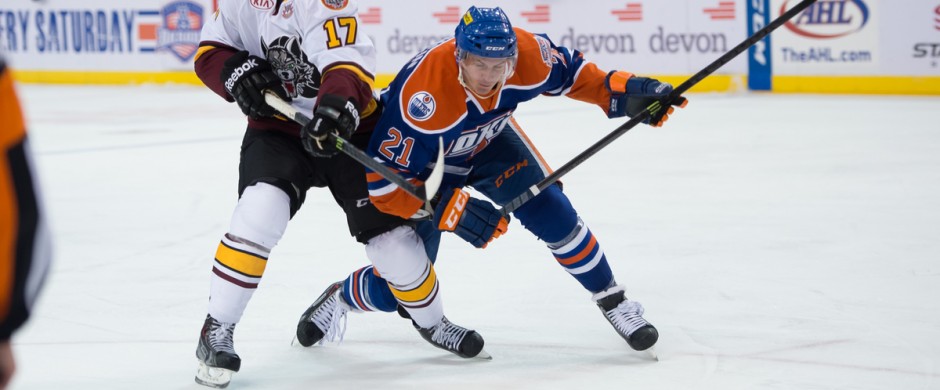 Eakins on Marincin: "I think when you get the first callup you're nervous, you don't want to make a mistake. I think you play hesitant. When we sent him back Craig and I sat with him and gave him a very clear outline about what we need from him. Most of it comes from being assertive, and playing the way he did in the AHL. He's come back and done that for the most part. He's still got a long way to go, he's got a lot to learn about the game. The thing he gives us back there is size, he's not a heavy guy yet, he's still looks like a boy, but his range with that stick he can get us out of trouble with that long, long range."
It's nice to see this young man playing well, and it gives us another item to talk about for next season. Eakins points above are reflective of a guy who is trying to establish himself as an NHL player. The timing is good, if he stays for the rest of the season he'll play 40+ NHL games and perhaps the Oilers can run with Marincin and one other young defenseman (Nurse or Ekblad or Klefbom) as part of next year's group.
MAKING TRADES
In many ways, the Oilers are in a period where they don't really have to do anything. The team isn't going to finish near the playoffs, they're dead in the water. I wonder if they'll wait until the off-season before adding pieces, or, with much to do, start making those moves earlier. Perhaps the Friedman comment Saturday night signals a major shakeup, and perhaps that happens before the season's final bell.
LOWDOWN WITH LOWETIDE
This morning at 10, we get back to normal. Thank God. Scheduled to appear:
10-1260 text, twitter @Lowetide_ hope you tune in!
LOWETIDE OLYMPIC TEAM
Goalies: Carey Price (starter), Mike Smith, Roberto Luongo
Defense: Drew Doughty, Duncan Keith, PK Subban, Shea Weber, Alex Pietrangelo, Marc-Edouardo Vlasic, Dan Hamhuis, Kris Letang
Forwards: Sidney Crosby, Jonathan Toews, Patrice Bergeron, Ryan Getzlaf, Joe Thornton, Steve Stamkos, Matt Duchene, Taylor Hall, Martin St. Louis, Corey Perry, John Tavares, Claude Giroux, Patrick Sharp, Logan Couture