Once the calendar turns to a new year, the prospects in the AHL often move up the depth chart. Don't ask me why, it just works out that way. AHL rookies like Andrew Miller, Martin Gernat, Travis Ewanyk and David Musil should have adjusted to the step up in competition and be ready to take extra minutes. How are things going?
*D Martin Gernat 14, 3-3-6 -5
*L Austin Fyten 6, 2-3-5 +4
*D David Musil 14, 1-3-4 E
*D Oscar Klefbom 10, 0-3-3 +2
*C Travis Ewanyk 14, 1-2-3 -1
*R Andrew Miller 4, 0-2-2 +5
*L Kale Kessy 12, 0-1-1 -3
This is January and February games. Gernat certainly does wheel, I'm not certain the minus is a big deal but it is part of the story. Musil and Klefbom have (based on reports) settled in and this kid Fyten has made an impression. Nothing earth shattering, but the only guy who looks buried is Kessy.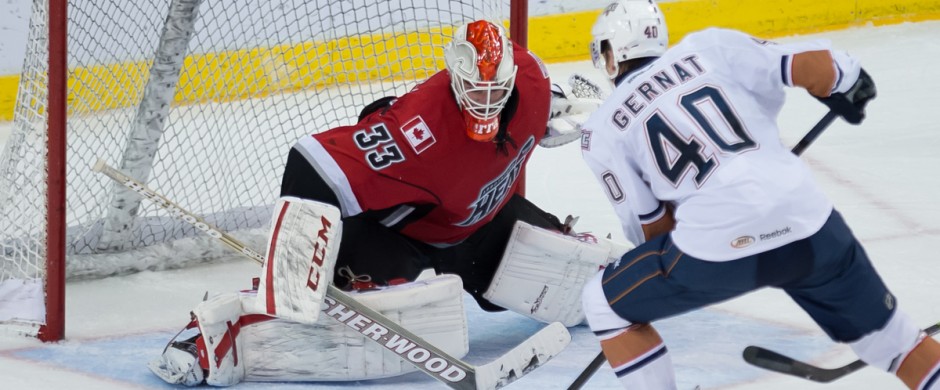 C Anton Lander 14, 4-15-19 +4
L Roman Horak 15, 8-5-13 +6
D Taylor Fedun 15, 4-8-12 +4
R Tyler Pitlick 11, 5-4-9 +5
L Ryan Martindale 13, 3-6-9 +3 (traded to San Antonio)
D Brad Hunt 13, 2-7-9 +5
C Mark Arcobello 3, 3-4-7 +3
C CJ Stretch 14, 2-5-7 -7
C Will Acton 14, 3-3-6 +1
L Ryan Hamilton 10, 3-1-4 -1
D Brandon Davidson 14, 0-3-3 +6
L Curtis Hamilton 4, 1-1-2 -2
Here are the veterans. Lander is ready, Oilers should call the man up and let him loose. Horak is a prospect I liked in Calgary, hope he gets a chance. Fedun, like Lander, is ready. I think Pitlick is too, but man this kid can't stay healthy. Arco's an NHLer and Curtis Hamilton has industrial knees. Brandon Davidson seems to have turned it around after a struggling start.
I know you all read Jonathan Willis at CoH and ON, but if you don't please do yourself a favor. Brilliant stuff from OKC.
CALLUPS
Right Now: Mark Arcobello, Anton Lander, Taylor Fedun
Soon: Roman Horak, Tyler Pitlick
There's some talent down there, folks. And some rookie pro's showing well since the new year.
(photo by Rob Ferguson. All rights Reserved)