The Edmonton Oilers enter the 'death spiral' portion of the home stretch, beginning tonight. The games now through season's end are likely to test fan resolve, player commitment, and could impact the futures of coaches and managers. This is hell.
Tonight: San Jose
Friday: Anaheim
Sunday: NY Rangers
April 1: San Jose
April 2: Anaheim
April 4: Phoenix
April 6: Anaheim
April 8: Colorado
April 10: Los Angeles
April 12: Vancouver
Ten games to end the season that should as a group tighten sphincters from here to eternity. The last "easy" game was Calgary, and the Oilers lost by a touchdown. The Oilers as an organization should be patient, but that's going to be difficult in these next 10 games.
VOLLMAN SLEDGEHAMMER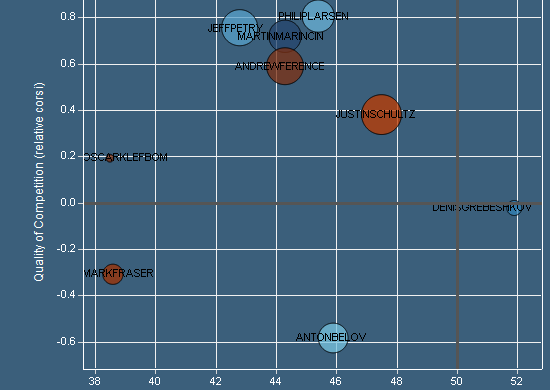 This is Qual Comp/Zone Starts and the bubbles are CorsiRel. The interesting items here are:
Marincin's bubble is now the deep, rich blue one gets when having a really good season, and he's playing tough competition with a 44% zone start. This is a terrible defense, but Marincin's rookie season should not be trivialized because of it. The one good thing about this defense this season is Marincin.
Jeff Petry is much maligned but there's no reason for it. He remains the best player on the team, despite youth and lack of experience.
Phil Larsen is pure chaos, but the Vollman likes him plenty compared to his teammates. He is badly miscast in this role, but might be a useful AHL callup on a good NHL team. Something to keep in mind for next season and beyond.
Ference and Schultz have CorsiON numbers beyond -15, this is not a working tandem. Plenty of talk about how to handle Petry, but for me it's right there in the Vollman. A good team would have Schultz closer to 50% offensive zone start and in the "two-way" part of the Vollman graph. Currently, everyone but Grebs, Fraser and Belov are in the shutdown corridor.
If you are looking for reasons to be critical of Dallas Eakins, the usage of Klefbom and Fraser (most severe zone starts on the team) would be an area to examine. It's a tough thing no doubt, but Taylor Fedun and Denis Grebeshkov are available for recall. It seems to me the pursuit of toughness has gone beyond the pursuit of icing the best available team.
A few news items here, including Arco hurt, Belov ready (but unlikely to play, which is a questionable decision), Yakupov still not ready to play and Lander v Fasth.
I'm not certain what the Oilers can get out of the last 10 games. The goaltending is set for next year (assuming Fasth recovers), the D will feature Petry, Marincin and Ference (unless one of them is traded) and the forward group will boast Hall, Nuge, Eberle, Yak, Perron, Gordon, Hendricks and Gazdic. Gagner will probably be traded, Smyth is a summer decision and the club will need to decide on people like Lander, Pitlick, Jones, Arco, Fraser, Belov, Larsen et al.
How many of those guys can improve their stock with the time remaining this season? Maybe Lander, maybe Pitlick, maybe Belov, maybe Larsen.
Bottom line on this season: Craig MacTavish did not want to trade one of the good young forwards for defensive help last summer, and this June he must. I think we might see a massive change in roster over the summer, as veteran defensemen (two) and a quality two-way center—at the minimum—need to be added to the group. Dallas Eakins has a much better idea about his roster today than he did in the fall, so he'll know which of the young guns is most expendable for him.
I still think there's something in Philadelphia. It was discussed at the draft, and may also have been discussed early in the regular season.
LOWDOWN WITH LOWETIDE
At 10 this morning, the Lowdown hits TSN 1260. Scheduled to appear:
10-1260 via text and @Lowetide_ on twitter. See you on the radio!!