Oscar Klefbom joined the party a few days ago, and it is officially 'go time' for the parade of young blue to the show. Not all of these kids will make it, but Klefbom (and Nurse) is a first-round pick and the expectations are high for this player. Injuries have impacted his development, but we're seeing a talented young man with plenty of potential skating in Oiler uniform #84.
Eakins: "It's almost as if (Klefbom) is slowly moving up the food chain right now. I didn't feel he was intimidated by them at all, and that's the first part of it because those are big, intimidating guys. They're big, they've got massive reach, they both can skate and they've got skill. It's the full package, and two of them on one line, you don't see that a lot."
Story is here. It's funny how things that occur in current time remind a person of the distant past. The current Oilers—with kids in the lineup and miles and miles of kids on the way—are a nice match for the late 1960's Toronto Maple Leafs. Now, that Leafs team won four Stanley's 1962-67 and needed to turnover the roster because a very successful group of veterans were growing old. Still, the youth on blue theme rolled for several seasons in Toronto:
1967-68: Mike Pelyk (almost 600 NHL and WHA games, highly rated prospect at the time)
1968-69: Pat Quinn, Rick Ley and Jim Dorey. All three players enjoyed quality careers during the 1970s.
1969-70: Brian Glennie, Chris Evans. Glennie would have a good career, Evans had some fine seasons.
1970-71: Brad Selwood. Played much of his career in the WHA, solid defenseman during the decade.
Seven perfectly useful defensemen arrived via Toronto in a four year span. Incredibly, the WHA would rob the Leafs of a large number of these blue, but the procurement department came up with Borje Salming and Ian Turnbull in 1973-74. That's a helluva run for one team, it really is.
2010-11: Jeff Petry. A solid young defenseman who quickly established himself in the NHL.
2012-13: Justin Schultz: Dynamic free agent signing whose actual NHL value is being established.
2013-14: Martin Marincin and Oscar Klefbom. Story in early chapters.
With Darnell Nurse, Dillon Simpson and others on the way, the idea that Edmonton could grab seven useful defensemen in a four year rookie cluster is not only possible, but likely. Next season, we're probably going to see Nurse and Simpson make their debut, and possibly Ekblad too. Those seven names (Petry, Schultz, Marincin, Klefbom, Nurse, Simpson, possibly Ekblad) all have a chance to impact their NHL team in the next decade.
The early results are encouraging, this season's debut by Marincin and now Klefbom give us a glimpse into a towering future. This could be fun, soon!
KEYS TO THE GAME

JONES
News yesterday that Ryan Jones' season is over and the injury is a serious one. Jones found a home in Edmonton and played a lot of games in copper and white (and blue and orange), but I hope he'll get another shot in a new town and that this injury doesn't spell the end of the line.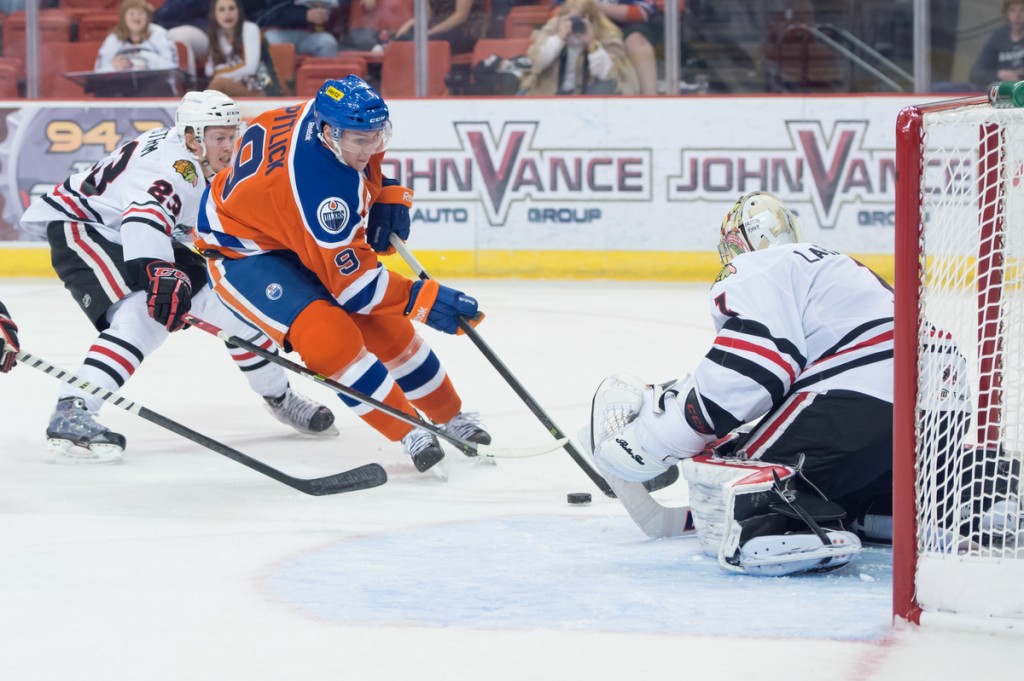 It's time for Tyler Pitlick to step up. I liked his last game (before injury) and word yesterday had him being available for the game today. Anton Lander has been showing some good things, time for Pitlick to keep things rolling. If MacT can count on some of these Barons next season to fill roles at the end of the roster, it allows him some leeway when addressing the front end of the roster. The fewer holes to fill the summer, the better the opportunity to fill them well.
NOTES
It would be nice for Ryan Smyth to get his PP goal tonight. There aren't many things about this Oilers team that could make an old guy cry tears of joy, but this is one of them.
Nice to see the Nuge pick up a point or two down the stretch, that 1line looked good when they put the band back together the other night.
Klefbom can freaking fly. He's a Jetson!
Marincin's wingspan is a real comfort. He's miles from being the full Marincin, but there's a lot there to like. Oiler fans throw compliments toward Stu MacGregor once a decade, but I think that selection is worthy of a nod now. Right?
The failure of Alex Plante from the 2007 draft meant the gap between Petry in 2006 and the next true NHL defenseman (Marincin) was four draft years. In that time, MacGregor picked Eberle (2008) with his only top 100 pick, then took Paajarvi and Lander 1-2 in 2009. Troy Hesketh was a third round miss, but the next defender taken was Marincin. Seasons in which a team doesn't have a second or third round pick—like 2008 or 2014—impact the future in significant ways.