The Edmonton Oilers signed a college free agent today. Jordan Oesterle is a Western Michigan defender and his resume looks good. Here are a few quotes from college hockey sources:
Chris Peters, United States of Hockey: The junior defenseman has developed well under WMU's defensive-minded head coach Andy Murray. Since the former NHL coach's arrival, WMU has been a factory for defensemen. Oesterle added a little more offense to his game, but it's his defending that has drawn interest. I remember hearing about him way back in the middle of the season when scouts noted he was developing into a really solid defender and was going to be a factor on the college UFA market. If Oesterle can get just a little stronger, he should be able to round out into an NHL-caliber defenseman. Having played on a team where they rely on defense, Oesterle had a big role with the Broncos, often playing top-pairing minutes. I think he's going to need a fair amount of time in the AHL to continue to get stronger and adjust to the pro game, but he's a smart hockey player with potential. He's headed to Oklahoma city right away, so the Oilers won't be burning a year off of his two-year ELC. It's a relatively low-risk signing for a defenseman that has been trending up developmentally.
I used a giant clip from the report, but there's more to read so click-through if you are able. Chris was on the Lowdown today, and had nice things to say about Oesterle. We're going to need a nickname, I'll never be able to spell his name properly.
Jeff Cox, SB Nation: His stock grew as the season progressed, moving from a fourth or fifth defender up to the team's top defensive pairing with Dennis Brown. Oesterle finished the season with a plus/minus of +2. Oesterle is a smaller defenseman that excels at making excellent decisions with the puck. He's a smooth skater, and plays sound positional defense to make up for a lack of physicality in his game.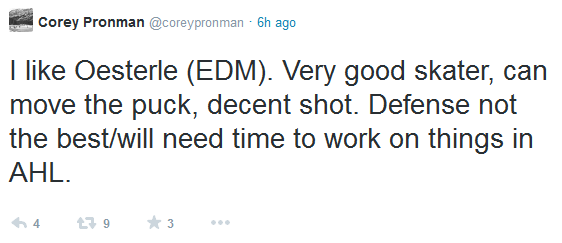 So, there's some conflict in these reports but that isn't uncommon. I don't think we should be too concerned about them, and lack of size issues that are flying about as the day wears on and we all go off on tangents. The thing to remember is this: he's a young man with talent and signed a contract with the Oilers. Oesterle may end up being another Taylor Fedun, or Mark Arcobello or Bryan Lerg—we won't know for some time.
We should cheer him on. After that, we'll see.