The Edmonton Oilers are showing signs of life. In their last three road games, the club's 5×5 Corsi for % has been 45.6% (San Jose), 50% (Anaheim) and 50% (Phoenix). The Anaheim game saw the 1line go off, with Corsi numbers we've rarely seen from anyone this season. Can they repeat it tonight?
OILERS LAST 10 GAMES, SCORING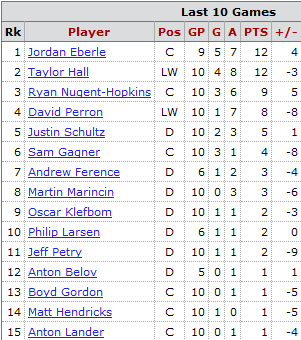 The right people are scoring, there just aren't enough of them. A strong finish by the top line and any kind of help from the 2line should get the Oilers close to 30 wins (they have 27 now). In the last full season Edmonton played, the club won 32. Running this year's total up close seems like the right thing to do.
It's interesting to see the lack of any kind of offense from the 3 and 4 lines. Gordon, Hendricks and Smyth have combined for two points during this 10-game period, and Anton Lander owns a single assist. We talk a lot about the 2line C job, but a two-way winger with offense to play with Gordon is a pretty important add this summer.
FIVE LONG YEARS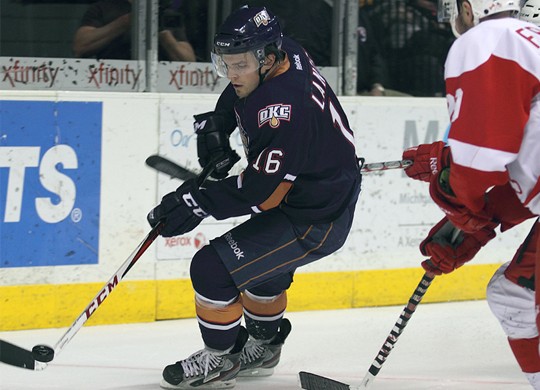 A conversation from last night's blog around how long to wait on draft picks reminded me of the wisdom in waiting five years. One year ago, this blog was rife with comments like "none of MacGregor's second rounders are going to do anything" and "these defensemen aren't developing"—and tonight we'll enjoy Oscar Klefbom and Martin Marincin in the best league on the planet.
Klefbom was taken 19th overall in 2011 and beat 10 first-round picks from that year to the NHL, putting him in the 'right on time' category—possibly better if you believe defensemen take longer to develop. Martin Marincin was chosen 46th in the 2010 NHL draft, and ranks inside the top 30 in NHL GP from that draft season. Ahead of the curve? Certainly, especially if you factor in quality of play.
This summer, we can make the call on 2009 and the key may be Anton Lander. He can't score at the NHL level (so far), but he has improved his offense in the AHL. The other day, I broke out AL's offense PP/SH/EV and got (43GP) 10-16-26 (PP) 0-0-0 (PK) and 8-14-22 (PP). Let's compare that season over season:
Lander EV in 13-14: 43, 8-14-22 .511
Lander EV in 12-13: 47, 8-8-16 .340
So, improvement. I still believe the Arco signing is a stumbler for Anton Lander, but there are some signs he's improved at the AHL level. I think he might have an NHL career, but don't think it'll be in Edmonton.
SCORE ON THE POWER PLAY TONIGHT, SMYTH!
We're cheering, Ryan. Always have.