I'd like to talk a little this morning about progress. Sometimes in life you have a difference of opinion with someone, or you and others find a group of people with a different view, and it becomes personal for one reason or another. I believe that's happened with 'saw him good versus advanced stats' and very much doubt we'll get this thing resolved in my lifetime. Why? There is a stubborn streak on both sides that would impress 1,000 mules.
However, there ARE signs of progress.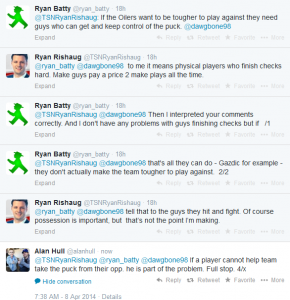 For me, this is progress. Two sides discussing the problem and coming at it from differing points of view, but without the "you idiot" stance so many (from both worlds) take in these conversations.
I think it comes down to this: smart math people drill down on concepts, discover this stuff works and has predictive power, and then become frustrated that it doesn't get adopted universally. These individuals, wonderful learners but poor teachers, treat every new set of ears as though they are one large idiot, begin to lash out at these individuals in an effort to hurry along the process. "How thick are you?" is not an effective teaching tool, and yet from my experience that's the approach many in the math group take. The exchange above represents progress. Congrats to all in the thread, and thanks for giving me some faith that defensiveness will one day wash away and leave the conversation to grow and manifest new directions.
If you've read this far, I'm sure part of you is saying "dammit Lowetide, THEY started it with the cheesies in the basement and do you watch the games crap!?!!" and you're right as rain. The mainstream media has for the most part been very slow to respond, and doesn't trust it. I suspect it has to do with having to think about strongly held views that are central to the way one sees the game. When Tyler Dellow showed me Grant Fuhr was not in fact the greatest goalie of his generation it pissed me off royally. The internet has (thankfully) washed away my rage, and I've come to my own view about Fuhr and his place in history.
I think the math folks have to realize three things. First, whips are a terrible teacher. Second, what took them relatively little time to suss out takes us normal humans a long time, because math and because you're attacking our Fuhr's. That's going to get some pushback, but that's also a sign that you're engaging the other side. Finally, the MSM has the power to keep their distance for a long time, and for older gents like myself that means we'll not be around when the good stuff arrives.
I am not pointing fingers this morning, I am thanking Ryan Batty, Alan Hull and Ryan Rishaug for engaging without anger.  Thank you, from the cheap seats.
 THE CONVERSATION IN THE COACH'S ROOM
Eakins on having a hammer: "I can easily stand here and argue "Yes, we need that." We've got a guy back there that's more than willing to fill the role  with Mark Fraser and, uh, one side of me says "absolutely, we need the toughness up front, we need it on our back end."
Final portion: "But, Mark [Spector], I… and that's the honest to God's truth, there's one side of me that says: "Yes, we need to old school it and we've got to have those guys." And, then there's another side of me looking at how teams are, some other teams are building and… I'm not sure."
This is Dallas Eakins talking about the Rishaug and Hull/Batty argument going on in his brain. This conversation is happening all across the NHL (except Toronto) and the blogs and people who read and have read this one have been along for some or all of the ride. That's wonderful, this is the good stuff!
Ladies, it's a simple thing. If you care about the other man's opinion, and believe in the strength of your argument, you need to respect both with your words and your actions. Only then, when the defenses are down and smart people are free to express complex and simple without the shackles of pettiness or the fear of the crowd, will the true value of this new toy be realized.
Let it be.
MY OPINION
I have stated forever my opinion on this but one final time. When I was a lad, the Montreal Canadiens employed a "policeman" named John Ferguson. He fought and speared and intimidated, basically all the things we see Milan Lucic do today. Ferguson did this alongside Jean Beliveau and Yvan Cournoyer (among others), meaning he had to keep up, take and make a pass (the most underrated skill in the sport) and endure the burning legs that came with keeping up to the Roadrunner.
ALL of the Flyers 70's team could play. ALL OF THEM.
Somewhere along the way, NHL managers came to the idea that "enforcers" meant "fighters" and we are here. You cannot—as Eakins brain expressed above—have it both ways UNLESS your big man can play the game.
It's always been thus. ALWAYS. This is a modern era issue, no one in the previous 50 years of the game would have been foolish enough to risk it. What does that tell us about the modern game? Well, it suggests coaching staffs value their top 9 forwards and that the bottom three are the 'ad-libs' in the group. It tells us that some teams employ a fourth line as though it was a backup third line and others employ a line designed to ward off demons.
It tells us the conversation Dallas Eakins is having with himself has yet to find a victor. It tells us the conversations we've had on this blog and others are also an issue in the boardrooms and the backrooms. It tells us we have answers that will eventually be adopted by the game we love.
How quickly do we want this to happen? How much do we want to be a part of it? How much do we respect the game? The people who are in it but need time and time and time to reach their own conclusions?
As always, questions are the fire that fuels ideas and solutions. Sometimes, when they're especially volatile, the way these ideas are introduced impacts the adoption timeline.
Let it bleed.
There are a lot of people saying the Oilers have been passed by the Colorado Avalanche, but to my eye the Avs are built on a house of cards.
CORSI FOR %, 5X5

Their record in one-goal games is not sustainable, and the fact that Patrick Roy is being crowned king of the world will make this fall rather sweet. Will it come during the playoffs? Next season? Both?
FRIEDMAN
30. Another follow-up from the last blog: the NCAA defenceman Edmonton targeted was the one they got, Jordan Oesterle. They were trying hard to keep it quiet, because other pursuers were thinking he might go back to college. Someday, I'm going to write a book on all of the things teams and agents accuse each other of doing when it comes to recruiting NCAA free agents. It's hilarious.
LOWDOWN WITH LOWETIDE
A busy day on TSN 1260, 10 this morning. Scheduled to appear:
10-1260 via text, @Lowetide_ on twitter. See you on the radio!