Tonight, the Edmonton Oilers play the Los Angeles Kings. I believe this summer will see a lot of moves designed to "LA" the Oilers roster, and that means adding size to the skill already on the roster. If we can, for one moment, "borrow" some LA players, I think we might be able to form a future roster.
PROJECTED OILERS FORWARDS
Nuge-Hall-Eberle

Mike Richards

-Perron-

Dustin Brown/Justin Williams

Gordon-

Dwight King

-Hendricks
Arcobello-Gadzic-

Trevor Lewis
I've added four players, your mileage may vary. I've also flushed Sam Gagner, Nail Yakupov, Ryan Smyth and all of the other fourth line players. I do believe we should begin to discuss the Oilers without these players, and probably someone like Jeff Petry leaving the blue, too. If you're going to acquire a Mike Richards (we discussed Josh Bailey yesterday) or a Justin Williams, then someone is leaving town.
MacT's job is a tough one. Acquiring Justin Williams is expensive, difficult and requires another team looking to turn over an important part of their roster. This does not happen every offseason, but there does seem to be more blood in the water than normal in many NHL cities.
By the way, we'll know the Oilers are a true contender when that 3line above is the fourth line.
THE BLUE!
Oscar Klefbom is getting thrown into the deep end as a flat out rookie, coach Dallas Eakins seems to be giving him softer opps but severe zone starts. I'm not absolutely certain what he's doing—this is the opposite of Earl Weaver's usage of starting pitchers in the bullpen until they're ready. Klefbom's Corsi is poor, but his Rel is surprisingly buoyant: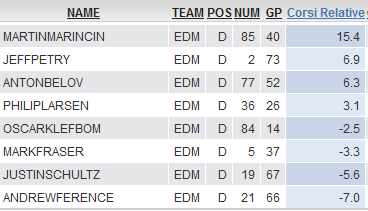 Just into the neg's and that's not bad when we take into account these are his first NHL games and he's got the own zone ditch. Look at Marincin's number!!! Wow. This graph also shows our man Petry remains a defenseman misunderstood, and Belov has either played in incredibly good luck or is actual factual good. The gap between the fanbase attacks on Petry and his actual value are reaching epic proportions:

Jeff Petry isn't my son, but I do feel there's a growing (as it did with Gilbert, and will one day with Justin Schultz and Dillon Simpson) sense that it's time for the soft college man to leave town. I'm at a point where it might be wise for Edmonton to avoid drafting or signing these young players. They're clearly good enough, but the fanbase is taking less and less time to turn on them.
The most recent goal that has everyone pissed involves some loose coverage from Petry, and honestly looks like hell as a GA. However, the support by Nuge and the giving up of the blueline so easily is also terrible:
Here's Johnson with the puck and we're miles from danger, Nuge has the front door and Petry is preparing for the oncoming sortie. This exact play is repeated hundreds of times in a season, delaying entry (by Nuge) often results in a dump in, an offside call, or an upsetting in timing that makes possession difficult. 93 doesn't come close to slowing things down, and now there's some trouble.
Split seconds later we have Nuge in chase mode, Petry in some danger because Johnson's waggle has given him some impressive momentum and this is going to be close. If you're a hockey fan, watching this play, it's likely you're thinking this could end up in a penalty by Edmonton.
Johnson makes his move, Petry whiffs, and that's all she wrote. Soft coverage by Petry? You bet. However, this image—the one where Petry looks terrible—is far more powerful than the evidence given us by thousands of these sorties defended over the years. The facts are this: Jeff Petry is more capable at defending than the other Oilers defensemen, save Marincin whose body of evidence is reaching a point where we'll have to discuss him as a top pairing option for next season.
The visual is so powerful, I suspect the Oilers lose Petry as they did Tom Gilbert. I don't think Edmonton is a city that will support a Jeff Petry, and suspect player and team may part ways in summer. One hopes they get more than Nick Schultz for him, but when you're sending out your best defenseman every few years (and Gilbert was at the time) it's going to be very hard to make this thing go.
My hope is that MacT doesn't listen to the crowd, that the crowd doesn't turn this into something ugly. History suggests Jeff Petry, a useful defenseman, will spend the heart of his career in another NHL city. Edmonton will receive a lesser player, and be all the poorer for it.
Rinse.
Repeat.
LOWDOWN WITH LOWETIDE
A very busy Thursday, we'll discuss Darnell Nurse in OKC and Dillon Simpson ending his college career on a national stage. 10 this morning, TSN 1260 and scheduled to appear:
10-1260 via text, @Lowetide_ on twitter. Should be fun!