There are names in the air this spring, and some of them have value. Here's the problem: HOW MUCH of the future do you give up for Dion Phaneuf? Jason Spezza? I'm all for bringing in both, but at what price? Ladies, there are worse things (it turns out) than losing for most of a decade. Losing 2006-14 and THEN trading your future for a brief spike? Lordy. Just lordy. How deep would you cut in order to acquire Double Dion Kablammo?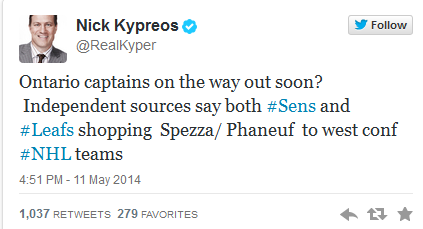 Would you trade Marincin straight up for Phaneuf? That gives you Phaneuf-Ference-Klefbom on the LH side. What about Klefbom straight up? That would give you Phaneuf-Marincin-Ference and cost more than $11 million. I wouldn't make either move.
There might be a deal here, though. The Oilers have four defensemen I think we can agree will be on the team next season:
Marincin-Petry
Ference-Schultz
If you drive Phaneuf into that group, and have Darnell Nurse on the way, could you afford to send Klefbom away? And since the Leafs are dumping $7 million on the Oilers doorstep, what about throwing Gagner into the deal? And if Gagner is going one way, why not make the deal complete?
Oscar Klefbom and Sam Gagner to Toronto for Dion Phaneuf and Nazem Kadri
The Oilers are giving up a big part of their future, but do get a quality young player in return. The money on the deal (Klefbom $894, 167; Gagner $4.8M) is $5.7 million going out and (Phaneuf $7 million; Kadri $2.9 million) $9.9 million entering. So, the Oilers are giving up over $4M in cap room, moving in a top 4 defender and a forward who has a nice range of skills and some range in his skillset.
I know, I know, Phaneuf can't play. Except he can. I wrote about him in 2012, and for me that's the player Edmonton should assume they're getting.
CORSI REL

This is a wonky graph, because even though it's CorsiRel the severity of the situation for Phaneuf and Gunnarsson doesn't quite shine through. The Vollman Sledgehammer (which for some reason isn't coming up for me this morning) shows an incredible line, and the Corsi QOC above reflects it. Incredible. Climbing Everest with Crocs.
ZONE START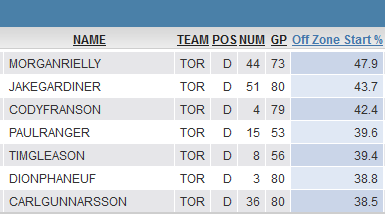 Phaneuf was 53.1% back in the 2012 article above, perhaps giving his next coach some insight into how to use him next season. Jake Gardiner—who Carlyle just doesn't trust at all—ran a gorgeous CorsiRel while also posting a 43.7ZS, it would be interesting to look at his season.
QUAL COMP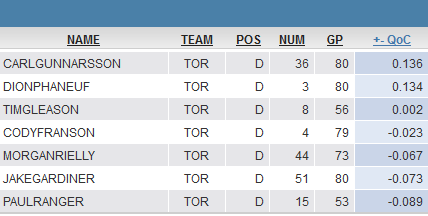 Randy Carlyle could run Shawshank. Jesus. The next time someone says "you can't run an NHL team on two defensemen" show them this graph. And if you want to know what the Leafs are looking for this summer, it's defensemen Carlyle likes. Maybe Ference?
WHAT DOES IT ALL MEAN?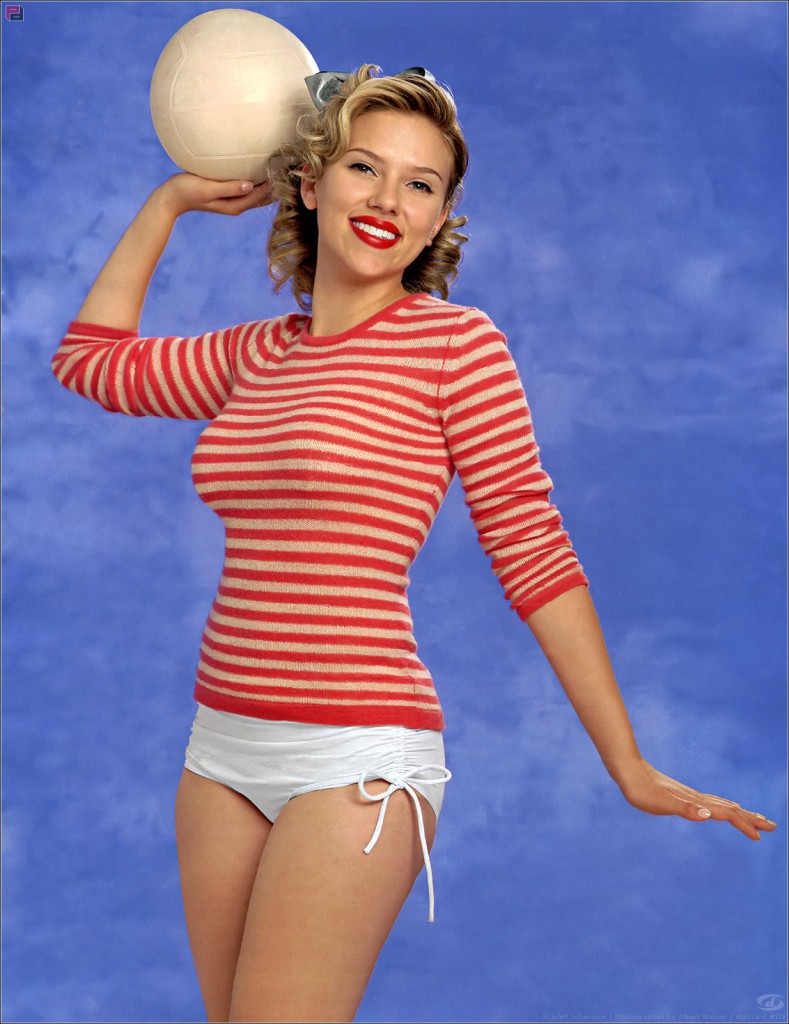 I like Phaneuf, always have. I also like Kadri. As much as trading Oscar Klefbom is a noxious ponder, he does have injury issues and Marincin ahead of him, Nurse not too far behind. Would you do that deal?