In a conversation this morning on the Lowdown, Travis Yost and I discussed a suggestion sent in to TSN 1260 from RCN: "would you do #3 and Gagner for #8 and Phaneuf?" I handled it with my usual aplomb ("I don't know. Hmmmm. Ummmm") and then threw Yost under the bus and he talked me into it (weak, weak human am I).
Yost's argument was "for crying out loud, you have to DO something to improve this damn team" and I added that getting a veteran like Phaneuf without giving up a young defender was a good thing.
Would you do?
THE BLUE
Marincin-Phaneuf
Klefbom-Petry
Ference-Schultz
or
Phaneuf-Schultz
Marincin-Petry
Ference-Klefbom
I really like the veteran presence of Phaneuf, and even better would be the addition of another veteran like Markov but let's not use all the opium this early in the offseason. Do you like this? Let's run the  Phaneuf Vollman before Carlyle.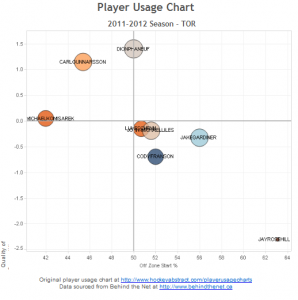 Click to enlarge (that's what she said) and this is Corsi On for the bubble. This is Phaneuf in 2011-12, playing the toughs, with a better offensive zone start than this past season (but still the toughest) and most importantly there's a healthy Carl Gunnarsson with him. I think this is the guy Edmonton would be trading for, and they get rid of Gagner's $4.8 million (while taking on 7 large from Double Dion Kablammo).
I like the idea of Phaneuf as an Oiler, not gonna lie. And this isn't new, I've mentioned this multiple times. So, fair warning. We'll be talking Dion Bam Slam Shang-a-lang Balls Out Pow! Ka-bong! Pie-rre! until he ends up on the coast.
WHAT'S AT NUMBER EIGHT?
My current top 15:
C Sam Bennett
D Aaron Ekblad
C Sam Reinhart
C Leon Draisaitl
L Michael Dal Colle
L Nick Ritchie
L Nikolaj Ehlers
R Kasperi Kapanen
L William Nylander
L Jake Virtanen
C Robby Fabbri
D Julius Honka
L Brenan Perlini
D Haydn Fleury
The "window of opportunity is in bold and underlined. Your mileage may vary. So, if we apply this list to the trade, it might be Sam Gagner and Sam Reinhart for Dion Phaneuf and Kasperi Kapanen.
Would you do it?