The name to remember when talking rebuild is Taylor Hall. The idea this summer shouldn't be 'get the franchise player' hell folks he's been smoking opponents on Rexall ice for years now. That established, let's walk through a few trade options that are on the floor.
ISSUE ONE: FLORIDA PANTHERS
On SSE yesterday, Paul Almeida proposed the following: Nail Yakupov and Sam Gagner to Florida for the No. 1 and No. 32 selections.
It's an attractive idea, the Oilers could go to the draft podium and select Aaron Ekblad and Leon Draisaitl on day one, and then grab a nice player at the front of the second round on day two. It would, at a glance, be an exceptional draft, one that could sustain the Oilers in two areas of great need for a decade or more. If you're building up the middle, here's a way to do it in a heartbeat. The added feature is the Oilers cap saving, massive if you consider various bonuses for Yakupov. The Panthers could afford to take on the salaries, and the trade would give them two offensive players of note—one of which could blossom into a 40-goal scorer.
The problem, for me, comes in two forms: first, you're trading away two NHL players (Yakupov has struggled, but is finding his way) and adding two more flat out rookies, one of whom is a defenseman. Are you sure you want to do that? Moving the cluster back again? Remember Taylor Hall? "Well Taylor, we did trade some guys you've played with, but these new guys will help in 3, 4, years!" Seriously?
The other item is the more important, and that's finding free agents to take the Oilers money. I'm not convinced Edmonton can get Grabbo-Kulemin, but I'd like to think they could, and getting those two on board makes a lot of sense. Does it make the same kind of sense with Yakupov gone? I guess it does, but one could argue this move could be made without trading Yak City.
If the Oilers trade these two pieces at the draft, they must score in free agency, even if that means massive overpayment, in dollars and term. Are we all prepared for that?
ISSUE TWO: COLUMBUS BLUE JACKETS
Aaron Portzline from Puck-Rakers is talking about a Gagner for Umberger deal, and has some interesting details involving no-trade. That's a city to monitor, because Scott Howson brought a lot of men into that organization and has the lowdown on them. I'd hope the club could score more, but Umberger does fit the new template for the club and he is a veteran player. The money is close to matching, CBJ might want to chip in a little because of the term (extra year) and the relative youth of 89. Maybe a second? Could happen.
ISSUE THREE: DALLAS, NASHVILLE, TORONTO
The Fourth Period is on the Gagner story, with rumors that the Stars, Preds and Leafs have interest. Each team has some contracts they would no doubt like to unload, but most have NTC and that leaves Edmonton out (most of the time). Dallas is interesting because of the Shawn Horcoff connection (Horc apparently recommended Gagner for captain as he left), but I don't see a good money match.
Nashville has all kinds of cool things, including Paul Gaustad, Viktor Stalberg and my choice Colin Wilson. Toronto? Kadri, Gardiner, Clarkson, there's all kinds of names there. I think the Leafs make a certain amount of sense ESPECIALLY if there's a desire to trade Dion Phaneuf. I think the big man is probably a reasonable name to target for the Oilers.
ISSUE FOUR: THE RFA'S
Edmonton has a long-standing tradition of evaluating players once they reach their crossroads rfa summer. This year's model is Jeff Petry, and I wouldn't be surprised to see the club deal him. Petry has tremendous value to the team (21:35 a night, he was their best defenseman this past season) and he's been the best value contract on the Oilers for at least a couple of years now.
Petry's figure last season was $1.75 million and he's quality. If I'm his agent $4 million is the area I'll settle so would start the bidding well north of that number. MANY Oiler fans will (and have, with me) argue he's not worth $3 million dollars a year, but I don't believe that to be reasonable. You're buying free agent seasons and any fool can see what he meant to this team in 2013-14.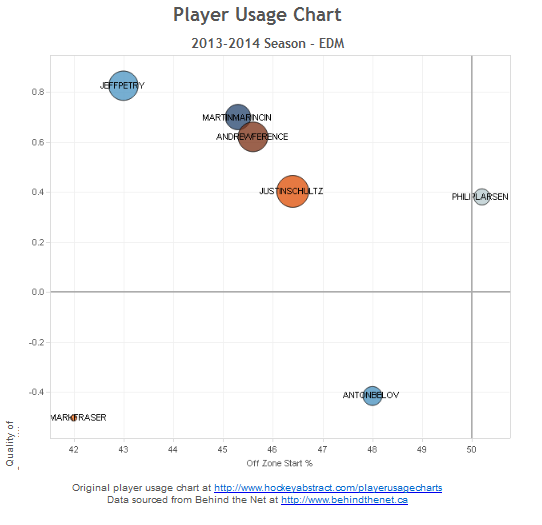 That's Corsi Rel, and the Vollman Sledgehammer. Mark Fraser sure has an interesting spot on the map.
—
So there you go. I don't think it's sexy on a Sunday morning to suggest Dion Phaneuf is a better target than No. 1 overall, but I also think Taylor Hall's increasing frustration is a real and present danger. He is joined by millions of Oilers fans, who now look at the draft as some kind of false spring. There was a time when having the No. 1 meant everything, and now the idea of trading for it is noxious. What a ride.