Taylor Hall is a brilliant hockey player, an impact NHLer with an insane resume and a super nova future. At 21, he enjoyed a breakout season in the NHL, finishing ninth in scoring and second in the Western Conference in total points. At 22, he finished in a tie for sixth overall in points, and was the No. 1 point-getter in the entire league among LW's.
NHL 2013-14 TOP SCORING LEFT WINGERS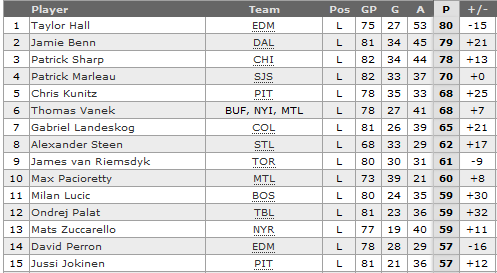 Number 1 overall. This is via NHL.com, so if you're missing someone they're probably listed as RW's on their website. In your mind's eye, imagine the ages of the men behind Hall on this list. VERY FEW contemporaries, even fewer men who play for horrible teams. And look at the assist total. Taylor Hall is a complete offensive player, an absolute killer.
NHL 2013-14 TOP EVEN-STRENGTH SCORING LEFT WINGERS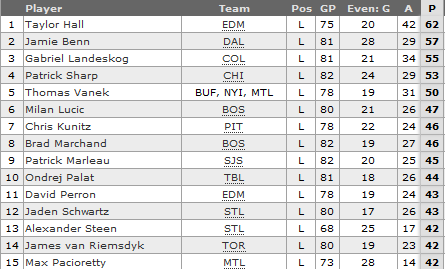 Hall widens the lead here, as he's beyond the rest by five points despite playing six or seven fewer games. This is a brilliant even-strength performer, a man who gets the puck on his stick less often because of the men sending it in his direction. A man who was snubbed last season by the PHWA and by the Olympic team because he plays for a wayward franchise that can't get out of its own way, and Hall wears their mediocrity by association.
I suspect Hall will spend another summer snubbed, the PHWA deciding to reward Jamie Benn or Sid Crosby and passing over the league's best left winger.
I pray baby Jesus that Taylor Hall is as a committed to the Oilers as he seems, that he doesn't tire of the burden placed upon him by an addled crew and management that spends each summer rebuilding the perfect beast. God bless you, Taylor Hall. They don't deserve you, and that's for sure.