When he came to us, Oscar Klefbom was the second piece of good news that day (Nuge being No. 1). He's always been kind of "and don't forget Oscar" when it comes to talking about the prospects, and he played in Sweden and they don't appear often in the CHL schedule.
Klefbom arrived in North America last fall, and we heard nice things but they are also tempered with "he'll need some time" type quotes. And they said that about Chris Hajt and Alex Plante too, so you never know.
BARONS BLUE, SCORING JAN 01 TO MAR 15
Brad Hunt 24, 7-20-27
Taylor Fedun 28, 4-10-14
Martin Gernat 25, 3-6-9
Brandon Davidson 28, 3-6-9
David Musil 27, 1-6-7
Oscar Klefbom 18, 1-5-6
He arrived in Edmonton and looked like a newborn deer for the first few sorties, but as time elapsed you could see the neurons firing and the reaction improving. Oscar Klefbom—distant bell—was arriving, right on time.
Eakins: "He's been night-and-day for me from those first 30 minutes he played for us. We still have to protect him a little bit — that's the fair thing to do with a man of his experience — but so far, so good. He's making progress."
Eakins moved him up to over 15 minutes a night, and put the zone starts in lower Yemen to boot. The qual comp was low rider, but this was a rookie making himself useful as well as ornamental. It was, at the very least, a nice little substory at the end of the another ridiculous season.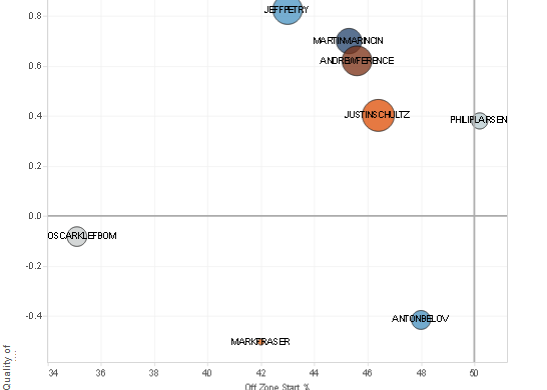 Crazy graph. First of all, BLUE spotted in youthful areas (this is REL) including the kid from Sweden with the ZS in the 30s. Crazy Crazy. Let's hammer it home with some help from Behind the Net.
KLEFBOM QUAL COMP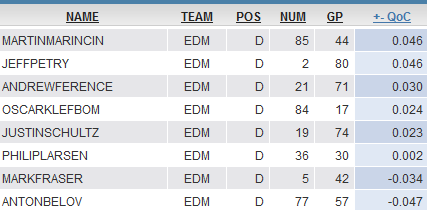 I'm not absolutely certain why Klefbom appears to be playing tougher comp than Schultz (it is the opposite in the graph above) but it might have to do with Klefbom's lack of playing time compared to Schultz. Either way, Klefbom wasn't playing the soft parade upon arrival.
KLEFBOM ZONE START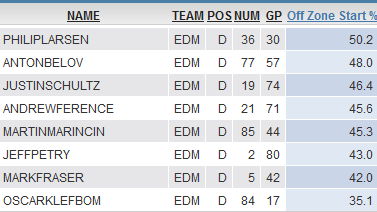 And here's the zone start proof. Now remember, these are his fist 17 NHL games we're talking about here. I'll refrain from discussing the decision to put him here, but the fact that he did it without suffering a fiery end is a good thing.
PARTNERS AT EVS
Justin Schultz 126:26, 44.3 5×5 Corsi for % when together
Mark Fraser 56:04, 46.4 5×5 Corsi for % when together
He played with other partners (here) but not much with anyone else. I've expressed this before in the last couple of months, but what if MacT CAN'T find a better option? This isn't Taylor Chorney we're discussing here, ladies. This is a first-round pick who developed in Sweden for two years after he was drafted and then came over here to fly sorties in Oklahoma territory.
He may have graduated to the NHL, and we may come to see that as a good thing. There are free agents available who do not offer an upgrade for the Oilers. It's possible MacT's 'go with youth' statement ends up being the best available plan?
Are you all ready for this?
CURRENT DEPTH CHART
Martin Marincin-Jeff Petry
Oscar Klefbom-Justin Schultz
Andrew Ference-????
Also in this series: ETA NURSE