The Boston Bruins are in the news cycle these days, as the offseason planning rolls forward in 28 NHL cities. CSNNE.com had a story a few days ago that listed both Brad Marchand and Johnny Boychuk as possible trade candidates.
Haggerty: Players such as Brad Marchand ($4.5 million cap hit) and/or Johnny Boychuk ($3.66 million cap hit) could be moved, based on a combination of salary cap hardship for Boston, and considerably high value on the trade market.
The Oilers have plenty of cap room, and could certainly use both players in their lineup this fall. Let's look at Johnny Boychuk as a possible target.
BOYCHUK 'EXTRA SKATER' PLAYER CARD
He enjoyed a nice season in 2013-14, and of course has been around for the Bruins successful run that includes a Stanley and a finals appearance in the last several seasons. Boychuk might be an attractive option for Edmonton in a mentor role , a role he filled with Matt Bartkowski this past season. He might be able to do a similar thing with one of Martincin or Klefbom in the coming season. A top 4D of Marincin-Petry, Klefbom-Boychuk should be considered a significant upgrade on the current depth chart.
One area Boychuk was not effective? In a Ference-Boychuk pairing, which didn't click over a several season period and shouldn't be pursued by Edmonton based on evidence.
VOLLMAN SLEDGEHAMMER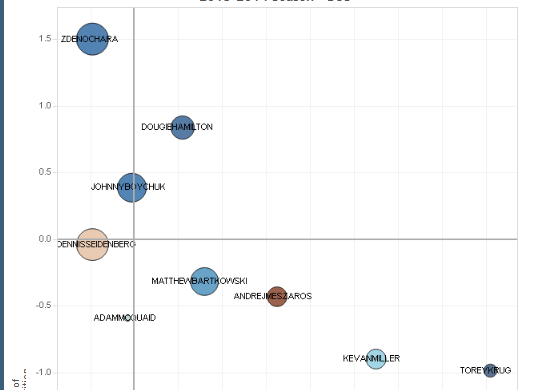 The sledgehammer gives us a nice view of the player: second pairing competition, a nice blue bubble for Boychuk and his tag-a-long Bartkowski. I don't know that you could ask for much more in a second-pairing defenseman. Is Boychuk a 'perfect fit' option for the Oilers? I'd say he is pretty damn close to it, and offers some of that team toughness the club seems hellbent for leather to add these days:
THE HOCKEY NEWS BIO

HARD COST OF DOING BUSINESS
What would the Bruins want for Boychuk? Well, based on the Haggerty article the club needs significant cap relief:
Haggerty: The Bruins have roughly $9 million to sign Reilly Smith, Torey Krug, Matt Bartkowski, Shawn Thornton, Jarome Iginla – or a suitable replacement right wing for the B's top line with David Krejci and Milan Lucic — and a backup goaltender. That isn't nearly enough cap space for more than 25 percent of the NHL roster.
The Oilers would need to trade Boston a player of some ability making significantly less money than Boychuk. The obvious asks? Martin Marincin and Oscar Klefbom. It is to laugh, sad but true. Marc Savard's NTC has now expired, so the Oilers could take on that contract (although it's worth noting the Bruins can get cap relief without trading the contract); they could also acquire a disappointing and very well paid Loui Eriksson in a bigger deal, perhaps for someone like David Perron.
It's probably not a fit, which is too bad because the Oilers could use a Johnny Boychuk. Acquire him one season from free agency, sign him to a multi-year deal, and the RH side blue is Boychuk-Petry-Schultz for several years. Boychuk could mentor Marincin, Klefbom and Nurse through those early seasons.
The Bruins might also ask after Petry, but I don't see the value there for Edmonton. Also, there's every chance Petry will have a richer contract than Boychuk by summer's end, leaving the Bruins in a bigger cap hell. One deal that would be interesting, but is a wash dollar wise? Petry and Perron (est. $8M) for Boychuk and Marchand (close to $8M).
I don't see a match, unless there's a third team involved in the transaction. I do believe Boston is worth keeping an eye on, they have been sending away talent for less than 100 cents on the dollar in the recent past, and could do it again.
LOWDOWN
Lyle Richardson, Spector's Trade Rumors, the Hockey News and Bleacher Report.
David Burstyn, Director of Amateur scouting for McKeens.
Travis Yost, Hockeybuzz.
Guy Flaming, The Pipeline Show.
Trades, draft, cap, NHL finals. @Lowetide_ or 10-1260 via text. Questions welcome!