Generally speaking, the 2014 NHL draft sets up in a predictable fashion from one through five. Except, not really. Oiler fans get the feeling their team will take Leon Draisaitl at No. 3, and the Calgary Flames may be considering Nick Ritchie at No. 5. Is this the misinformation highway? In some cases, probably. I wouldn't be at all surprised to see Edmonton take Draisaitl and the Flames select Ritchie. It's also possible that Florida calls out the name of a forward at No. 1, thereby sending the draft into some kind of chaos.
Brian Burke gave a really nice description of the perceived top of the draft (and Ritchie) the other day.
D Aaron Ekblad (OHL Barrie) — "Great big horse of a defenceman. Hard shot. Very intelligent player. Not real belligerent. Not real truculent. But this kid can hammer the puck and he's smart. He's going to play 20 years."
C Sam Reinhart (WHL Kootenay) — "Brainiac centre . . . he dismantled our team, the Hitmen, in the playoffs. Smartest player available by a mile. This guy's hockey IQ is off the charts. This is Albert Einstein on skates."
C Sam Bennett (OHL Kingston) — "A Doug Gilmour-type centre, who scores, puts up big numbers, has leadership skills. And this kid is a mean little (cuss). They're making fun of him because he couldn't do any pull-ups at the combine last week. I don't give a (hoot) if he can do pull-ups."
C Leon Draisaitl (WHL Prince Albert) — "A 210-pound centre. Big centre. Big ass. Protects the pucks well. Really skilled. This (German) kid's a dynamite hockey player. His English is perfect. This kid is an exceptional player."
RW Nick Ritchie (OHL Peterborough) — "A six-four, 230-pound mean winger with skill. A (Milan) Lucic-type winger. Which I think we can use, last I looked."
Burke doesn't have Michael Dal Colle at No. 5, and we know most everyone else does. How do we know this?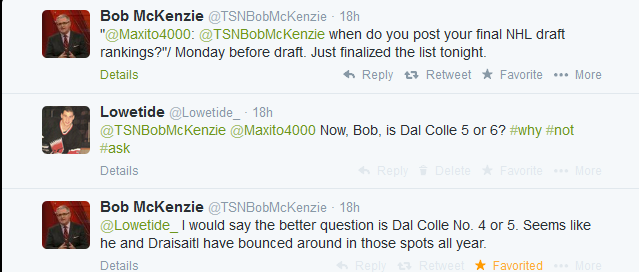 What if the top four went like this?
Florida: C Sam Reinhart
Buffalo: C Sam Bennett
Edmonton: D Aaron Ekblad
Calgary: L Nick Ritchie
What if Leon Draisaitl fell to No. 5? I'm not in favor of a rebuild, and do NOT want to trade from the current roster, but a summer that brings in  Ekblad and Draisaitl? That helps the 'up the middle' depth chart in a big way. I'm not saying flush proven NHL talent, but maybe there's a fit here.
TRADING FOR NUMBER FIVE
If that's the case, then No. 5 should have high value. The New York Islanders own the pick, and badly want to improve immediately. Why? Well, next year's first-round selection belongs to Buffalo, and a fire has been offically lit under Garth Snow's ass. The club solved their goaltending problems with Jaroslav Halak, but holes remain. I think Edmonton could offer a combination of the following:
Oilers 2015 first-round selection
D Justin Schultz
C Sam Gagner
The Islanders want to improve this coming season, and they could probably use a lottery ticket on Connor McDavid. Let's face it, betting against the Oilers succeeding is good business. If they add a scoring forward and an emerging defenseman? If NY Islanders received all three pieces, something else would have to come back, and this is probably dreaming because the Oilers love Schultz. Still, I think there's something here, if not the assets I've mentioned then something else.
The Oilers could make this deal and have extra walking around money. It would be wise to send both Eckblad and Draisaitl back to junior, but if you're trading Justin Schultz (as an example) and acquiring a free agent blue that could be an upgrade.
Thoughts? 3 and 5? Anyone? Bueller?
LOWDOWN
A busy day begins at 10, TSN 1260. We'll talk World Cup, NBA, SCF, U. S. Open, Ramsay, draft and others with Dennis King (Oilogosphere Icon), Ian Esplen (Puck Rant), Alan Hull (Copper and Blue) and Paul Almeida (Saturday Sports Extra).