Bob McKenzie tweeted out this morning that the Edmonton Oilers have acquired a window of opportunity to sign defender Nikita Nikitin. No word on return (will update) for CBJ but this would check off on of MacT's stated needs (the stay-at-home defender). I wrote about him as a hard target search here, and we've known about this player as a possible acquisition for some time, certainly since Scott Howson arrived in good old our town.

8:35 am. The more I think about this acquisition, the more I believe this may be MacT/Howson's choice for Justin Schultz' partner. Nikitin played with Savard in CBJ and had success.
NIKITA NIKITIN PLAYER CARD THROUGH 41 GAMES, 2013-14

NIKITA NIKITIN PLAYER CARD, SEASON'S END 2013-14

There's a look at Nikitin through 41 games, and then through the entire season (hat tip to Alan Hull who picked up on it). Looks like he was above water until the final third of the season, and then things went haywire. We'll have to break that down.
Columbus Head Coach Scott Arniel: "He's a big-body defensemen, a defending defensemen. He has a big shot. We'll get him in here and see what he's all about. This was more about changing our look on the back end. Our scouts think he can play a well-rounded game."

That's from the Hockey News, good reading there for background.
MACT'S SUMMER 2014 LIST
A veteran top pairing defenseman. Nikitin is not this player. The Oilers need a real man, big time EV minutes and a history of successful sorties.
A 2line C with experience and the ability to play a two-way game. This is the other vital piece.
A legit two-way winger who can score 12-15 goals. The Pisani role. Mentor, calms the waters.
Find a way to get value, or make use of, Sam Gagner. This does not include time at center.
Improve the bottom 6F's.
Retain as much of the young cluster as possible, understanding that the player who represents #1 on this list might cost a young D who will one day fill that role.
Get Petry signed long term.
Sign Schultz but DO NOT break the bank.
I don't have a slot for Nikitin on the summer list. Why? Well, I didn't have Nikitin on the list because, for me, the Oilers kids are better options. The depth chart as it may look now:
?????-Petry
Marincin-Schultz
Ference-Nikitin
It pushes back Klefbom, no big deal because we know defensemen get hurt. I'm not sure about the move, this must be a case of Howson really knowing and believing in the player. If they are getting the 2011-12 version of this player, well it's music. However, injuries and ineffective play reduced his role and impacted his numbers in Columbus. As the team got better, he faded.
Why? Perhaps Howson believes Nikitin can be a successful partner with Justin Schultz, something Nick Schultz and Andrew Ference were unable to do. Here's what that might look like:
Marincin-Petry
Nikitin-Schultz
Ference-???
I think that's probably it. Nikita Nikitin, second pairing and Howson believes that, at 28, there's lots of track left with Nikita Nikitin.
WHAT DOES IT ALL MEAN?
At first blush, it's a confusing move—despite the fact there's little surprise the club acquired this player. If the Oilers hired him for a support role, then what do they plan to do with Andrew Ference? If it's a top four role, as I described in the second option, then we have another shoe to drop and it's probably Martin Marincin for an established defenseman, as I described yesterday.
I think this is the replacement for Nick Schultz, and I do like him better as a player. Fewer miles, and he has been a success in the past. I'm not terribly upset that it pushes Klefbom down the roster, but am very concerned about where this puts Martin Marincin. I'm also not sure they're any better today. At all.
Next up? What did they give up, and can they sign him?
UPDATE

One final item: if this is the player acquired in the Greene/Engelland slot, then I'm well pleased.
 SISTER SLEDGEHAMMER
Vollman's sledgehammer is down, so I'm going with the Sister Sledge from Extra skater: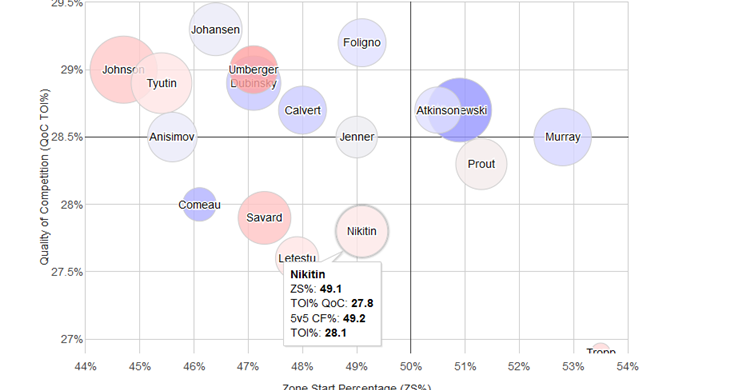 VOLLMAN SLEDGEHAMMER