The Edmonton Oilers dealt young veteran Sam Gagner today. Tampa Bay gets a fine offensive forward with coverage issues, but on that high octane club he'll likely thrive. MacTavish got the Oilers a useful player in return, an "actual NHL player" who can come in and help this fall.
TEDDY PURCELL EXTRA SKATER PLAYER CARD

Nice numbers there, although he was ghastly in a short postseason run. Purcell's offense is solid, his Corsi For % is good and he's been above average on the Lightning for years now. WHERE does he bat in the lineup?
VOLLMAN SLEDGEHAMMER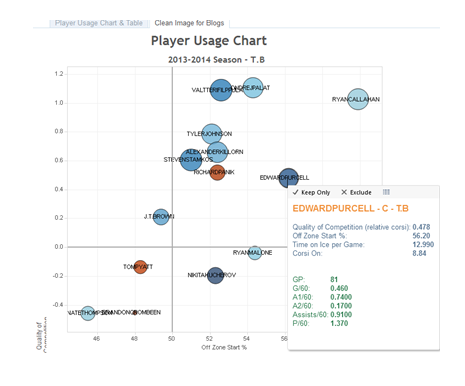 Here's the Sledgehammer, he played softer opponents, received a zone start push and as ES indicates his Corsi For % was a very nice number (this is Corsi On). Purcell is about to play for a much less successful team, so we'll review after next season. Purcell has 2 more years left at $4.5M and I don't know if either team retains salary.
OILERS FORWARD DEPTH CHART
| | | |
| --- | --- | --- |
| CENTER | LEFT WING | RIGHT WING |
| RYAN NUGENT-HOPKINS | TAYLOR HALL | JORDAN EBERLE |
| LEON DRAISAITL | DAVID PERRON | NAIL YAKUPOV |
| BOYD GORDON | MATT HENDRICKS | TEDDY PURCELL |
| MARK ARCOBELLO | LUKE GAZDIC | JESSE JOENSUU |
| ANTON LANDER | | TYLER PITLICK |
Purcell can play either wing, and I've seen him at center but it's been awhile. I don't think he's that two-way player we've been talking about, and would suggest he won't be on that "tough zone start" fourth line management envisions for the Boyd Gordon's trio. I'm sad to see Sam Gagner leave, I'll have a sail on post up later tonight or sometime tomorrow. I hope he kills it in Florida. Best, Sam. Wish you could have played here during happier times.
As for MacT, he got more than I thought he would, and my guess is he felt pressure to deliver the coach a more veteran and a more certain defensive group. I guessed a second and a fourth, I think Purcell is fine as a return. It won't look good five years from now, but you'll just have to remind people of the circumstances. Sometimes, young men get traded in the NHL because the GM and the coach feel pressure to win.
Such is the case today.
A reader sent me an email I would like to share: He is a Swiss-Army player – moves up and down the lineup, plays all forward positions. This is the Pisani player. I really like this – you will too.