I remember well the day Sam Gagner became an Edmonton Oiler. We'd been talking about him for weeks, and discussing options and preferences. The morning Sam Gagner was drafted in 2007, I wrote:
Jim Matheson says the Oilers have targeted Sam Gagner and that's alright with me. I'd be a little disappointed with Karl Alzner (I suspect Prendergast likes him most of all, he's been positively silly in his comments) and very disappointed if they dealt the pick at #6.
They took Sam.
Red Line Report: Sam Gagner is Kane's running mate in London. He has wonderful vision and creativity and a variety of touch passes that he can make through traffic. He is also the son of former NHL standout Dave Gagner and has acquired his father's intuitive offensive instincts and general hockey sense. Gagner's lateral quickness and variety of shifty moves create problems for defenders.
I wasn't convinced early. I could see his skill, but wondered about him at center and really wondered about him staying that fall. I went to training camp with my friend Louise and she convinced me (Louise is a wise person)—well, 89 convinced me, but Louise pointed it out—that he was the Oilers best option and earned the roster spot. In that first season, Gagner scored 49 points and could have had more—the lasting memory I have of Robert Nilsson was how many golden chances he missed on perfect and sublime passes from Sam Gagner.
He was a project at 18 defensively, they all are really. The thing about Gagner is that he improved a little each year, or maybe I just told myself that and hoped Horcoff would live forever. Well.
We know about Sam's down arrows and I'm not going to spend too much time on them. Suffice to say that the moment Leon Draisaitl's name was called, the die was cast for Sam Gagner. Edmonton is quite likely content with carrying youngsters Leon Draisaitl and Nail Yakupov in their top 9F (I'm still not completely convinced Yakupov is here long term, but pray baby Jesus MacT is patient), but if they're going to do it, savvy veterans are required around them.
Which, incredibly, is exactly what Phoenix will do with Samwise. Two good veterans, plenty of offensive zone starts to use 89's skills, and we're cooking with petrol.
When I was a kid, I collected hockey cards and dreamed about playing in the NHL, but, as an adult, cheering takes on a different view. I enjoy watching these young people arrive before they can shave, take on challenges and succeed, slowly but surely finding their way. That's it, that's what being a fan is for me really. I like to see winning and 30 goal seasons and the 2006 run was just about the most fun I've had as a fan in 20 years (only fun, but you get the point). As you get older, you realize the journey is the thing, the struggle, and the victory is a fully formed player and the reward is watching them grow up in front of you.
So, if that's your viewpoint as a fan, and I know from reading you these years in the comments you're the same, if that's your seat in the house, then these failures are painful and galling. And sure it's Gagner's fault and Pouliot's fault and Rita's fault and Schremp's fault, but sooner or later you develop a past, and the Oilers' recent past is chapter and verse on the subject of 'you're going the wrong way'.  And they're trading Sam to do the same thing with Leon.
Oh, those Oilers.
I think Craig MacTavish did us all one giant, beautiful favor when he brought in Craig Ramsay. For the love of Pete the Oilers can't possibly be this bad at developing hockey players. Can they? If Ramsay can't fix them I think Old Man Katz is going to have to flush the group.
Today's news: 89's last two seasons were his worst in fact (2012-13) and by eye (2013-14) and he's down the line. Not a yip, this is how it's done. I thoroughly enjoyed him as a player and sincerely wish he could have hung around for the good times. Sam Gagner should be, and will be, so much more than a Pat Quinn punch line, and I hope he wins a Stanley and scores 8 in Rexall.
Sail on, London Knight. It should have been so much better. Don't beat yourself up, you had a lot of help.
MACT'S SUMMER 2014 LIST
A veteran top pairing defenseman. A real man, big time EV minutes and a history of successful sorties.

Update:

Nikita Nikitin has been added to the defense, but doesn't fit the top pairing role. It's possible EDM adds that top-pairing option in the next week. Nikitin is an actual NHL player.
A 2line C with experience and the ability to play a two-way game. This is the other vital piece.
A legit two-way winger who can score 12-15 goals. The Pisani role. Mentor, calms the waters. Update: Teddy Purcel has some of the elements we're talking about here, although he's not a terrific two-way type. He does give the team offense on the wing, and he has experience.
Find a way to get value, or make use of, Sam Gagner. This does not include time at center. Update: I like MacT's aggressiveness in problem solving. He dealt 89 after the draft, and acquired an actual NHL player in Purcell. I've got miles of room to criticize the organization about handling Gagner, but the trade is fine from here.
Improve the bottom 6F's.
Retain as much of the young cluster as possible, understanding that the player who represents #1 on this list might cost a young D who will one day fill that role.
Get Petry signed long term.
Sign Schultz but DO NOT break the bank.
There's progress being made, he's addressed defense and given the team an experienced forward to add to the group. The center position has more (not less) clarity today and I'd expect a trade or free agent signing in the next while for the empty spot:
 PROJECTED FORWARD DEPTH CHART
| | | |
| --- | --- | --- |
| CENTER | LEFT WING | RIGHT WING |
| RYAN NUGENT-HOPKINS | TAYLOR HALL | JORDAN EBERLE |
| LEON DRAISAITL | DAVID PERRON | TEDDY PURCELL |
| MARK ARCOBELLO?? | JESSE JOENSUU?? | NAIL YAKUPOV |
| BOYD GORDON | MATT HENDRICKS | TYLER PITLICK ?? |
| ANTON LANDER | LUKE GAZDIC | |
The top two lines are interesting, I've placed Leon Draisaitl on the 2line—for the record I would send him back to Prince Albert for at least another year.  The Oilers don't play that way, as mentioned in the Sail On. I like the veteran combination for the big German on that line, but am decidedly not thrilled with the Yakupov linemates. That's the work to be done, I'd love to see Grabobski-Kulemin there but we'll see. It could be Brian Boyle-Rene Bourque-Nail Yakupov on that 3line so let's not get carried away.
They need a veteran center and they need a Pisani and they need another NHL defenseman. And right soon!
 
KYLE QUINCEY EXTRA SKATER PLAYER CARDTHE VOLLMAN SLEDGEHAMMER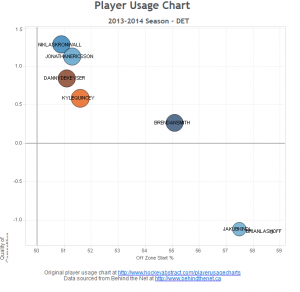 You can click to enlarge, it shows Quincey (this is Corsi ON) as a second pairing defender who is a little in the red on a good possession team. He's a good player, second-pairing defenseman who is average in zone starts (no push, no penalty) and his ON trails most of the group. Do I like him? Yes. He was playing with a young Danny DeKeyser for most of the season, and was over 50% without him.
Do I like him better than Nikitin? Yes. Do I think he's a top pairing defender? No. However, if the Oilers signed him their depth chart might be:
| | |
| --- | --- |
| LEFT DEFENSE | RIGHT DEFENSE |
| MARTIN MARINCIN | JEFF PETRY (RFA) |
| KYLE QUINCEY | JUSTIN SCHULTZ |
| ANDREW FERENCE | NIKITA NIKITIN |
| OSCAR KLEFBOM | |
I would prefer they gather themselves up and grab Ehrhoff, or pursue Stralman. Quincey is miles from Engelland, and that's a good thing. I still think Marincin will end up playing big minutes.