There are already positives in regard to the Edmonton Oilers and their center depth chart. Ryan Nugent-Hopkins will be completely healthy and a year older. Nuge has been in the NHL for three seasons now, scoring over 50 points twice and playing beyond his years at center in the toughest conference in Christendom.  Sam Gagner no longer plays center for the Oilers, and defensively that's a good thing.
There are issues. The Oilers plan to use their centermen as follows:
CENTER
RYAN NUGENT-HOPKINS
NEW FELLOW

LEON DRAISAITL
BOYD GORDON
MARK ARCOBELLO/ANTON LANDER
If the Oilers could acquire someone like Cody Eakin or Patrik Berglund (or as bendelson suggested, Ainisimov from CBJ)  in there, without giving up the first-round pick or a needed defenseman, they could have a nice 1-2 punch and Gordon on the 4. If Leon the Professional can handle the job (and I think they'll keep him) then Arco is the extra C and Lander is a utility outfielder.
HOW WILL MACT GET THIS DONE?
Let's use Dallas and Eakin as an example. The Stars need two things: defensemen and cap room. The Oilers don't want to give up a defenseman (or at least I hope they don't) but could take on some salary.
MACT WORKING ON CENTER
Since taking over the team over a year ago, Craig MacTavish has added the following centers:
Bogdan Yakimov, Kyle Platzer and Greg Chase via the 2013 draft
Boyd Gordon and Will Acton via 2013 free agency
Leon Draisaitl and Tyler Vesel via 2014 draft.
Since he arrived, MacTavish has added one solid NHL center via free agency, but the really good work has been done below the NHL level. I'd guess that all of Draisaitl, Yakimov and Chase will play in the NHL at some point, and in the case of the Russian and German it might be sooner than later (this year). I think that's a very aggressive timeline, but the talent is clearly there.
BACKDRAFT
Looking at other teams and their haul from the draft, it's pretty clear the depth from this year's crop was a problem. I did a 'top 137' in order to cover off all the Oiler picks (hahaha, I had three of six listed) and had No. 39 (G Vitek Vanecek to Washington) at No. 123. By the time the first Elvis came off the list at No. 76, my list was garbage. I'm going to post my complete 137 with names taken crossed off later in the week, I think it's interesting and instructive. Not that my list is the authority, but it does give an indication of the wide open draft in 2014.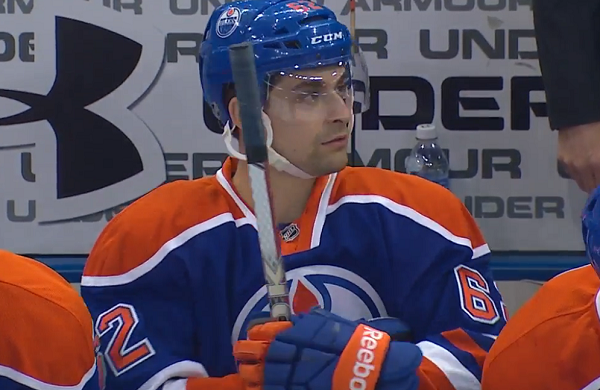 BIG WINNER THIS WEEK
The big winner this week (so far) among Oilers? Mark Arcobello. His name is No. 2 on the C depth chart and he's probably the best option for 4line RW. Arco can also serve as 'first best option' for any number of roles. I'd say the Oilers have him in their plans based on what happened this week. In fact, I'd say there should be enough work for Anton Lander to get plenty of at-bats, too. Tyler Pitlick may be on the outside looking in, but that 4line RW job is there for the taking—if he has another impressive camp and can stay healthy, that would be ideal.
HELP FROM THE FARM
This is a point in the development timeline when the Oilers badly need one of these prospects/farm workers to step up. If we look at the NHL depth chart at forward, and extend it to the call-ups and the injury replacements, we easily see who needs to come through for the Oil:
| | | |
| --- | --- | --- |
| LEFT WING | CENTER | RIGHT WING |
| TAYLOR HALL | RYAN NUGENT-HOPKINS | JORDAN EBERLE |
| DAVID PERRON | MARK ARCOBELLO | TEDDY PURCELL |
| BENOIT POULIOT | LEON DRAISAITL | NAIL YAKUPOV |
| LUKE GAZDIC | BOYD GORDON | MATT HENDRICKS |
| JESSE JOENSUU | ANTON LANDER*** | TYLER PITLICK*** |
| RYAN HAMILTON*** | WILL ACTON*** | STEVE PINIZZOTTO*** |
| CURTIS HAMILTON*** | JUJHAR KHAIRA*** | IIRO PAKARINEN*** |
| KALE KESSY*** | BOGDAN YAKIMOV*** | ANDREW MILLER*** |
 LOWDOWN
10am, TSN 1260, and we're back! Guests include Scott Burnside from ESPN, Travis Yost from Hockeybuzz, we'll replay interviews with Mark Fayne and Benoit Pouliot from yesterday's free agency coverage. In hour two, it's Bruce McCurdy from the Cult of Hockey, Ryan Pike from Flames Nation, and Dave Jamieson from TSN 1260.
Looking forward to it! @Lowetide_ or 10-1260 via text. Btw, I'm hanging out with the morning show beginning at 8 this morning.