Today's signing of Jeff Petry to a wayward contract implies the club plans to start the season with Oscar Klefbom in Oklahoma City, and perhaps Justin Schultz on the third pairing.
PROJECTED OPENING NIGHT DEFENSIVE DEPTH CHART
| | |
| --- | --- |
| LEFT DEFENSE | RIGHT DEFENSE |
| MARTIN MARINCIN | JEFF PETRY |
| NIKITA NIKITIN | MARK FAYNE |
| ANDREW FERENCE | JUSTIN SCHULTZ (rfa) |
| KEITH AULIE | OSCAR KLEFBOM (INJ AND PETRY TRADE CALLUP) |
That's my guess, you may have a better one. This also allows Darnell Nurse to have his 9-game look if it comes to that (they can IR someone, it's done all the time) and in reality Klefbom probably plays 20 games or more in the first half of the season anyway because of injuries. Petry's value took a wallop today in terms of Oiler return, in a deep draft like 2015 we might be looking at a third-round selection at this year's deadline.
This is a ghastly way to lose your best defenseman, I hope Justin Schultz is worth it. It would have been very nice for Darnell Nurse and Oscar Klefbom to get some minutes in the NHL (like Martin Marincin) alongside Petry, but as of today I don't think we can get there from here.
CENTER OF ATTENTION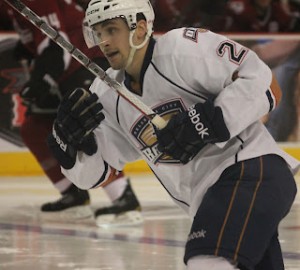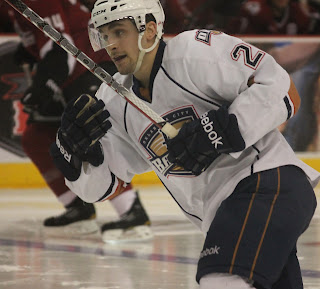 Every NHL team needs to rely on their minor league and procurement system for help, and in the case of the Edmonton Oilers the center position is in the spotlight. Mark Arcobello and Anton Lander from Oklahoma City, Bogdan Yakimov from Russia and Leon Draisaitl from the WHL are prominent names who could be a part of the team this winter.
CENTER
RYAN NUGENT-HOPKINS
MARK ARCOBELLO
LEON DRAISAITL
BOYD GORDON
ANTON LANDER
WILL ACTON (Barons)
JUJHAR KHAIRA (Barons)
BOGDAN YAKIMOV (Barons)
I'm less worried about center because of Arcobello's strong showing a year ago. It would be very dangerous for the Oilers to deal Petry for a center at this point, it'll still be crazy to do it in February. That said, it's good Arco is here, and maybe Lander too. Those two can't post offense, but the idea of three scoring lines always seemed like a distant bell, and that is once again the case.
PROJECTED OPENING NIGHT FORWARD DEPTH CHART
| | | |
| --- | --- | --- |
| LEFT WING | CENTER | RIGHT WING |
| TAYLOR HALL | RYAN NUGENT-HOPKINS | JORDAN EBERLE |
| BENOIT POULIOT | LEON DRAISAITL | DAVID PERRON |
| NAIL YAKUPOV | MARK ARCOBELLO | TEDDY PURCELL |
| JESSE JOENSUU | BOYD GORDON | MATT HENDRICKS |
|  LUKE GAZDIC (INJ) | ANTON LANDER*** | TYLER PITLICK*** |
Craig MacTavish got quite a bit done on the blue line this summer, and did in fact retain Petry for the heart of the 2014-15 season. It appears as though he could not retain that blue AND deliver a strong option at center. I'm satisfied with this compromise, more satisfied than a deal that sent away defense for center.
MACT SUMMER 2014 LIST
A veteran top pairing defenseman. A real man, big time EV minutes and a history of successful sorties.

Update:

  Mark Fayne and Nikita Nikitin as a tandem represent a significant upgrade on the blue. Keeping Petry for most of the season was central to getting this piece of business done. Passing grade, you can check off balance in this area and I do believe the management group worked their bag off to make things better.
A 2line C with experience and the ability to play a two-way game. This is the other vital piece, and MacT didn't get it done. No excuses, that's a fail if he can't get quality before Labor day; the Arco-Draisaitl combination will get killed many nights this winter. It's galling, not having a hammer, but Draisaitl and Nurse will one day be those men. I think this summer's failure allows us to openly question where Taylor Hall will be playing when those two mature—it may not be Edmonton. It isn't all the fault of Craig MacTavish but he will surely pay the price.
A legit two-way winger who can score 12-15 goals. The Pisani role. Mentor, calms the waters. Update: Teddy Purcell has some of the elements we're talking about here, although he's not a terrific two-way type. He does give the team offense on the wing, and he has experience. Benoit Pouliot is a clear upgrade on this player, he's basically another Perron. Whatever the failings at center, man does this team have some ammo on the wing.
Find a way to get value, or make use of, Sam Gagner. This does not include time at center. Update: I like MacT's aggressiveness in problem solving. He dealt 89 after the draft, and acquired an actual NHL player in Purcell. I've got miles of room to criticize the organization about handling Gagner, but the trade is fine from here.
Improve the bottom 6F's. The addition of Pouliot and Purcell gives the team enough wingers to slide a good player down to play with Yakupov. We're not at three scoring lines, but this is a better group. The fourth line needed a Winnik/Moss, and perhaps there's still hope, or Pitlick may win that role.
Retain as much of the young cluster as possible, understanding that the player who represents #1 on this list might cost a young D who will one day fill that role.
Get Petry signed long term. Awful. Just a bullet.
Sign Schultz but DO NOT break the bank. Encouraging words today, as I read Stauffer reported the two sides are well apart. There's iron in Craig MacTavish, I like that about him most of all. Steve Tambellini, take some notes.
This has been a bad day. No way around it.
(Photos by Rob Ferguson, all rights reserved).