It was a year ago tomorrow. Craig MacTavish was mere months into his career as an NHL GM, and had perhaps over-promised and under-delivered to that point in the summer. The Oilers made a significant trade with the St. Louis Blues, giving Edmonton a bona fida scoring winger and St. Louis a nice slice of the future.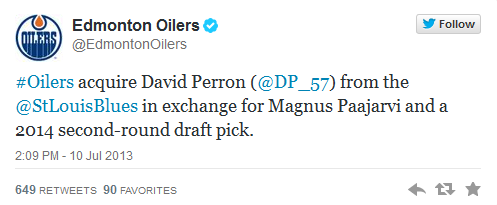 In year one, the only year we can look at, the trade looks very good for Edmonton. David Perron enjoyed a solid year, finishing in a tie for 26th overall in goals by an NHL player and posting nice numbers across the board.
DAVID PERRON 13-14
5×5 points per 60: 1.96 (3rd among regular forwards)
5×4 points per 60: 3.71 (5th among regular forwards)
Qual Comp: 3rd toughest among regular forwards (top line opp)
Qual Team: 11th best teammates among regular forwards (4line linemates)
Corsi Rel: 6.9 (best among regular forwards)
Corsi for % 5×5: 45.7
Corsi for % Rel 5×5: +2.5
Zone Start: 48.9% (7th easiest among regular forwards)
Zone Finish: 45.7% (6th best among regular forwards)
Shots on goal/percentage: 220/12.7% (2nd among F's>100 shots)
Boxcars: 78, 28-29-57
That's a very nice season (Source: BTN and Extra Skater). I'm not sure about qual/team, he played most with Gagner but also quite a bit with Hall and Nuge (that's a nice neighborhood). He was above 50% Corsi for with Arco and Ryan Smyth, which I found interesting, and with Mark Fraser, which is something else again. He's signed for two more years at reasonable money, this was a nice acquisition.
Magnus Paajarvi had a nice season in the possession stats, but like his countryman Anton Lander the offense appears to be the barrier to a long NHL career. I still think he's going to be a brilliant Pisani, and he should eventually find his way as an offensive player, but these years are difficult for young Magnus. I spoke to his Dad on SSE a few weeks ago, and he said MPS was upset initially at the trade but adjusted well to the situation in St. Louis and made his way there. I think the Blues did themselves no favors by bringing in Brenden Morrow and not running the young Swede all year long. By spring, he would have been a better player, and I suspect that's exactly what the Blues will do in 2014-15.
The second-round pick was a dagger. I can't believe no one drafted Ivan Barbashev before No. 33 overall! I had him No. 12 on my final list, after having a difficult time sussing out the difference between Pastrnak, Vrana and Kempe (this happens to me every year. Takes time to figure these things out). His NHLE is 82GP, 12-21-33 and Red Line loves him:
One of the most complete players in the draft plays a responsible two-way game. Above average in every facet with no obvious weakness. Makes hard, accurate passes. Uses linemates well but is also an excellent goal scorer. Plays with a lot of fire and emotion.
This is a very nice prospect. Damn.