I think we're at a time in the summer where we have to accept the possibility Craig MacTavish overplayed his hand at center. The idea, as I understand it, was to cast about the NHL with cap room and role players, helping other NHL teams rid themselves of bad contracts. A fine example would be the Sam Gagner deal—Steve Yzerman sent away something he didn't want for Gagner, and then sent 89 with another useful part for cap room he used on something more palatable. The trick for MacT is to be the guy getting the good part of that transaction. And he did, but not at center.
The useful centers this summer are almost all gone: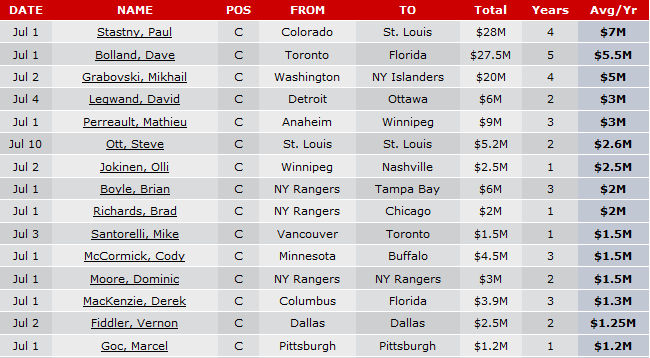 There are lots of useful names on that list, even at the bottom. Edmonton didn't get one of them, the last chance Texaco coming on July 4 when David Legwand decided Ottawa was his best fit among the teams interested in him. If we list the available men:
Andrei Loktionov, 24: The best available solution. He's a good player. Seriously.

Derek Roy, 31: Oilers might see him as a fit for one year while Leon adjusts and Arco gets a full season.
Mike Ribeiro, 34: I can't see him being a fit with Edmonton, despite the offense.
It's a very short and not terribly satisfactory group. Which leads us to the current reality.
CURRENT OILERS DEPTH CHART
| | | |
| --- | --- | --- |
| LEFT WING | CENTER | RIGHT WING |
| TAYLOR HALL (6M) | RYAN NUGENT-HOPKINS (6M) | JORDAN EBERLE (6M) |
| BENOIT POULIOT (4M) | LEON DRAISAITL (1M-est) | DAVID PERRON (3.8125M) |
| NAIL YAKUPOV (925k) | MARK ARCOBELLO (600k)*** | TEDDY PURCELL (4.5M) |
| JESSE JOENSUU (950K)*** | BOYD GORDON (3M) | MATT HENDRICKS (1.85M) |
| LUKE GAZDIC (600k)-IR | ANTON LANDER (600k)*** | TYLER PITLICK (600k-est)*** |
| | |
| --- | --- |
| LEFT DEFENSE | RIGHT DEFENSE |
| MARTIN MARINCIN (730k) | JEFF PETRY (3.075M) |
| NIKITA NIKITIN (4.5M) | MARK FAYNE (3.625M) |
| ANDREW FERENCE (3.25M) | JUSTIN SCHULTZ (4M-est) |
| KEITH AULIE (800k) | OSCAR KLEFBOM ($894,167)***-callup |
|   |   |
| BEN SCRIVENS (2.3M) | VIKTOR FASTH (2.9M) |
MACT SUMMER 2014 LIST
A veteran top pairing defenseman. (A real man, big time EV minutes and a history of successful sorties).

Update:

  Mark Fayne and Nikita Nikitin as a tandem represent a significant upgrade on the blue. Keeping Petry for most of the season was central to getting this piece of business done. Passing grade, you can check off balance in this area and I do believe the management group worked their bag off to make things better.
A 2line C with experience and the ability to play a two-way game. (This is the other vital piece). Update: We're at a point in summer where it's safe to suggest the Oilers were unable to address this area. I don't see anyone absolutely clear of Mark Arcobello, so any free-agent signing from this day forward would be more about cya than actual improvement. Credit MacT for not adding for the sake of it.
A legit two-way winger who can score 12-15 goals. (The Pisani role. Mentor, calms the waters). Update: Teddy Purcell has some of the elements we're talking about here, although he's not a terrific two-way type. He does give the team offense on the wing, and he has experience. Benoit Pouliot is a clear upgrade on this player, he's basically another Perron. Whatever the failings at center, man does this team have some ammo on the wing.
Find a way to get value, or make use of, Sam Gagner. (This does not include time at center). Update: I like MacT's aggressiveness in problem solving. He dealt 89 after the draft, and acquired an actual NHL player in Purcell. I've got miles of room to criticize the organization about handling Gagner, but the trade is fine from here.
Improve the bottom 6F's. The addition of Pouliot and Purcell gives the team enough wingers to slide a good player down to play with Yakupov. We're not at three scoring lines, but this is a better group. The fourth line needed a Winnik/Moss, and perhaps there's still hope, or Pitlick may win that role.
Retain as much of the young cluster as possible, understanding that the player who represents #1 on this list might cost a young D who will one day fill that role.
Get Petry signed long term. Awful. Just a bullet.
Sign Schultz but DO NOT break the bank. No words beyond there's a gap in number. There are those who suggest my estimate ($4M) is too high. That's a very good thing.
I know we're talking Ryan O'Reilly and Josh Bailey and Artem Anisimov. However, I think it's completely reasonable to suggest—even at this early point in summer—Craig MacTavish is going to have to be extremely creative to find a better center than Mark Arcobello before fall.
And that is extremely disappointing, given the importance of that position and the obvious need there.