I wonder what the Edmonton Oilers' scouts thought when they first laid eyes on Leon Draisaitl. He was young—On 10 September 2012 when Cody Nickolet raved about him, Leon was 16—but he was also a perfect fit. The best big center since Jason Arnott (who was also born in October, 21 years before Leon) has a lot in common with the new man.
Height: LD (6.01), JA (6.03 source: Hockey Register)
Weight: LD (209), JA (220)
Arnott scoring draft year: 56GP, 41-57-98 1.75
Draisaitl scoring draft year: 64GP, 38-67-105 1.64
Arnott NHL rookie: 78GP, 33-35-68
Draisaitl NHLE: 82GP, 15-25-40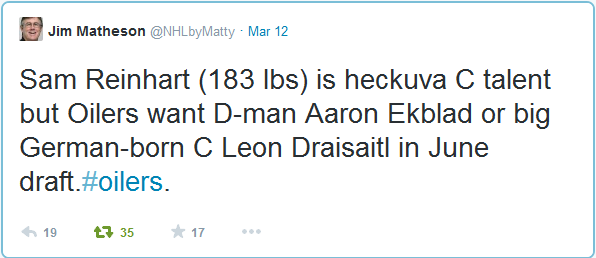 The scouts loved him early, they loved him late, the Edmonton Oilers never stopped loving the idea of Leon Draisaitl. I've been observing this team for decades of drafting, and would guess (I've only seen one Oiler list, 1979, courtesy Oil Change) this year's list went Ekblad-Draisaitl at the top. Maybe they had Leon third and Sam Reinhart No. 2, but the force was strong on this one.
I expect the Oilers' brass feels pretty damn good about Leon Draisaitl right now. Hell, they traded Sam Gagner before the paint was dry and we're two weeks later pretty much and they haven't hired another center. Craig MacTavish is famous for a lot of things, one being his name (which in some circles means entering the fray helmetless, unprotected), and it looks like Edmonton's GM is going to Craig MacTavish his center depth chart this coming season. The Edmonton Oilers are the Kings of Leon.
THE NUMBERS GAME
The Oilers have a group of people who run analytics for them in regard to the draft. Michael Parkatti from Boys on the Bus is one of them, he's a guest on the Lowdown today. I'm truly fascinated by this stuff, because there IS a connection between numbers and success. If you look back in Oilers draft history, I doubt the team would have drafted Boyd Devereaux where they did if an analytics department existed at that time. It's a big damn deal, getting your picks right. Hell, even just improving your chances of a hit 5% is a monster. I suspect the current state of the Oilers procurement department goes like this:
Scouts travel the Northern hem. looking for draft eligible talent.
Analytics group runs the numbers (I'm not sure if a mid-season and end of season report would be best, or just final final) and delivers a list.
Men in hotel rooms argue until their brains are weary and their feet smell over the merits of Michael Bunting versus Zach Nagelvoort.
The list is finalized, everyone sleeps on it, final arguments are made, and the draft proceeds.
This of course brings up all kinds of questions. How often do the scouts and stats agree? Well, I think we can answer that in our own rudimentary way, with NHLE. Here are the NHL equivalencies for players in the last two entry drafts. We know the numbers like Marco Roy based on our conversations with Michael one year ago. Here's the list:
NHLE'S FOR POSITION PLAYERS DRAFTED BY OILERS, 2013 AND 2014 (per 82GP)
Leon Draisaitl 15-25-40
Tyler Vesel 15-17-32
Marco Roy 10-15-25
Anton Slepyshev 18-6-24
Jackson Houck 8-12-20
Greg Chase 6-11-17
Evan Campbell 5-10-15
Darnell Nurse 4-11-15
Liam Coughlin 4-6-10
Kyle Platzer 2-6-8
Ben Betker 0-2-2
I imagine the numbers adored Leon (I'll ask Michael this morning) and this Vesel kid is a player to watch (I noted him on the summer 20). Interesting to note that Greg Chase was mid-pack by the NHLE's a year ago, and that Coughlin cleared Platzer, who has many fans among Oiler observers on this blog. I don't have Bogdan Yakimov on this list, he didn't play in an NHLE-able league, but I suspect he would have been somewhere between SlipSlappy and Jackson Houck.
LOWDOWN WITH LOWETIDE
Friday! Today's show is going to rock, we have some excellent guests for you. At 10, Steve Lansky joins me from Toronto City Hall from the Pan-Am Games one-year-away kick-off. We'll talk Rob Ford (not really), Blue Jays and more. After that, it's Joseph Pedrola, Tourism Development Manager, Edmonton Tourism. He'll talk about YEG Soccer Showdown, from noon to 1 today, in Centennial Plaza (downtown by the Public Library). We'll also talk about some huge events that hit Edmonton this summer.

In hour two, Michael Parkatti joins us to talk about the draft and free agency. Andrew Bucholtz from 55-yard line is slated for later in the hour and we'll also chat World Cup.
10-1260 on text, @Lowetide_ via twitter. Looking forward to it!