Today's signing of both Derek Roy and Mike Ribeiro by the Nashville Predators effectively reduced Craig MacTavish to five options:
Sign Andrei Loktionov
Go with his current group
Trade with a cap-strapped team for a reasonable option
Make a hockey trade that sends away something of value from another area (defense, wing, prospects, picks)
Taylor Hall
ANDREI LOKTIONOV EXTRA SKATER

I like him. Rom mentions he isn't a natural center, but at this point the Oilers may have to proceed with less than ideal options. There are reasons to like this player, he's highly skilled and should fit in with this group.
CURRENT GROUP
CENTER
RYAN NUGENT-HOPKINS
MARK ARCOBELLO
LEON DRAISAITL
BOYD GORDON
ANTON LANDER
WILL ACTON (Barons)
JUJHAR KHAIRA (Barons)
BOGDAN YAKIMOV (Barons)
This is not an attractive option, and gives fans someone to blame when it fails. Who to blame? Craig MacTavish. Leon Draisaitl is looking more and more like this decade's Sam Gagner. A noxious thought, but the die appears to be cast.
CASH STRAPPED TEAM
One candidate we haven't discussed here is  Chris Kelly of Boston. $3 million cap hit, he also has a no-trade contract. A two-way center who didn't play in the postseason due to injury, and Boston found an able replacement in Carl Soderberg. If he waives, a nice landing spot is Edmonton. The club can use his experience, penalty-killing ability and he shouldn't cost much to acquire in assets. He isn't very good, though.
HOCKEY TRADE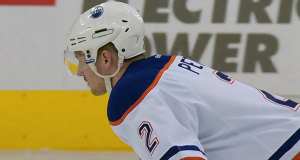 Jeff Petry to Detroit should get you a nice center, bet he'd have value in other places too. I wondered at the time about the nature of that contract, maybe he's headed to a team with cap issues like Boston.
TAYLOR HALL
Spoke with Jonathan Willis about this today, and we both agreed it's not a grand idea. Taylor Hall is so comfortable and impactful on LW, why would you consider it? Answer: the absence of alternatives clears the mind. Le sigh. I said this the other day, and believe it to be true: Craig MacTavish overplayed his hand here. If he has a rabbit to pull out of his hat, now would be the time.