If the Edmonton Oilers sign center Derek Roy to a contract, where will he play? Who will that impact? Will it mean more goals? Can he play the toughs? Will he kill the soft parade?
VOLLMAN SLEDGEHAMMER 2013-14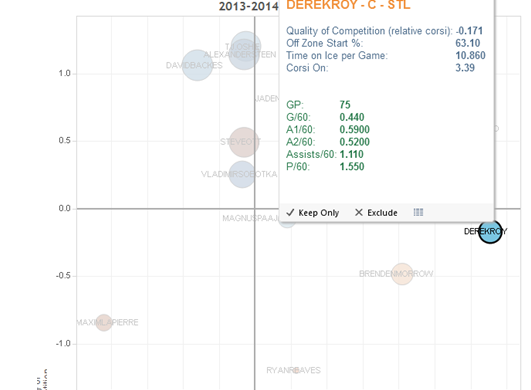 This is the area of the graph we should expect Leon Draisaitl to play this coming season, so Roy's ZS's and qual comp are very likely to increase if the No. 3 overall selection stays for the year. His Corsi On is fine, but you'd expect that from a St. Louis Blues forward. The 1.55/60 at 5×5 is no screaming hell, let's compare the entire Roy Sledgehammer to Mark Arcobello.
ARCO VOLLMAN SLEDGEHAMMER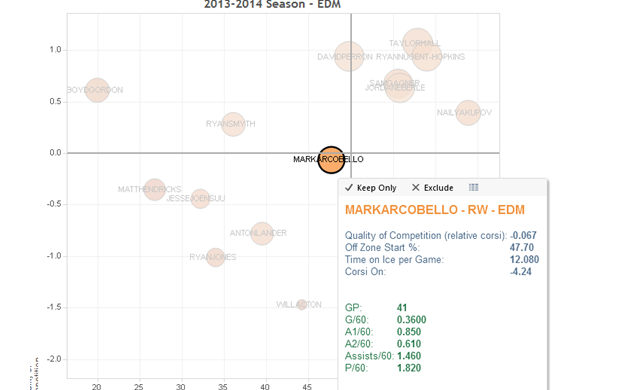 Different situations, but a little similar. Both centers are in what we might call somewhat sheltered areas of the graph, Roy's zone starts making his life a little easier. If you're looking for someone to help the offense, and who has more experience, then Roy is probably a good investment. That's the appeal of Derek Roy for the Oilers, an experienced fellow who should be able to come in and help your team. He's certainly proven, something the current depth chart could use.
VARYING OPINIONS

Tyler Dellow is one of the most influential voices in the Oilogsphere, so his endorsement of the idea is something to ponder. Based on some back and forth with Tyler, and a few of his tweets, I think his idea is that Roy could be a nice bridge to a more experienced Leon Draisaitl. Dellow admits that Roy's skills have eroded with age, and I suspect we all know Roy's life would be easier in the eastern conference.
WOODGUY
Derek Roy is an interesting option. He was a negative RelCor last year, but as we learned in this little exercise, who you play with is a major determining factor in your results. Roy played mostly with Stewart and Morrow last year and they were huge drags on his corsi. He put up nice number with Taresenko, Sobatka and even Ott (*spits*). (source)
As we color in with context, the numbers (as Darcy touches on, his entire article is a must-read) suggest there's still some blacktop ahead for Derek Roy and the Oilers might be wise to grab him on a short term deal.
CRAIG BUTTON
"He can't play. He can't skate, he can't play, he's not big enough, he's been injured. Basically, he's not good enough. Wouldn't touch him.Up until about three years ago he was a very good, strong player but he ended up getting injured and the game got quicker and faster and to me he's just not able to play at the pace and in the Western Conference. Small centreman that can't skate, I'm not interested." (Source: David Staples Cult of Hockey).
I value Button's opinion, he's one of the few hockey people who will make a statement that actually has some spine. There is some risk in this signing, but Roy played in the western conference a year ago and did in fact compete, so I'd say Button's concerns are real and will impact down the line but for one season Edmonton should be okay with the small, slowing center.
WOULD I SIGN DEREK ROY?
As most of you know, I rarely give me opinion on things. Why? The idea of the blog is to discuss things, suss them out, and for me to track and assess what the Oilers will/might do. I'm going to make an exception in this case, because it's central to the conversation and I can't make my point without stating opinion.
That's Mark Arcobello in the ECHL, before he moved up the depth chart and signed his first NHL contract. I think there are times when you have to commit to a player BECAUSE he's jumped every hurdle put in front of him. At some point, when a young player like Arcobello has passed every test, the last item is experience. This is sometimes called a "Catch-22" and we are here.
Many years ago, the Montreal Expos had a prospect named Casey Candaele. He wasn't much to look at, small, no power, didn't really do anything extremely well, but he could do a lot of thing well enough to help a team. Candaele became all the rage his first summer in the majors, celebrated because of his ability to do so many things (and because his Mom was a helluva athlete too).
That's my reasoning. Suspect it isn't as sound as Tyler's, but hang it all men sometimes you simply have to give a man his chance. Mark Arcobello is nothing special? Well, let's let him prove that just this one time. If he ends up scoring 45 points, and playing a strong two-way game, the Oilers will be in a better place.
Right?
It's a rare damn thing, but Mark Arcobello, from the wrong side of hockey's pedigree tracks, has climbed an entire mountain to arrive at today. Give him a chance. It's the right thing to do.
LOWDOWN WITH LOWETIDE
Now that I've ensured Edmonton will sign Derek Roy today, allow me to give you the lineup for the show. At 10 this morning (TSN 1260), I'll welcome first time guest Justin Bourne from the Score. He's a fascinating guy and a unique read. At 10:25, I'm hoping for Jeff Veillette from 5-hole for Food (we'll have him on today or tomorrow) but that cat is damn busy so it's a fluid situation (Jeffler is doing an incredible thing, I'm astounded by his energy and selflessness). At 11, Jonathan Willis will help us with the center issue, and at 11:25 Guy Flaming gives us updates on prospects, prospect camps and the lazy, crazy, hazy days of summer in hockey's prospect world.
10-1260 text, @Lowetide_ on the twitter. Looking forward to it!