It was a frustrating season for Nail Yakupov. After leading the team in goals as a rookie in 2012-13, Yakupov experienced a major change in coaching philosophy in moving from Ralph Krueger to Dallas Eakins. The result was myriad errant sorties, frustration from player and coach, benchings, healthy scratches and a predictable dive in shooting percentage in what can best be described as a period of transition.
 NAIL YAKUPOV 12-13
5×5 points per 60: 2.20 (3rd among regular forwards)

5×4 points per 60: 4.20 (5th among regular forwards)

Qual Comp: 7th toughest among regular forwards (second-third line opp)

Qual Team: 7th best teammates among regular forwards

Corsi Rel: -5.1(11th best among regular forwards, -15.22 CorsiON)

Zone Start: 51.1% (6th easiest among regular forwards)

Zone Finish: 51.0% (6th best among regular forwards)

Shots on goal/percentage: 81/20.99% (1st among F's>70 shots)

Boxcars: 48, 17-14-31
NAIL YAKUPOV 13-14
5×5 points per 60: 1.45 (5th among regular forwards)

5×4 points per 60: 2.68 (7th among regular forwards)

Qual Comp: 7th toughest among regular forwards (second-third line opp)

Qual Team: 4th best teammates among regular forwards (second-line teammates)

Corsi Rel: 0.6 (9th best among regular forwards)

Corsi for % 5×5: 44.9

Corsi for % Rel 5×5: +0.8

Zone Start: 64.2% (easiest among regular forwards)

Zone Finish: 52.0% (best among regular forwards)

Shots on goal/percentage: 122/9% (5th among F's>100 shots)

Boxcars: 63, 11-13-24
VOLLMAN SLEDGEHAMMER (CORSI REL)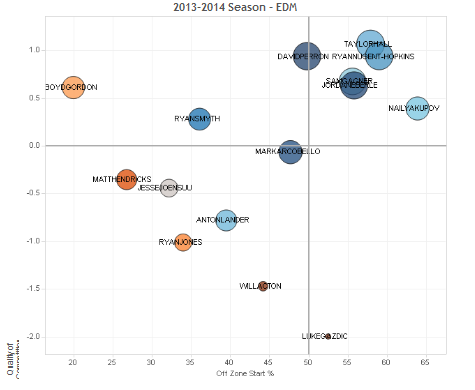 RE 13-14 REVIEW
| | | | | | |
| --- | --- | --- | --- | --- | --- |
| PPG | NAME | GP | G | A | PTS |
| .634 | NAIL YAKUPOV RE 13-14 | 82 | 29 | 23 | 52 |
| .381 | NAIL YAKUPOV ACTUAL 13-14 | 63 | 11 | 13 | 24 |
 RE 14-15 PREVIEW
| | | | | | |
| --- | --- | --- | --- | --- | --- |
| PPG | NAME | GP | G | A | PTS |
| .583 | NAIL YAKUPOV RE 14-15 | 72 | 21 | 21 | 42 |
|   | | | | | |
Ha! Pave paradise and put up a parking lot! Yeah, it'll be a damn shame if they do it.
Do you think they will? I'm absolutely convinced MacT and Eakins are smart men. And smart men are not going to waste a rare gem, it's just the stupidest damn thing to do. So, no, I don't think they will.
But you're concerned. Sure. You bet. Last season we saw the down side of a brilliant young player. I would have liked Eakins to feature Yak's shot from the right-side high slot on the power play, and I do think it cost coach and player. It may also be true that the coach was using the power play as a carrot, and that's a useful tool. However, all of that can be framed as part of the learning process if the next chapter involves success. This isn't fatal, but there's a concern.
Will Yakupov ever have a complete skill set? You mean a complete two-way player? That isn't his future, no. His future is a 40-goal trigger man for the rootinist tootinist hockey team on the planet.
Maybe they're doing the right thing breaking him down. Pave paradise and put up a parking lot.
Playing well defensively is a big part of the NHL game. "The big thing in today's game is you have to be able forecheck and backcheck, and you have to have the puck. You can't give the puck up. We don't play in our zone, so there's not much defending.  I've coached in three decades now and this stuff where they said Marian had to play in Jacques's system is a bunch of bull-crap. The game's changed. They think there's defending in today's game. Nah,

it's how much you have the puck

. Teams that play around in their own zone think they're defending but they're generally getting scored on or taking face-offs and they need a goalie to stand on his head if that's the way they play." Darryl Sutter.

So Yakupov can help? Good lord. High-end skill. Take and make a pass, he can shoot. Yakupov doesn't have Hall's speed and I don't know that he's going to be Eberle-like in tight. However, he can really pass and is a fine shooter.
He's the least valuable of the No. 1 overalls. See, that's just a crazy way of looking at things. The Russian offers a unique set of elite skills to this team. Does Hall shoot like Yakupov? Does the Nuge?
Well, why won't he learn? I've never seen it expressed anywhere, but it seems his junior career (and possibly before) didn't involve a lot of structure. Yakupov's defensive role (he's a winger) is not rocket science. I think the major concern of the coaching staff has to do with doing less solo work with the puck, to be honest.
Can he pass? Brilliant passer.
Why won't he learn? He will.
This is two years in, he's so stubborn. The mind plays tricks on us. Yakupov was fine year one, led the team in goals and Ralph just let him loose. There was going to be a day of reckoning, and Dallas Eakins was charged with doing that thing. Give and go, pass the puck and be confident it'll get back to you.
Will Craig Ramsay help? Yes, I think so. It's important (imo) not to frame Eakins as a bad guy here, he was more like the overwhelmed guy. He made plenty of mistakes, but someone like Ramsay can serve as sounding board, communications expert and idea factory.
Are you confident both Eakins and Yakupov will have NHL success? Yes, fairly certain both will make their mark in the league.
Will they do it in Edmonton? That's the million dollar question.
One of the things about this blog is that it fails to be realistic. You need to pick one of Eakins or Yakupov as the culprit in this relationship. It is probably both, stubborn behavior being universal in humans.
You can't have a coach who is right and a player who is right and get this past season. I'm not saying either is "right" and I acknowledge growing pains for both, but in my opinion giving both of them at least another season is central to Edmonton's success.
Why? Both of these men could be a big part of Edmonton's next Stanley Cup.
Don't it always seem to go, you don't know what  you've got 'till it's gone? Yes.
Your RE is more humble than last year. And Yakupov could make it look ridiculous. This is a very talented young man.
Do you like him? Always have. Special and unique talent.
He's not like the others. I have no response to that. Everyone is different.
Will he be difficult to sign next summer? No idea. His agent certainly has been vocal, suspect a lot of what happens in negotiations next summer will be impacted by performance this season.
Will he flee back to Russia? We would do ourselves an immense favor by not demonizing these European kids. I haven't seen any signs of flight from this kid since day one. It's a ridiculous bit of nonsense. The word flee is inflammatory and juvenile.
Will he saunter back to  Russia? I don't think there's any quit in this kid, and he's plenty bona fide. Let's see how this year goes before doing something rash.
Why this song? It's the easiest call in the group. The line "don't it always seem to go, you don't know what you've got 'til it's gone" is like a black cloud on the horizon. If the Oilers blow this talent, well, there is no forgiveness.
What if they traded him for full value? You and I will never agree on what full value is going to be, and the Oilers don't have another Nail Yakupov on the roster. It's a fool's play. The Oilers drafted him, ventured into Russia and have continued to do it since the 2012 draft. They badly need the courage of their convictions.
And you're betting Craig MacTavish and Dallas Eakin have them? Yes.
Won't people be disappointed with 21 goals? Probably.
Will you? No. It might be a blessing, if they can sign him to a more reasonable contract. I believe Nail Yakupov wants NHL success badly, and based on what we're hearing about him this summer (he's apparently ripped) his response to disappointment and frustration has been more determination. It takes no wisdom at all to go all-in on this guy. Finding Nail Yakupov's role on this team might be the key to winning the Stanley Cup.