By the fifth round, we're looking at about a 12% chance of seeing an NHL player. You'd have to pile 8.3 picks one on top of another to ensure one player arrives on your doorstep, so we're in the 'once a decade' territory of the draft.
 A PROPOSAL
Scott Cullen of TSN estimated the success rate (100 NHL games or more) to be 12% back in 2009. Let's also use 150 games as the line in the sand, as we've done through each round.
OILERS FIFTH ROUND 2008-2014
That set, let's move on to the Oilers during the MacGregor era (2008-2013). We're looking at one in eight being a success (average) and anything more than that above average. The Oilers have selected seven players in Round 5 during the MacGregor era, including one last month:
2008: Phil Cornet
2009: Olivier Roy
2010: Tyler Bunz
2011: Martin Gernat
2012: Joey Laleggia
2013: Evan Campbell
2014: Liam Coughlin
Seven players have been drafted by Edmonton during these years. 12% of twelve players is one NHL player (84% of a player) of 150 games or more from this group, that's the expectation for an "average" team in the fifth round.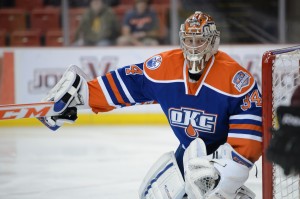 Tyler Bunz-Rob Ferguson (all rights reserved)
NHL GAMES PLAYED
Phil Cornet 2
Like the fourth round, the Oilers have (so far) struck out in the fifth round. Unlike the fourth round, where Dillon Simpson and Tobias Rieder are trending well, the fifth round offers only Martin Gernat as a promising NHL prospect.
2014 SUMMER
No longer a prospect:
Very bad arrows: Phil Cornet, Olivier Roy, Tyler Bunz
Bad arrows: Evan Campbell
Lukewarm arrows: Joey Laleggia
Good arrows: Martin Gernat
Very good arrows:
New arrows: Liam Coughlin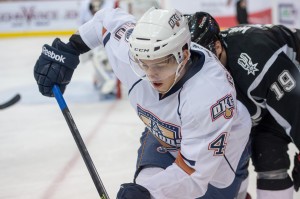 Players selected this late don't often have long careers anywhere, so a guy like Cornet is probably going to slide out of hockey (or go to Europe) in the next year or two. Goalies are like knuckleball pitchers, they do nothing for awhile and then perk up their careers. Defensemen Gernat and Laleggia are the best hopes here, Gernat being the only one in this group to put in an AHL season of note.
Phil Cornet: Looked like a tweener on draft day, and that's what he is; passed 200 AHL games this season.
Olivier Roy: Famous junior goalie has been around .900 as an AHL goalie.
Tyler Bunz: Final year of entry level deal on the way, young man has played 6 AHL games.
Martin Gernat: Was an AHL regular for most of his rookie pro season (57 games).
Joey Laleggia: NCAA offensive defenseman, numbers faded in year three.
Evan Campbell: Older prospect started very slowly in first NCAA season, scored 9 goals after Christmas.
Liam Coughlin: Power forward from BCJHL.
(all OKC photos by Rob Ferguson, all rights reserved)