There was a time, not so very long ago, when the Edmonton Oilers used their first-round picks on forwards, and searched the globe for defenders and goalies from the 'distant bell' portion of the draft. From 2000 through 2009, the Edmonton Oilers used their first round selections on the following:
Forwards (10): Alexei Mikhnov, Ales Hemsky, Jesse Niinimaki, Marc-Antoine Pouliot, Rob Schremp, Andrew Cogliano, Sam Gagner, Riley Nash, Jordan Eberle, Magnus Paajarvi.
Defense (1): Alex Plante
Goalies (1): Devan Dubnyk
For the decade of the 2000's, Edmonton chose a forward in round 1 83% of the time. That's a trend. Since then, and certainly the three No. 1 overalls going to forwards had an impact here, the Oilers are including more defenders:
Forwards  (4): Taylor Hall, Ryan Nugent-Hopkins, Nail Yakupov, Leon Draisaitl
Defense (2): Oscar Klefbom, Darnell Nurse
Goalies (0):
So far in the 2010's, Edmonton went with a forward just 66% of the time. Now, this is a little misleading—had the Oilers chosen Nichushkin over Nurse they would be right back at 83%—but the two first-round defensemen give Edmonton a good start on their 2015-2025 blue line cluster.
Now, Stu MacGregor, he had his own ideas. If you're not going to use the first-round selection on these fellows, might want to get them in the second round and beyond, so he did. Here are the defensemen chosen in round 2+ by Stu in 2010 and 2011:
Martin Marincin, No. 46 in 2010
Jeremie Blain, No. 91 in 2010
Brandon Davidson, No. 162 in 2010
David Musil, No. 31 in 2011
Dillon Simpson, No. 92 in 2011
Martin Gernat, No. 122 in 2011
The 2011 draft is especially interesting, it's drunk with promising defensemen. Edmonton chose Klefbom in round one, then Musil, Simpson and Gernat, all of whom have value as NHL prospects at this time. I did the September top 20 over at ON on the weekend (I do it every year for the Nation), and the defensemen ranked thusly:
No. 2 Darnell Nurse
No. 3 Martin Marincin
No. 4 Oscar Klefbom
No. 8 Dillon Simpson
No. 10 Martin Gernat
No. 15 David Musil
No. 17 William Lagesson
No. 19 Brandon Davidson
That's a lot of defensemen, and there's simply no way for Edmonton to play all these guys as Oilers. I mean, we could guess that Nurse, Klefbom, Marincin and Justin Schultz could fill the top four for the next decade and be close to correct, right? So, what to do with the other kids who develop?
I was thinking about this when pouring over the transactions from last season. Dean Lombardi, that rapscallion, made a deal with Buffalo Sabres at the deadline. It went like this:
Los Angeles (Lombardi) trades Hudson Fasching and Nicolas Deslauriers to the Buffalo Sabres for Brayden McNabb, Jonathan Parker and the pick that turned into Alex Lintuniemi.
Allow me to break it down for you very quickly.
As I see it, the trade breaks down like this: Fasching (famous and emerging PF) for McNabb (big, skilled defenseman far closer to NHL-ready than Fasching) is the heart of the deal. LAK also give up a lesser-McNabb in Deslauriers, and receive a second-round pick for their troubles. Parker is a roster spot on the 50-man list.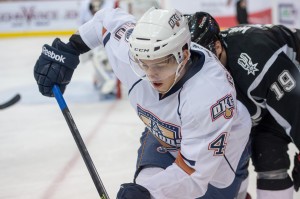 Today's post is really about Martin Gernat. He's blocked already from NHL employment and it's probably going to become more difficult as time rolls. One day soon, maybe this year, a team will come calling after Martin Marincin. Edmonton is unlikely to deal him, but on the "check down" list Gernat's name is going to appear. And when it does, it is vital Craig MacTavish grabs quality, grabs his Hudson Fasching, because the Los Angeles Kings are going to be offering someone from their 'check down' list, too.
Edmonton has acquired assets through losing and losing and losing and losing. I feel letting Taylor Fedun go for free was a good thing, that guy has had enough bad breaks there's no need to punish him further. Godspeed, Taylor Fedun, score on everyone else but stay away from the Oilers (he'll probably kill us).
However, the next OKC defenseman sent away has to be for real value. Otherwise, what was all of this for? Developing kids for the winners? I don't believe Craig MacTavish would do that for a minute, but he is unproven in the art of acquiring useful assets in exchange for unproven talent.
And Dean Lombardi is a rapscallion, through and through.