The Edmonton Oilers welcomed 29 athletes to the 2014 training camp today, kicking off seven months (or more!) of magic and mirth. Any team with Taylor Hall in the lineup is worth watching, and the slow climb up from the depths will continue on the frozen winter nights in Edmonton, Canada.
There were a few interesting items today. Mitchell Moroz is healthy:
Moroz: "It might have been three or four weeks ago if you had asked me that but I've come such a long way that I'm not thinking about those things on the ice anymore. It will be nice just to go in and play and be able to play my game right away. Hopefully I will be able to bang some bodies and create some stuff out there."
Moroz is going to get a push this fall, ladies. I don't think there's any doubt. When camp breaks and the Barons start their preseason, expect Moroz to get some prime minutes at the expense of some veteran minor leaguers. Moroz and his group can start training camp off with some wins in Penticton—the Oilers were completely outclassed from beginning to end one year ago. A reminder that Kevin McCartney from Jets Nation will join Paul Almeida and I Saturday during SSE to give us the latest on Oiler prospects.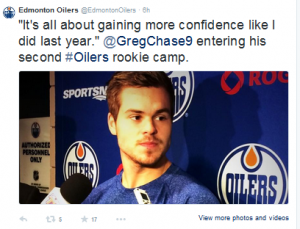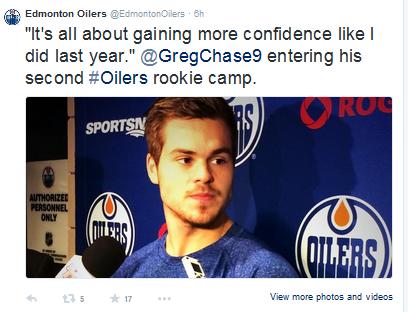 Chase did his job last year, and from reports he's slimmer and faster than a year ago. He was invited to the WJ summer camp and reportedly played well enough to be a legit option for the Christmas tournament. What's next? A big season in the WHL and (hopefully) an NHL contract. This is a second-round talent delivering on promise. You can google 'Oilers scouting' and read thousands of angry assaults, but there's not much negative to say about the club getting this guy.

I have Darnell Nurse playing 9 games in the NHL to start the season, and after that we'll see. If he's big enough, strong enough, good enough, mobile enough, the Oilers won't send him back. Good lord Almighty, if this century taught us anything about the Oilers it's this: They keep their kids when management feels they're ready, and that goes back to Hemsky.

The question about Draisaitl entering camp isn't size, although an 18-year old athlete whose frame can support 215 is impressive. Leon Draisaitl needs to be quick and fast enough to keep up, and if he can do that Edmonton will play him 82. He gets 9 without a throw, and I remain absolutely flummoxed by it. Hammer on a drum I'm sure you're tired of hearing, but it's a complete damn mystery to me. He must be very fast.