The Golden Bears hit the ice against Oilers rookies tonight, it should be a fun game (there's a lot of skill on both sides) and physical too (ditto). From an Oilers' fan point of view, most of the guys we'd like to see again are dressed.
THE LINEUP (VIA POUZAR)
Mitch Moroz – Leon Draisaitl – Mitch Holmberg
Vladdy Hockey – Bogdan Yakimov – Greg Chase
Travis Ewanyk – Jujhar Khaira – Kale Kessy
Connor Jones – Kellen Jones – Kyle Platzer
Jordan Oesterle – Dillon Simpson
Darnell Nurse – C.J. Ludwig
David Musil – Martin Gernat
Laurent Brossoit
Ty Rimmer
A FEW NOTES
Mitch Moroz gets another push, as does Mitch Holmberg. Draisaitl looked very good in G2-Penticton, hopefully we'll see more of those ridiculous passes. 100% chance he makes the Oilers.
That second line is gold. Big Russian center blocks out the sun, the RW has skill and yaps more than Tikkanen, and the LW is the hockey personification of 'it came out of the sky'.
Khaira hasn't been given one damn break on linemates at EVs this camp, and that continues tonight.
That 4line should be able to play the Golden Bears at par tonight, lots of experience there and some penalty-killing acumen.
Oesterle-Simpson have some chem, I'm beginning to think we'll see them early in the year down in Oklahoma territory.
Nurse gets Ludwig and that's freewheelin' Bob Dylan—we may see a minus or two with this duo.
Musil—Gernat should be able to dictate a few things out there tonight, this should be Martin at his best.
Brossoit-Rimmer would be my choice for 'two goalies I'd like to see again' from the Penticton camp.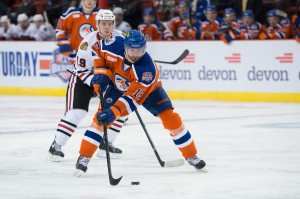 Patricia Teter does us all a favor by reminding us of what happened this summer here. I'd really warmed to Horak, sorry to see him go. It's easy to assume the Oilers will 'Hartikainen' him next summer, but maybe they take a different angle with Roman. Most of the OKC onlookers talked about how effective Horak looked on LW, and that's a spot Edmonton may need some help with down the line. We'll keep a light on.
I wrote about the Oilers use of an enforcer over at Oilers Nation today,riffing off something Travis Yost posted at TSN. NHL coaching staffs are migrating toward 12 forwards playing 10 minutes or more every game at even strength, and the Oilers use of an enforcer may mean they're left behind. We'll see. I'm encouraged by the additions this season, wonder about that Gordon line. That's the trio to watch in preseason. Who plays with Gordon? Hendricks? Yeah, for sure. Lander? He's probably the best available option among the rest to round out the group. Pitlick? We'll see. Pakarinen? Can't wait to see him.