David Perron scored 28 goals and emerged as a unique talent on the Edmonton Oilers in 2013-14. If the team is going to improve this season, Perron needs to be a big part of things again. We've heard about Perron's hip issues from time to time since the season ending (and Perron was unable to play in the WHC).
Perron: "As long as it's like that where I can play, then get good treatment the next day, I think I can play every game. If we can stay on top of this the trainers are confident that it won't get any worse than this, or I'll improve." Source is Jim Matheson in a must-read article.
I see his role as being mentor to Leon, power-play specialist and chance machine. I really appreciated Perron's willingness to shoot from anywhere and his ability to hang on to the puck late, late, late in hopes of an offensive opportunity. Obvious a physical winger, here's hoping he can have another strong campaign. Having said that, if you're an Oiler winger, the hip issue could be an opportunity.
—
Larry Brooks does a nice rant about the Oilers, and writes whined a lot here.
—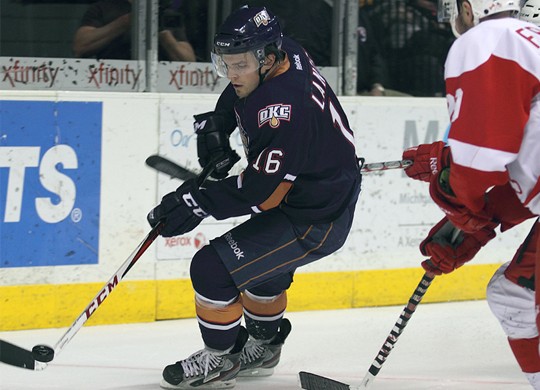 Dallas Eakins had some kind words about Anton Lander's performance today at practice:
Eakins: "The one thing we spoke to Anton about last year at the end of the season (is offence). He's shown that he can put up points and make plays at the American Hockey League level. Today, he was making those plays. He stepped out of his comfort zone here. That's hard to do as a player and I thought that was real encouraging." Source
The thing that probably wins the day for Lander is his penalty-killing. Not sexy, but deadly important.
—
Copper and Blue are doing their Top 25 under 25, it's one of my favorite things on the oilogosphere. Curtis Leblanc is a helluva writer and he does a great job of summing up Pitlick's chances here. As it happens, I wrote about Pitlick, injury and his future here.
—
Curtis Hamilton scored today, 5-hole on Keven Bouchard. Get noticed early and often, and a nice start. Of course, none of this matters until tomorrow, when the pre-season games begin. Oilers will have their skilled group in Edmonton, meaning Calgary will send their coke machines to Rexall in an effort to reduce our beautiful game to rubble.