The Oilers play their first full squad game of the exhibition schedule against Winnipeg tonight, and it should be a fun game. I saw the Jets the other night and man do they have some exciting young talent. Ehlers, Petan, Morrissey, Winnipeg is loaded if they don't trade any of it away. The Oilers are sending a bridge mixture roster and it'll be interesting to see how well they do.
PROJECTED LINEUPS (COURTESY POUZAR)
Nail Yakupov – Ryan Nugent-Hopkins – Jordan Eberle
Benoit Pouliot – Leon Draisaitl – Vladdy Hockey
Kale Kessy – Travis Ewanyk – Tyler Pitlick
Andrew Miller – Bogdan Yakimov – Curtis Hamilton
Keith Aulie – Justin Schultz
Oscar Klefbom – Martin Gernat
Darnell Nurse – Martin Marincin
Ty Rimmer
Laurent Brossoit
NOTES
I'm thrilled for Yakupov, this is a nice chance. It'll be fun to see how these three perform without the franchise.
Dynamite push for Vladdy, and Leon has his mentor.
Pitlick gets his chance, he's going to need a strong run here to make it. My guess is they want him to show up away from the puck, not score (based on linemates).
This is an interesting line. I think Curtis Hamilton got Pitlick's linemates.
The Aulie—Schultz pairing was forged in hell. They're -2 before breakfast.
You could make an argument for the best (Klefbom) and worst (Gernat) of blue this TC. I like both players.
Nurse and Marincin is an interesting pairing. Both are big and mobile, one is a pretty mean fellow.
Rimmer gets the push. Brossoit may see action.
The biggest curio is that top line, if they could ever push the river then Taylor Franchise could play with Leon and Perron. Music! After that, Aulie gets a big chance to show well (he did not in G1) and Schultz gets a real stay-at-home type but has he improved his defensive chops? We'll find out. I'm fascinated by Pitlick's spot here, he has played on an AHL line twice (after tonight) in TC. Le holy.
It sounds like the Oilers are trying to sign Vladimir Tkachev, maybe as soon as today. They have time, but this could be Tkachev's final game before heading back to junior and this would be the best window. If Tkachev doesn't sign, one assumes he believes waiting a year will get him drafted higher and potentially sign a better entry-level deal. Oilers could take that worry away by signing the Russian to something resembling the Bogdan Yakimov deal (via CapGeek)

And now it's time to have a frank discussion about Tkachev's value in relation to some of the Oilers' unsigned draft picks. I'm no expert, but would put Vladdy Hockey on the 'value list' about here:
Vladimir Tkachev
Jackson Houck
William Lagesson
Zach Nagelvoort
Anton Slepyshev
Joey Laleggia
John McCarron
Ben Betker
Kyle Platzer
Tyler Vesel
I would value him as the MOST signable player on the list, and would offer as proof my final draft list (here). I have Tkachev at No. 49, Lagesson at No. 77, Nagelvoort at No. 91. Your mileage may vary, the Oilers' scouting staff certainly didn't agree but even if he's halfway down the list it means this is better value than Liam Coughlin, Keven Bouchard, Aidan Muir, Evan Campbell, Daniil Zharkov and on it goes.
I hope they sign him. A wonderful procurement story.

Hey, that's great. No it isn't. I have a feeling that we'll be talking about this guy for years. It may still be the 'Perron trade' and not the 'Barbashev trade' but that guy was a quality prospect and should never have fallen that low. Blues killed that 2014 draft. Killed it.
JETS LINEUP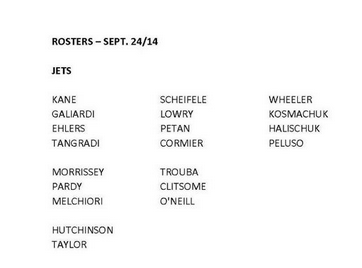 That seems to be about par for what the Oilers are sending over. I loved the roster because Ehlers, Morrissey and Petan are playing, hate it because Hutchinson looked really good the other night for the Jets. Top line could roar against Aulie—Schultz.
LOWDOWN WITH LOWETIDE
10 this morning, TSN 1260. We begin with Bruce McCurdy from the Cult of Hockey, we'll talk Tkachev and the rosters for tonight. Jamie Nye from the Green Zone joins us at 10:25 to talk about Friday night's showdown between the Roughriders and Eskimos. At 11, Darrin Bauming will give the Jets side of tonight's game, and we'll bring in Jeff Krushell to talk about offseason training program's and NHL teams being concerned about some of them. Dave Jamieson pops by to talk football and then we're out.
10-1260 on text, @Lowetide_ on twitter. See you on the radio!