There are some very talented (if flawed) players on NHL waivers this morning, and they're hoping to get picked off waivers today. I spoke to Justin Bourne last week about waivers, and he told me you want to make the team you're on, and then you want to be picked on waivers by any of the other 29 teams if you get sent down. So, if you've grown emotionally attached to Tyler Pitlick since 2010 (he's a favorite of mine) chances are he'll be over it before you (and me). And that's cool, these young men dreamed of playing in the NHL, and if their drafting team can't use them the waiver opportunity gives them a chance to land in another town. One final thing: as a fan, when one of your favorite players is on waivers, there's a feeling of impeding doom. I'm here to tell you, it rarely happens. Seriously.
The Oilers put four players on waivers yesterday and you can make a case for all of them being claimed. Lander and Pitlick are young players who have turned themselves into useful fringe NHL players and may be able to improve from there. Craig MacTavish's comments on Pitlick's waivers could serve as a minor endorsement:
MacT: "I think Tyler is at a position right now that we wish he would have been at a year or a year and a half ago. He's turned himself into a professional. I think that it ended up with Tyler, as well as Pinizzotto, were two difficult decisions. It got down to a positional bias and I thought the 13th forward here would be best served by being a centreman and it was a risk I was willing to take." Source
So, if I'm reading this right, and I think I am, he said 'look, he's a pretty good player today and the only reason we're keeping the other guy is that Pitlick isn't a center. But if you're another team who could use a winger, this guy has learned the drill in the AHL and he's good to go.' I don't know if they teach that in GM school but they shouldn't if they do.
CURRENT OILERS (23 plus IR)
| | | |
| --- | --- | --- |
| LEFT WING | CENTER | RIGHT WING |
| TAYLOR HALL | RYAN NUGENT-HOPKINS | JORDAN EBERLE |
| BENOIT POULIOT | LEON DRAISAITL | NAIL YAKUPOV |
| DAVID PERRON | MARK ARCOBELLO | TEDDY PURCELL |
| MATT HENDRICKS | BOYD GORDON | JESSE JOENSUU |
| LUKE GAZDIC (IR LIKELY) | WILL ACTON | |
|   | |   |
| LEFT DEFENSE | | RIGHT DEFENSE |
| OSCAR KLEFBOM | | JEFF PETRY |
| NIKITA NIKITIN | | MARK FAYNE |
| ANDREW FERENCE | | JUSTIN SCHULTZ |
| DARNELL NURSE | | BRAD HUNT |
| | |   |
|   | GOAL |   |
|   | BEN SCRIVENS |   |
|   | VIKTOR FASTH | |
Leaving aside the vexing (and short term) demotion of Marincin, this looks about right. Right at the end of camp Eakins put Kraftwerk and Yakupov together and the chem was there immediately, so it makes sense Pouliot or Perron play the Pisani role and the other two create. One of the truly positive moments of TC came when Eakins defended Yakupov during a point in preseason where muttering and mumbling took flight in some circles. Eakins is a smart guy, he knows that winning involves having as many legit offensive options as possible. Nail Yakupov is a legit offensive option and he's bought in. I hope he scores 30, and then keeps going. Jesse Joensuu won the race over Pitlick and Steve Pinizzotto, and one hopes he performs better this season than last. Avoiding concussion will be key.
I have the pairings above but that's unlikely what we'll see. Expect Nurse to play at least three of the first four games (no sense having him here to sit). I also think the Oilers should consider a Petry-Fayne top pairing, and using Klefbom with Schultz. Nurse and Schultz should NOT be on NHL ice together early in the year.
MARINCIN'S RETURN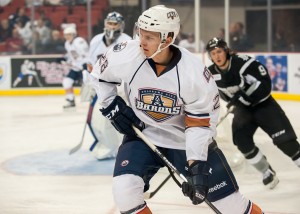 I don't think the Oilers take long to call Marincin back, for a couple reasons. First, it's fine to send one of your best defensemen to the minors for shortcomings in training camp, it's quite another to begin the season on a losing streak. The Oilers have once again talked themselves into something, and God knows MacT and Eakins have shown the ability to get stubborn on a decision. However, the won-loss record is King, and an opening night loss to Calgary or a poor performance in G2 will have Edmonton calling Marincin back up. I wouldn't be completely shocked if they IR Nikitin before opening night and tell MM to haul ass to the airport.
 ANOTHER TAKE ON THE CURRENT ROSTER
As someone who has a well-earned reputation for suggesting three-for-one trades or waiver claims galore, today might be a watershed opportunity for the Edmonton Oilers.
How? They have all kinds of ways to add a player from the waiver wire.
Like? They could IR Nikitin today, or send down Acton.
Is that their plan? Probably not.
Should it be? I think so.
Why? Quoting James Mirtle: There could well be more than 100 players that hit waivers – putting them up for grabs essentially free – on Monday, which makes it an uncertain time for players and a busy one for management. Source.
How good will these players be? Carter Ashton is a very interesting player Toronto may waive today, and there are lots of others. The Oilers sounded convinced of their roster yesterday, maybe they don't make a move. I think there is going to be legit talent available, and maybe a solid fit at center.
Or power play? TJ Brennan is available this morning, he's an excellent option. I expect the Oilers are content with Hunt in that area.
LOWDOWN WITH LOWETIDE
10 this morning, TSN 1260. We begin with Scott Burnside, talking injuries, waivers and the NY Islanders trades on the weekend. Following Scott, it's Alex Thomas from Oilers Rig to talk Oilers waivers (we'll have today's by then) and the 23-man roster that is staying north for the season. At 11, we unleash Dennis King and I can tell you he's in mid-season form re: Oilers so you don't want to miss it. At 11:25, Andrew Berkshire of Habs Eyes on the Prize begins our preview of NHL teams for 2014-15. We'll talk Subban, Price and Stanley.
10-1260 on text, @Lowetide_ on twitter. Talk soon.