The Edmonton Oilers held a reunion last night, and received a gift from the fans in attendance. The fans cheered for the prodigal former owner and the old man wept. If the Oilers are a religion—and frankly I wonder—then last night was biblical. No idea what this means for the current club, but it's a major item for the 1984 team and its legacy. Last night added a chapter, an epilogue, to the most fantastic team this city ever saw. What a ride.
Now, and I mean this was the utmost respect, can we please get on with the actual Oilers? Good lord Jesus we spend a lot of time living in the past. There's a game tonight!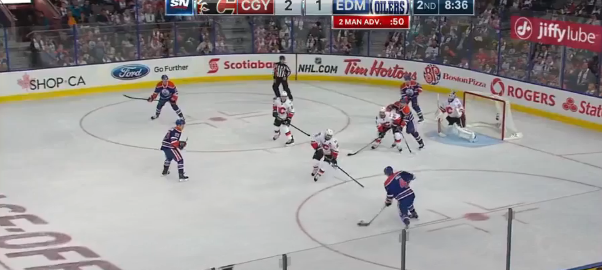 This is Taylor Hall scoring off a set play on the 5-on-3. Notice WHERE he's shooting from uncontested for the goal. At this position, with the shot he delivered, it either hits the goalie, goes wide, or results in a tally. The Flames are observing the game at this point.
PROJECTED LINEUP
| | | |
| --- | --- | --- |
| LEFT WING | CENTER | RIGHT WING |
| TAYLOR HALL | RYAN NUGENT-HOPKINS | JORDAN EBERLE |
| BENOIT POULIOT | LEON DRAISAITL | NAIL YAKUPOV |
| DAVID PERRON | MARK AROBELLO | TEDDY PURCELL |
| MATT HENDRICKS | BOYD GORDON | JESSE JOENSUU |
|   |   |   |
|   |   |   |
| LEFT DEFENSE |   | RIGHT DEFENSE |
| NIKITA NIKITIN | | MARK FAYNE |
| ANDREW FERENCE | | JEFF PETRY |
| BRAD HUNT | | JUSTIN SCHULTZ |
|   | |   |
|   | |   |
|   | GOAL |   |
|   | VIKTOR FASTH |   |
|   | BEN SCRIVENS |   |
The only change so far is Fasth starting, and I've heard both the lineup remains the same and that Darnell Nurse will draw in, so will update the lineup as it comes available later today. The team flew yesterday to Vancouver, so they weren't part of the 30 year reunion last night and are hopefully focused on the task at hand.
SHOTS ON GOAL
Interesting to see the group getting the most shots on goal during game one. Oilers had all hands on deck (only Andrew Ference was shut out) and the role players were in there like a dirty shirt.
4—Taylor Hall, Boyd Gordon, Teddy Purcell
3—Justin Schultz, David Perron, Mark Fayne
2—Ryan Nugent-Hopkins, Jordan Eberle, Nail Yakupov, Nikita Nikitin, Jeff Petry, Benoit Pouliot, Mark Arcobello, Jesse Joensuu
1—Brad Hunt, Leon Draisaitl, Matt Hendricks
0—Andrew Ference
Add in goalposts for Eberle and Hunt and it's completely reasonable to suggest the Oilers were unluckynot to have three before the end of the second period. This just in: If wishes were horses, beggars would ride. Finally, seven shots (!!!!) from the 4line.
DEFENSE TOI AT EVEN STRENGTH
This is something I want to follow all year because it's a story with real value. Justin Schultz not only gets a power-play push, but also an even-strength push in game one, and the allotment of time by Edmonton is a curious item.
Justin Schultz 20:56
Brad Hunt 18:04
Nikita Nikitin 17:52
Mark Fayne 17:42
Jeff Petry 16:13
Andrew Ference 16:01
And let's run the Corsi 5×5 numbers from the game, just for fun:
Jeff Petry 27-9 75%
Brad Hunt 21-8 72%
Andrew Ference 25-11 69%
Nikita Nikitin 21-12 64%
Justin Schultz 21-14 60%
Mark Fayne 20-14 59%
These are all outstanding numbers, but one of the conversations we're going to have this winter is the usage gap between Schultz and Petry at even strength. Dallas Eakins isn't the first coach to show bias where evidence suggests a certain deployment (quick shout out to Ron Low and Miroslav Satan) but it should be discussed as a contributing factor to the team's success or lack of success.
 SLEPY BUSTS A MOVE
2011-12 (age 17) 39GP, 4-3-7 (8:55 TOI, 28 shots) (1.21 points-per-60) (4.83 shots-per-60)
2012-13 (age 18) 26GP, 7-2-9 (12:40 TOI, 63 shots) (1.64 points-per-60) (11.48 shots-per-60)
2013-14 (age 19) 36GP, 3-5-8 (10:18 TOI, 59 shots) (1.30 points-per-60) (9.55 shots-per–60)
2014-15 (age 20) 15GP, 3-4-7 (10:29 TOI, 26 shots) (2.67 points-per-60) (9.9 shots-per-60)
Anton Slepyshev had a nice week and his point-per-game number is double one year ago and in the same TOI. That's a big deal, and if he continues one wonders if the Oilers make a special effort to get him signed at the end of this year to bring him over. The Russian pipeline that gave us Nail Yakupov delivered Bogdan Yakimovn this fall, and perhaps the Slep John B. sails here for 2015-16.
PLATZER
Kyle Platzer is 7GP, 3-7-10 after a big night in the OHL on Friday. His time in Owen Sound started slowly last season, but he looked good at rookie and main camp and is continuing to improve in the OHL. He's miles from his pre-draft scouting report (courtesy Brock Otten of OHL Prospects).
33. Kyle Platzer – Forward – London Knights
Platzer did absolutely everything London's coaching staff asked him to do this year, including seeing some time on the blueline to cover for injuries. That's why he managed to (mostly) avoid the carousel many of London's other younger players had to ride (like Jammes, Liberati, Pawley, etc) in 2013. His numbers don't jump out at you, and they won't with the barely 10 minutes of ice time he saw a game. But you have to assess him based on what he was able to do with that ice time (similar to Remi Elie who's rated higher). Platzer may not be huge (pushing 5'11), but he's a skilled player who also can provide energy and persistence away from the puck. You might notice Platzer outworking opposing defenses along the boards, or beating them to loose pucks, but he's also clearly a very intelligent offensive player who is capable of putting up higher point totals. He did lead his Waterloo GOJHL team in scoring as a 16 year old in 2012. The one thing I admire about London is their ability to make younger players work hard to stay in the line-up. Ice time is earned, not given. And Platzer earned every second of time he received this year.
I had him ranked No. 30 in the summer, expect a massive rise in ranking by Christmas if this continues.

ABOUT THURSDAY NIGHT
I went back and looked at the game again, and have a few observations.
If Brad Hunt scores on the PP that came after the Hall goal, Edmonton wins the game and the roof comes off the barn.
In the third period, you can see the young team pressing and they lose momentum. The flow of the first and second periods is gone, and now they're more deliberate on some levels and trying to do too much on another. I think they win that game more often than not, and suspect we'll have trunks of memories still to come.
The game was lost in the first five minutes on simple plays from the goalie's stick to the defender. Basic basic stuff.