The Edmonton Oilers are 0-1-1 and about to play the first really good team on their schedule, the Los Angeles Kings. LAK are 1-1-1 and have scored only six goals in three games, compared to Edmonton's six goals in two games. Los Angeles is a team headed for another long playoff run, and possibly elevated status even among elite teams, as they could win their third Stanley in four years (already won in 2012 and 2014). On paper, this is a mismatch. However, it's also true that if we ponder the current level of play through two games, the Oilers deserve a little better fate than their record shows. If they can stay healthy, maybe this thing turns around and we stop fixating on October last.
 YAKIMOV RECALL
The recall of Bogdan Yakimov over Anton Lander isn't a surprise—the Russian outplayed the Swede by a considerable margin based on anecdotal and visual information—but it is a significant moment, a tipping point, for the Oilers prospect group. I think it's safe to say that players drafted after Craig MacTavish became GM (say 2013 and 2014 drafts) are going to get a push when they turn pro. That list includes Darnell Nurse, Bogdan Yakimov, Greg Chase and Leon Draisaitl, the only players drafted and signed under the MacT regime. That group (along with 2012 picks Yakupov and Khaira, 2011 selection Klefbom) appear to be 'the future' based on management verbal that found its way to the masses.
What does that mean for Pitlick, Lander, Marincin, Musil, Simpson? I think they face an uphill climb. Craig MacTavish isn't tied to these men in any way, and first hand knowledge is a powerful thing.
But here's the kicker: ARE the men being left behind being unfairly flushed? I don't think you can make that case at all. Dillon Simpson doesn't really belong as he hasn't had pro playing time, but the other bunch have been pro's for at least a couple of seasons. Bogdan Yakimov got the call because he's better NOW, that isn't bias it's just good business.
Agree?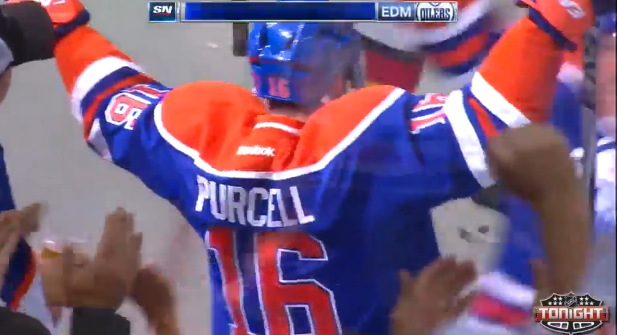 As important as the Nuge is to this team, the RW's are a big part of the club too. Teddy Purcell looks like a golden find. His soft hands are a big part of his line's success early in the year, and Purcell's 2GP, 1-2-3 has him tied for 28th in league scoring. A very nice start.
TONIGHT'S LINEUP (UPDATED 8:04PM)
Hall—Arcobello—Purcell
Pouliot—Draisaitl—Yakupov
Perron—Yakimov—Joensuu
Hendricks—Gordon—Acton
Nikitin—Fayne
Nurse—Schultz
Ference—Hunt
Fasth
That's my guess for roster tonight, I'm thinking they give Nikitin a little time to heal that ankle and Nurse-Fayne is a good way to bring the rookie in (although Calgary would have been a far better opponent). If Nurse doesn't play, and Yakimov does, it'll be a strange bit of trivia. Edmonton would have played their third-round pick in an NHL game before their first-round selection.
The Kings won their first game the other night, but have not been playing well overall this season. If Edmonton were completely healthy or in the middle of a run of luck, or even had their defense figured out, you'd think they'd have a chance to win. We'll have to wait until the lineup is published, but winning one of tonight or tomorrow night is pretty damn important but I don't like the look of tonight already.
EBERLE
 Dallas Eakins: "Jordan is sore from the hits and overused. Multiple of things. We're hoping all can play. All three came in fit after the summer, so we're not so worried about them practising. We need them to play and we thought they'd all benefit from some rest and rehab." Source
Eberle did average 19:40 per game through two, that's a lot of icetime for a forward. However, the Oilers run that 1line pretty heavy (and for obvious reasons). I've been concerned about Eberle since the middle point of training camp, doesn't seem to be getting those Eberle looks around the net. No. 14 is sometimes forgotten with all the top picks around here, but remains a very major part of this team's success. Losing him impacts the team's offense in a big way—Eberle has averaged 27 goals in his three full seasons played in the NHL so far in his career. Hopefully he can play tonight and have an impact.

More on the RNH injury this morning from Friedman, what he's hearing makes sense and of course the Oilers aren't saying. IF the Oilers had acquired a veteran center this summer, the Nuge injury would be tough to overcome. As it is, we wait to see how badly he's hurt and how long he'll be out, with absolutely nothing on the roster that comes close to replacing him. We have our slogan for the year. The Edmonton Oilers: Who knew?
LOWDOWN WITH LOWETIDE
10 this morning, Lowdown on TSN 1260. Scott Burnside from ESPN will be by to talk about the NHL's first week, including hot and cold starts, injuries and rookies. Next up Travis Yost talks Senators and Oilers blue line, and I'll ask him just how overwhelmed Edmonton will be at center tonight. At 11, Dennis King chimes in about the Oilers and we'll talk NFL and MLB too. Andrew Bucholtz from 55-yard line will discuss a huge weekend for Eskimos fans and we wrap it up with Dave Jamieson and football talk at 11:45.
10-1260 text and @Lowetide_ on twitter. Talk soon!
(Cover photo by Rob Ferguson, all rights reserved)