It is time my friends, to break out the blues. Pour me another rye whiskey. Smiles and blue skies aren't selling this year, it's my baby left me and my dog died and my momma only has one shoe. Four games and the summer's work is ashes. Lordy. Whatever Edmonton gave the hockey Gods for those long ago Stanley's, our town is paying in full and with tax on the tax.
I'm worried about Dallas Eakins getting any sleep at all. You need sleep you know, to function. I know Eakins is a target of fans but the guy has a very good brain and does innovative things. He isn't perfect, and sometimes his actions run counter with what we know to be traditional wisdom. I'm all for that, some of my favorite coaches and managers over the years have been that sort. But it has to work or you look ridiculous, and when you're running a lot of the "outside the lines" experiments at the same time, it can run a little hot when the results aren't there.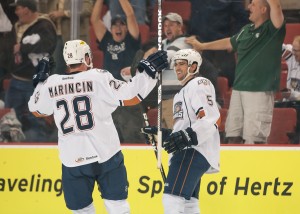 LAST NIGHT'S EV TOI (BLUE)
Justin Schultz 24:51
Nikita Nikitin 20:20
Andrew Ference 15:53
Darnell Nurse 15:09
Jeff Petry 12:05
Mark Fayne 11:48
I believe that's correct, the NHL is doing this weird thing in 2014-15 where they list PP, PK and total time on ice but not evens so I'm going with this and stand to be corrected. I think you could make a strong case that the No. 5 and 6 men should be at the top, and that Schultz should be at or near the bottom depending on zone starts.
Rob Vollman, 2014 Hockey Abstract: The Oilers finally addressed their blue line issues this summer. Mark Fayne should be an effective top pairing shutdown defenceman, especially if he's alongside the highly underrated Jeff Petry. Slovakian rookie Martin Marincin was very promising in his short stint alongside Petry, and could be a legitimate top-four defenceman, as could Nikita Nikitin, if he lives up to the incredible promise he showed in 2011–12 in Columbus. And, assuming he is re-signed, Justin Schultz could nicely fill a Keith Yandle or Torey Krug type of role as a big-minutes but sheltered puck-moving defenceman, a situation in which Andrew Ference might still remain a positive contributor as support. At least one of Oscar Klefbom and Keith Aulie should be a usable depth option.
Vollman points out that Craig MacTavish addressed the blueline, and states that with Petry and Fayne there might be an effective top pairing. I spoke with Rob, and asked him about the idea of an unusual 'two righty' defensive pairing, and he had a great point about rarity. Basically the reason we don't see two righties is they are more rare, whereas two lefties on a pairing doesn't raise an eyebrow. Either way, the current usage of these men is extremely questionable in my opinion.
And the Martin Marincin item is really curious. Why do the Oilers employ and deploy as they are doing? It's very strange to me. I'm not going to lash out at Craig MacTavish or Dallas Eakins because they are smart men and know miles more about NHL hockey than I do. However, I would once again point out that when you make unusual moves and they do not work out (and 0-3-1 is by definition not working out) people are going to (correctly) say something.
Marincin—Petry
Klefbom—Fayne (because I think Nikitin is not 100%)
Ference—Schultz
Try that for four games with the Petry and Fayne pairings getting most of the even-strength work and see if you end up 0-3-1. Fair?
THE GOALTENDING
Aaaand we're back. As with Devan Dubnyk last season, I don't think Ben Scrivens is a terrible goaltender but he is having a tough start. When Edmonton acquired him last year, he was playing at his confident best and the Oilers had figured out a few things about themselves. This season, Scrivens was behind during camp and hasn't recovered, and the Oilers (partly due to their long, long audition process during preseason) are still sussing out how the defense works and now we're four losses into the actual campaign.
Devan Dubnyk 2013-14 October as an Oiler: 2-5-1 4.01 .878
Ben Scrivens 2014-15 October as an Oilers: 0-2-0 5.22 .800
The twitter and the verbal is way down on Scrivens, but as with Dubnyk a year ago I'd suggest we take a more patient approach. This is the same guy who set record a year ago with 59 saves in a shutout (most in the expansion era). So hold your muskets at bay, ladies, this guy can play. His NHL SP by year: .903, .913 and .916 a year ago, and given time his save percentage will move back closer to the career number. If you've ever seen small sample sizes skew the view in sports, you know this to be true.
You know this to be true. You know this to be true.
THE LONG KNIVES OUT ALREADY?
Adam Proteau has an article up at The Hockey News (here) and it's worth the read for sure. It's the longer version of Ray Ferraro's fantastic and biting "I don't care what management says anymore" quip on the radio a week or so ago.
Sometimes in life things happen to create a perfect storm, and this is one of those cases. Imagine you're caught in the wilderness, and winter is coming. Back in the town, they know you're out there and want to come get you but are ill-equipped with leadership. And the first rescue crew gets lost and aside from sending one guy (Sheldon) out for chocolate they don't get much done. Now, the second crew gets a late start but they're making good time (h/t Pat McLean), but you don't give a rat's ass it's cold outside and you're losing hope. And the wind howls and the cold cuts through your bones and the latest news is not promising.
It kind of reads Donner party, doesn't it?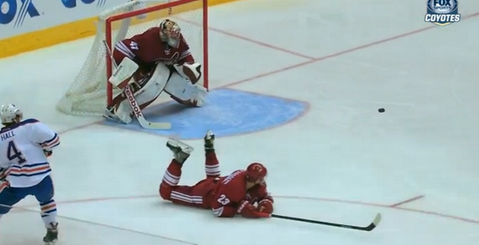 WHAT'S GOOD ABOUT THIS TEAM?
Even with the 0-3-1 record the Fenwick close is solid, basically mid-pack. Taylor Hall is a beast. Eakins is deploying his men in a completely reasonable way in terms of zone starts and his 4line is a dream. Arcobello is standing out as a particularly useful player and at this point I'm prepared to suggest the center position has a keeper there. Benoit Pouliot is exactly what this team needed, and please don't go crazy on the O-zone penalties. See how much he does to calm the waters. Teddy Purcell is a fine player.
WHAT ARE MOVES THE CAN BE DONE TODAY IN ORDER TO HELP
Recall Martin Marincin.
Put him on a pairing with Jeff Petry and play the hell out of them at evens.
Find the best available partner from the remnants to go with Mark Fayne.
Play the hell out of that pairing at evens.
Go back to Ben Scrivens Friday night, unless he's hurt. He's absolutely the best available option and if the organization loses faith after three games then it's going to be a long decade in our town.
Send Leon out.
Find a veteran center to help this team. Stat.
LOWDOWN WITH LOWETIDE
10 this morning, TSN 1260. We begin the proceedings with Dr. Dennis King, who has scalpel at the ready and insists no one receive any anaesthesia before he operates at 10:05. That's followed by Corey Graham, who'll update us on the rollercoaster Oil Kings and their successful (so far) week. At 11, Scott Cullen from TSN's analytics department goes deep to give us some answers on this Oiler start from Gehenna and at 11:20 I'll open up the phone lines (yesterday was fun, great calls—one from Ottawa!) and read your texts. At 11:40 it's Dave Jamieson and by the time he hits the air at noon maybe we'll have the name of that center.
10-1260 text, @Lowetide_ and it's going to be interesting.