When we last left our hockey club, Taylor Hall was saying 'to hell with that noise' and trying to hit a five-run homer. He didn't get it done, but it's clear he is the driving force on this team. You'll hear people say he should get the "C" this season, but for me he's already the straw that stirs the drink, and we're waiting for the next man to emerge at a similar level. Hall has a point per game so far this season and is tied for 12th in goals so far in 2014-15. Imagine what he'll do when things are going well! The Oilers badly need another name on the scoring top 20 this season.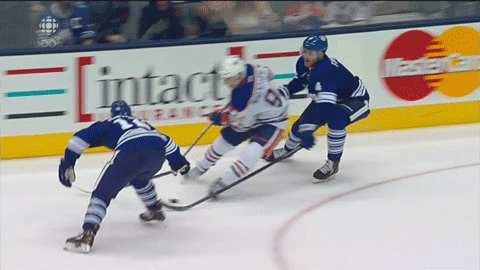 Ryan Nugent-Hopkins may draw back in tonight, that would be a very good thing for Dallas Eakins and the Oilers. A lot falls into place when the Nuge returns and it looked to me as though Eberle was much better in the Arizona game.
Hall—Nugent-Hopkins—Eberle
Pouliot—Draisaitl—Yakupov
Perron—Arcobello—Purcell
Hendicks—Gordon—Joensuu
That lineup was impressive when they ran together (short sample size alert) and I'd like to see it happen again tonight. The Oilers badly need a victory, it would be a very good idea to run that 1line 28:12. Get this thing turned around, dammit!
MARINCIN'S BACK?
It looks like the Oilers will recall Martin Marincin today (AHL transactions page appears to have an itchy finger) and that could mean Darnell Nurse back to junior. Nurse has shown terrific skills in his time with the Oilers, but if this is going to be another losing season why bother keeping him around? I absolutely understand the appeal of keeping him up, but another 7 games of audition may mean the season is lost altogether.
Marincin—Petry
Nikitin/Nurse—Fayne (I'm still unsure of Nikitin's health)
Ference—Schultz
Guessing along with Eakins in terms of defensive pairings is a lost highway this fall, but we'll see how this rolls. I think the sense of urgency for the coach has finally arrived, and not a moment too soon. If there's one thing I could change about these Oilers, it's the casual pace of training camp and absolute lack of urgency in finding balance and chemistry. I've been saying this for over a decade, find balance in the roster opening night! Sure it won't last because of injuries and slumps et cetera, but holy does this team give a lot away for their lollygagging decision making and indifference to a balanced roster.
THE LONG KNIVES ARE OUT
Dallas Eakins is getting a lot of ink in the newspapers (best line? Terry Jones: "The goaltending is in the toilet. The defence is a disaster. And the coach is still out-thinking himself.") and you can't sign on to the Al Gore without running into an article that includes a deadline for the coach. Headlines like "Eakins' job, Oilers season hinges on home stand" are a little more specific than you might have seen for Pat Quinn or Tom Renney or Ralph Krueger. Does a Mark Spector article with that title imply he knows something? Well, I'd say Spec has been around long enough to know a few things and maybe the Oilers panic two weeks into this season because they can't have another Hunt for Red Line Report October in Edmonton.
My own feeling? I don't think Craig MacTavish operates that way. I suspect we'll see Marincin called up, and maybe a veteran goalie added and hopefully a center too (with Leon heading out) so they can stop these in-season auditions for crying out loud.
Fire Eakins? Why? Have you SEEN the center depth chart? I don't think we're close to seeing the Oilers turn over the coach. If a team keeps losing the owner/management have to make a change but I don't think the next seven games will spell the end unless Katz steps in.
It's more likely the Oilers make a roster move, small or significant, than anything happening with the coach.
LOWDOWN WITH LOWETIDE
At 10 this morning, it's the Lowdown on TSN 1260. Steve Lansky will kick start the day (Big Mouth Sports, a must follow on twitter) and at 10:25 Brian King (PDO) will discuss the ghastly PDO for Edmonton and the Eskimos weekend (which could go a long way to sealing second in the West). Open line 10:45.
At 11, it's Thomas Drance from Canucks Armky and The Score to talk Van-Edm tilt, at 11:25 Paul Almeida will serve Ben Scrivens on a platter and skewer Dallas Eakins while he's at it. We invite Dave Jamieson into the studio at 10:45 and at noon it's all over but the massive trade/recall/firing that happens only during Dave's show.
See you on the radio!
LINEUP (1PM)
Hall—Arcobello—Eberle
Pouliot—Draisaitl—Perron
Purcell—RNH—Yakupov
Hendricks—Gordon—Joensuu
Marincin-Fayne
Nikitin-Schultz
Ference-Petry
Scrivens
Key changes include Nuge with Yakupov and Marincin with Fayne. I hope Scrivens slept well and feels good. He is a better goalie than he's shown.