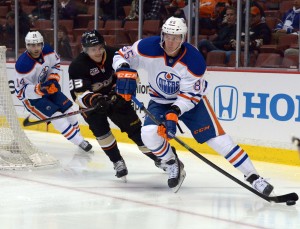 If we're to believe the Sunday practice lines, Martin Marincin will be playing with Mark Fayne. It's a good idea, as Marincin is a better player today than Andrew Ference, and with Nikita Nikitin's wonky ankle this is the right call. The second pairing (Ference-Petry) will get plenty of heavy lifting, while chaos incorporated (Nikitin-Schultz) will be used in the O-zone often. This is the kind of rational thought Eakins couldn't apply to defense previously because he was using a teenager and a broken guy in the first week and a half of the season.
Memo to the Oilers: Start with a balanced roster. It's the right thing to do.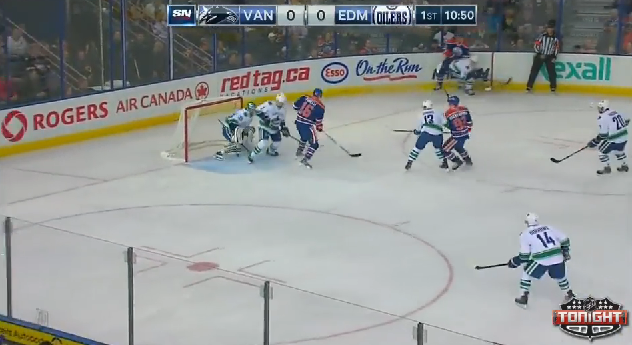 POSSIBLE LINEUP
This is how they rolled on Sunday:
Hall—Nuge—Eberle
Purcell—Draisaitl—Perron
Pouliot—Arcobello—Yakupov
Hendricks—Gordon—Joensuu
Man there's some good thinking going on here. I'm NOT buying the unicorn lineup (three scoring lines) but Boyd Gordon's line doesn't give a rat's ass. The early season woes of this team are obscuring one of the best runs for a 4line since Jim Dowd walked among us. Lordy. And if they can score at all, it'll be even better than that moving forward.
Marincin—Fayne
Ference—Petry
Nikitin—Schultz
If Nikitin can get healthy before the season is flushed, this unit could do some nice things. I'm pretty pumped about that top pairing, and if one of these fellows can score a goal (Oilers have 2 goals from the blue so far this season, 9 from forwards) that would help, too. Fayne, men. I think he might be getting more comfortable.
F CORSI THROUGH FIVE GAMES (5X5 EV, WAR ON ICE)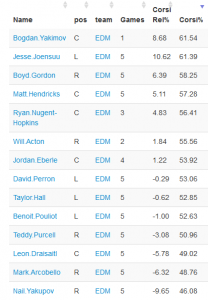 This shows that Gordon line just killing it, and added to the ZS chart it's heroin. These numbers are skewed by the Calgary game, but Edmonton has through the first five games done a much better job of possessing the puck. EXECUTING with the puck, scoring on the chances they're creating, getting average or above goaltending, those things are betraying them. The puck possession side—that thing that has haunted them for years—has come around as it did last year early.
Will the results stay positive? Will the Oilers start winning? Something has to give. You cannot have these kinds of possession stats and lose at the current rate. If the goalie can't stop the puck, find someone else. Luck will even out (this isn't Vegas, this is hockey) and the Oilers should pass Calgary in due time.
Roll over Beethoven, and tell the Corgi's the news.
D CORSI THROUGH FIVE
(5X5 EV, WAR ON ICE)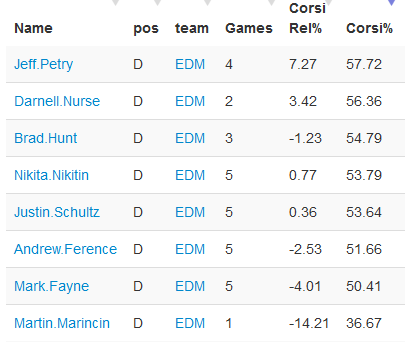 The Marincin number comes from an extreme zone start (which he should be getting more of) and should correct as the season rolls along. Jeff Petry, on his way to Toronadelpia or some such, always did show up on the good end of this graph. Whatever is causing the Oilers to contemplate trading him—including a relationship soured, if that is the case—is the gap between this team winning anything of significance and spending the rest of my life in the second division.
 LOWDOWN WITH LOWETIDE
At 10 this morning, TSN 1260 the Lowdown hits the blacktop and the working week is underway. The lineup is a little different today, goes like this:
10:05—Dennis King talks Oilers, defense and MLB.
10:25—Open Line and you get to talk/text. 10-1260 text and 780.444.1260 phones. No profanity, but a genuine opportunity to be heard.
10:45—Eric will laugh at me for my Pools and Props performance.
11:00—Scott Burnside from ESPN will talk Rick Nash's start, and hot/cold starts for 2014-15.
11:25—Andrew Bucholtz from 55-yard line drops in to talk about the terrific CFL weekend and the Eskimos Grey Cup chances.
11:45—Dave Jamieson talks NFL, CFL, MLB
See you on the radio!
Note: My sincere apologies for the different look in today's GDT. GoDaddy helped me in a big way yesterday and I'll be on the phone again with them later today in an effort to get things back to normal. Thanks for being patient, it's appreciated.