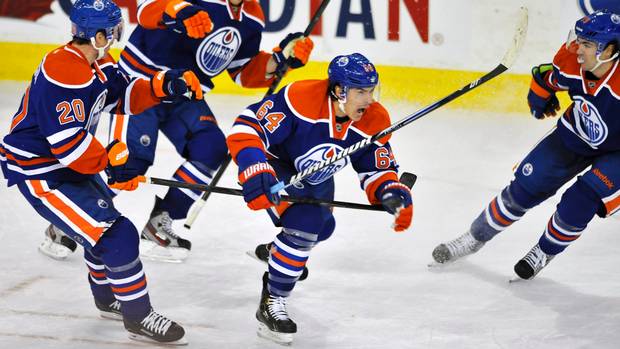 Plenty of talk on the Al Gore about trades but I can't see Craig MacTavish moving a big piece for a short term solution. This assumes the Oilers still see Nuge—Draisaitl as the future up the middle, if that's the case there's zero reason to trade for Brayden Schenn at this time. Schenn isn't good enough to play ahead of Claude Giroux and Sean Couturier in Philly, and he won't be good enough to play in front of Nuge-Leon in a year or two. Why trade something of value for him if you're looking for a short-term solution?
I don't think MacTavish makes that move. Here's another one I don't think he'll do:
Even if the Oilers believe (and I think they do) their future is Hall, Nuge, Eberle, Schultz then Yakupov remains on the outside looking in. However, coach Eakins has the kid going in the right direction and there's every chance he'll both improve his trade value and become too valuable to deal as this season rolls along. The Oilers under Craig MacTavish have shown a willingness eagerness to spend draft picks on Russians (Tkachev aside) and this could be a strong pipeline between Minsk, Moscow and Edmonton. Yakupov is wildly famous in Russia, and if the club can get him signed (that's a concern) to a reasonable deal then I think MacT probably bets on the kid long term.
One player I would love to see in an Oilers uniform is Nazem Kadri. The Leafs have never embraced him for some reason (based on what we know) and he's still a kid but reaching the point where the lessons of youth should help him battle in the NHL. The Leafs are a little nuts but that window is closing (Dubas and his Math People will destory my 60s and 70s with Toronto Stanleys—I plan to collect Churchill stamps) so Kadri might be the last train to Clarksville in terms of Toronto theft.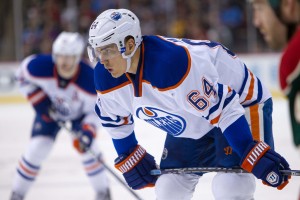 Back to Nail. Isn't it a pleasure to see him improving on the ice and getting some results? I know everyone is mad about Eakins playing him limited minutes, but those minutes have been sublime and the young man's confidence is growing. If this small steps development works, and Yakupov finally receives entry into the executive washroom of the Oilers roster, what a DAY that will be! Go Yak Go!
OILERS 5X5 SCORING (PTS/60), 2014-15
Jordan Eberle 2.29
Taylor Hall 1.98
Benoit Pouliot 1.98
Nail Yakupov 1.88
Ryan Nugent-Hopkins 1.00
Matt Hendricks 0.94
Leon Draisaitl 0.94
Boyd Gordon 0.90
David Perron 0.79
Teddy Purcell 0.79
Mark Fayne 0.73
Mark Arcobello  0.71
Nikita Nikitn 0.60
Justin Schultz 0.64
Dallas Eakins needs to trust Nail Yakupov more, but the early-season results are impressive. If it's a slow build, let it be. Perhaps a breakout game against a more famous Russian is in our future.