After the thrilling victory on Monday, Edmonton will be a fun city today. I spent 15 years driving around Edmonton during winning and losing streaks and it's so much better when the W's are fresh. The win against the Lightning had real appeal, quality goals, great stops, and an opponent who not only could have won but probably lost because of bad luck. Man it felt good to see it happen to the other guy.
ESTIMATED LINEUPS
Hall—Nuge—Eberle
Purcell—Draisaitl—Perron
Pouliot—Arcobello—Yakupov
Hendricks—Gordon—Joensuu
Marincin—Fayne
Ference—Petry
Nikitin—Schultz
Scrivens (Bachman)
Dallas Eakins may want to give the Nuge line some of those cherry ZS's he's been giving out to Leon's line, but beyond that I can't complain about the roster or the deployment. Sweet Jesus Mark Fayne is beautiful, he's like the Scarlett Johansson of shutdown defensemen (this is the third highest compliment available on this blog). It also confirms that Eakins/Ramsay/Acton/Thompson/Crosby/Stills/Nash/Young have the courage of their convictions:
Eakins about TBay win: "I think for the group, it was more like everything we've put in place here will work, there's no need to change anything. That was the one thing we were really hammering home as a staff: We're not changing anything. We know this is the way to go with this group. It's going to work." Source
That's good thinking. I will say that the organizations 'logical next step' is to find a soft landing spot for Leon Draisaitl for this season and maybe next; then acquire a veteran center for a pick or prospect to fill his current role. Imagine Derek Roy or Olli Jokinen with a 76.7% ZS alongside Pouliot and Purcell. That's going to make an enormous difference over 75 games.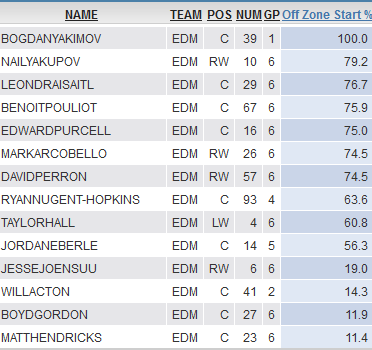 EBERLE TRADE RUMORS
I can't see it happening. No way, no how. It isn't the vision put forward by management, and there's really no reason to change course now. Craig MacTavish and Dallas Eakins have to show improvement, but there's no real pressure to make the postseason and go on a run. Oilers fans have (and I'm not insulting Oilers fans) the faith of a child, which is in fact the number one blessing this organization has been bestowed with over time. If last year's No. 28 spot is improved upon (say No. 20) there will be a sense of progress. "I know it's only 20th but there's some real movement here, next year playoffs!" will be the mantra.
The Oilers have to finish around No. 10 in their conference, the rest will take care of itself.
There's no need to trade Jordan Eberle. Craig MacTavish said it: He needs to find out if Nuge and Eberle are like Hall—impact players who can push the river.  There's no need to trade him today, unless someone backs the Brinks truck up to his door.
Next subject: Signing Jeff Petry.
LOWDOWN WITH LOWETIDE
At 10 this morning, it's the Lowdown on TSN 1260. Joining me today:
10:05 Bruce McCurdy, Cult of Hockey. Looking ahead to tonight's game with a pinch of the Tampa game and a dash of the Carolina game thrown in. We might talk about Leon's replacement and signing Petry if we get time.
10:25 Kirk Luedeke, Red Line Report. We know a lot about Connor McDavid, but what about Jack Eichel and Noah Hanifan? Kirk's been watching those two kids since they were 13, and has the inside scoop.
11:00 Jesse Spector, The Sporting News. We'll discuss G1 of the WS and I'll ask if the Cinderella story in Kansas City has struck midnight.
11:40 Dave Jamieson, TSN 1260. I'm awaiting a Washington Capitals guest for 11:25, if that doesn't appear we'll open the phone lines.
10-1260 text, @Lowetide_ on twitter.
As I'm writing this, news from Ottawa about a soldier down on Parliament Hill and shots fired. Our prayers are with the soldier and the people in Ottawa this morning.