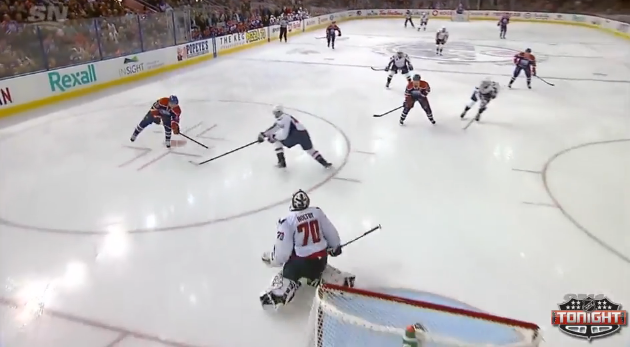 Do you remember in the preseason when MacT talked about Hall being an impact player? And the Oilers needed to find out if Nuge and Eberle could play at a higher level? Do you remember that?
MacT: " (Nuge and Eberle) have a lot of room for growth. … We need to see whether they're going to be good players or whether they're going to be star players." Source
In the last two games, for my money RNH has shown he's that kind of talent, a star talent. Hall was fabulous in the TBay game, and good not great in the Washington contest. Nuge scored in each game, and both times they were on good shots after hard work. I don't think Nuge is going to be a Hall talent, a freewheeling talent. He's going to be Dave Keon, playing important minutes in all three disciplines for the Oilers. He's climbing that hill, and is emerging as a terrific two-way talent. Wonderful wonderful.
SCORING AFTER SEVEN GAMES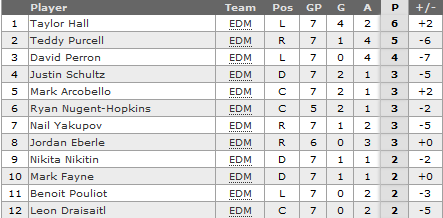 Hall is where he should be (and with a 50% Corsi For via HockeyAnalysis.com), and the veterans like Purcell and Perron are chipping in. Nail Yakupov is doing a helluva job based on icetime and Benoit Pouliot is lagging just a little but he's also mentoring the German. Leon got a point last night, and for me played his best NHL game. I am very hesitant to change my mind (the Dutch are stubborn, like a macadamia nut) but if he played at that level every night you'd have to consider keeping him. Unfortunately, he has only two games left and at this point sending him back seems to right thing to do.
CORSI FOR 5X5 (HOCKEY ANALYSIS.COM)
It's still early early days, but I thought it might be worthwhile to post the Corgi's so far this year.
Jesse Joensuu 56.4
Jeff Petry 55.8
David Perron 54.1
Teddy Purcell 52.3
Andrew Ference 52.1
Boyd Gordon 51.4
Leon Draisaitl 50.7
Ryan Nugent-Hopkins 50.4
Taylor Hall 50.0
Nikita Nikitin 49.0
Matt Hendricks 49.0
Justin Schultz 48.6
Benoit Pouliot 48.4
Jordan Eberle 47.3
Mark Arcobello 46.5
Mark Fayne 46.2
Nail Yakupov 42.7
Martin Marincin 35.5
This is everyone but Bogdan (61.5 in 11 minutes), Darnell (56.4), Will Acton (55.6) and  Brad Hunt (54.8). This is a very cool list to look at after last season and the fretting over Taylor Hall's number, and that 4line—considering the zone starts—has been a major story this season. Concerns? Not many. The Marincin number is in very few games, Yakupov's is weak but again small, small sample size and the rest are clear of last season pretty much across the board.

If the Oilers win Friday, fans will be talking playoffs. That's just the way we roll, fickle and emotional and after eight years plucking chickens are you REALLY going to begrudge this? If the season ended today the Oilers would pick No. 6 overall (not really because of GP) and if the club beats Carolina Friday and finds a way to win against Montreal on Monday? I'll predict a lot of babies delivered in Edmonton on Canada Day 2015.
This town is long overdue for a celebration. Two wins in a row is pretty high ground, three in a row and it could get a little nuts, but beating the vaunted Habs? Come the hell on. The entire city would be a randy bunch before midnight. Lock up your valuables!

Yeah, not quite sure we can approach Leon's season strictly as a developmental year. If Teddy Purcell and David Perron are scoring at their rates with a ZS push, shouldn't the Oilers management find a veteran C to match? Doesn't Craig MacTavish owe it to this team? How many years can you ask Taylor Hall to wait? It would be FIVE this season.
5X5 PER 60 (FORWARDS) VIA BTN
Jordan Eberle 1.85
Taylor Hall 1.64
Benoit Pouliot 1.64
Nail Yakupov 1.60
Ryan Nugent-Hopkins 1.51
Teddy Purcell 1.37
David Perron 1.36
Matt Hendricks 0.81
Leon Draisaitl 0.80
Boyd Gordon 0.76
Mark Arcobello 0.63
It's early days, but at even strength Arco, Gordon and Leon are below 1.00 per game. Asking Boyd Gordon to do more than he is would be crazy, but considering the ZS's and the wingers it's completely possible to improve on current Arco-Leon levels. I think Craig MacTavish needs to do something.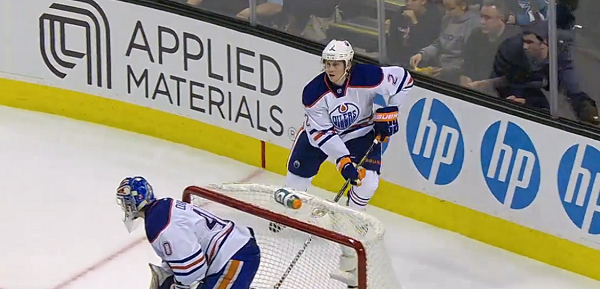 PETRY AND SCHULTZ
I wrote about these two over at ON yesterday:
He (Petry) is not the equal of Justin Schultz in the offensive zone with Edmonton in possession, but I submit Petry is superior in all other disciplines. There is no reason for the Oilers to send Jeff Petry away, they have no cover for him and no one with equal ability and experience to step in. Maybe Craig MacTavish can turn around 40 years of established behavior and sign Petry late in his walk season. That would be a wonderful surprise.
Then Petry went out and played a wobbly game, but the sentiment still applies. There's a little window of opportunity here, where the Oilers can keep the impressive RH defensive depth chart (Fayne, Petry, Schultz) and find a way to bring the kids along on the LH side (Marincin, Klefbom, Nurse). It's the right thing to do, tomorrow is not promised to Nikitin nor Ference nor anyone else who is a lesser player than the six.
LOWDOWN WITH LOWETIDE
It'll be a ripping show, beginning at 10 this morning on TSN 1260.
Dennis King Oilogosphere icon had his gonch in a knot despite the victory and will throw down at 10:05. When he gets worked up, it's fabulous radio.
Mike Ringrose, Associate Director of Vimy Hockey, will discuss Dillon Simpson's brother Riley (who plays for him in Spruce Grove) and I'll ask him about Brad Hunt's shot versus keeping him in the lineup despite defensive issues.
Travis Yost from TSN pops in and we'll talk about the Oilers and their start. Specifically we'll get into the wild swings (from the Calgary opener to last night) and just how long it takes for a losing team to pull out of a dive. We'll also chat Senators.
Rob Soria from Oil Drop pops in at 11:25, we'll go over last night's game, discuss the defense and areas MacT should address before the season gets too old.
10-1260 text, @Lowetide_ on twitter and your questions are always the best so please throw them there or in the comments section! Rave on!