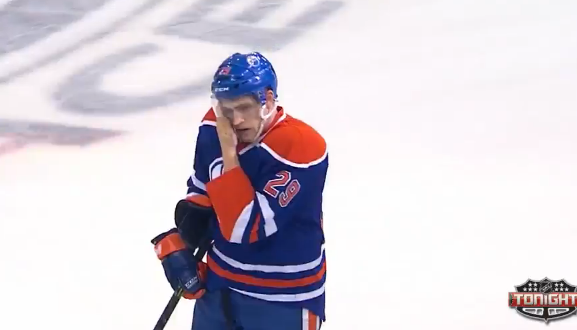 Man that Leon Draisaitl is a quick study. Seriously. I was onside with keeping Taylor Hall, was talked into RNH by Cam Moon and Steve Sedarchny, was convinced Yak City could score and absolutely certain Darnell Nurse (both times) should go back. Leon Draisaitl?  I chose my words carefully, suggesting that while I loved his future, a job should not be handed to the young man. That's still my position, but in watching the big German read and react without the puck, you can see why the Oilers are excited about No. 29. He's pretty cool.
Bruce McCurdy, Cult of Hockey: Showed some excellent puck support in the defensive zone and moved the disc efficiently from deep positions. Positive results by all shot metrics. 5/8=63% on the dot, including 2 out of 2 in the d-zone. His 10th NHL game, something of milestone, but the evidence is mounting that this guy is learning pretty fast. Source
Now, he isn't always in the right spot but there's an aptitude in his play that suggests the 19-year old is going to shorten the learning curve compared to a few others we've seen along the way.
LEON DRAISAITL 14-15 PROJECTIONS (RE)
| | | | | | |
| --- | --- | --- | --- | --- | --- |
| PPG | NAME | GP | G | A | PTS |
| .515 | LEON DRAISAITL 14-15 RE | 66 | 12 | 22 | 34 |
| .300 | LEON DRAISAITL 14-15 ACTUAL | 10 |  1 |  2 |  3 |
This doesn't really tell the story—Leon should improve, play more and score more often as the season rolls—because what's impressed me about Leon is his play in his own zone. There's a mounting body of evidence—anecdotal in some cases, available to the naked eye in others—that the rookie center does in fact have enough awareness to retrieve loose pucks and anticipate/intercept passes. In a season where the Oilers are 4-5-1, Draisaitl's -5
 LEON DRAISAITL PLAYER CARD
| | | | | | |
| --- | --- | --- | --- | --- | --- |
| PLAYER | BOXCARS | CORSI FOR % | OZ STARTS | 5X5 PER 60 | TOI/G |
| LEON DRAISAITL | 10gp, 1-2-3 | 52.2 | 78.3 | 1.10 | 13:27 |
I think this shows Leon's season more effectively. Incredible zone starts and a solid possession number, but the offense isn't there. I can live with that, but Draisaitl is going to need to deliver more offense in this situation as the season rolls. He's using two veteran wingers and he's getting a major zone push.
THE VOLLMAN SLEDGEHAMMER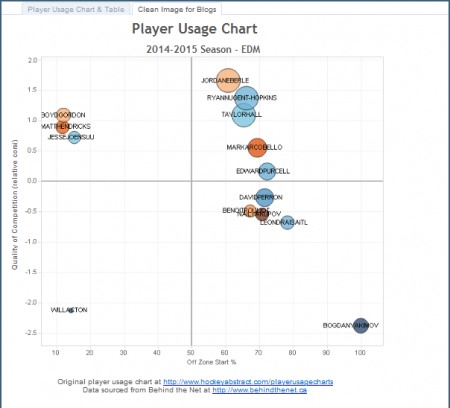 This is the first sledgehammer we've seen this season, and it's CorsiOn to begin the year. We see Leon exactly where a good coach would have him, facing softer minutes with an enormous zone-start push. The blue is a nice color, he's doing well save for the boxcars and that will come. As an aside, and we'll go into depth on the GDT Saturday, it's interesting to see the harsh treatment for Gordon's line and the island that is Mark Arcobello.
ADMIT YOU'RE WRONG, JERK!
I remain convinced that giving Leon Draisaitl a job was not the correct decision, and am aghast at the smart people currently saying "what are you gonna do, there's nobody else?" In my life's experience, one of the worst reasons to justify anything is what are you gonna do?
That said, I would be less than honest if I didn't say this Leon experiment is showing some very nice blue balloons. I'm impressed, and will admit defeat if he can score 1.50/60 at evens over the season.